Why should you prepare an end-of-class message?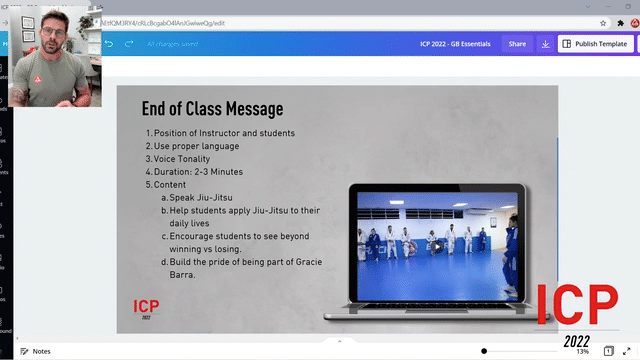 Course 1, Gracie Barra Essentials, has been one of the most acclaimed ICP courses of 2022.
Course 1 has innovated the ICP in every manner and contributed to everyone's understanding of the essential elements in a practical way that all GB schools must work on in their day-to-day.
Do you know what these elements are? Find out what the ninth essential element for a GB school and watch the video for Lesson 9 – The End of Class Message
In this lesson, we are going to cover what instructors can do to maximize the learning experience that students get during the closing message of the class.
The students have exerted themselves, cooled down, and they are now primed and ready to hear from you, the instructor! This is the time to pass on your message and connect personally with your students. You can impact their lives in these 3 minutes. Connect the lessons of the mats to their lives outside the mats. Seek to do this with each class! The biggest impact that Jiu-Jitsu can have on your students is the life lessons learned, not necessarily the techniques learned.
Let's take a look at the video lesson to learn the essential elements involved in transitioning the students to be prepared for the learning experience that is coming in the closing message.