The 3 Biggest Mistakes by White Belts by Prof Flores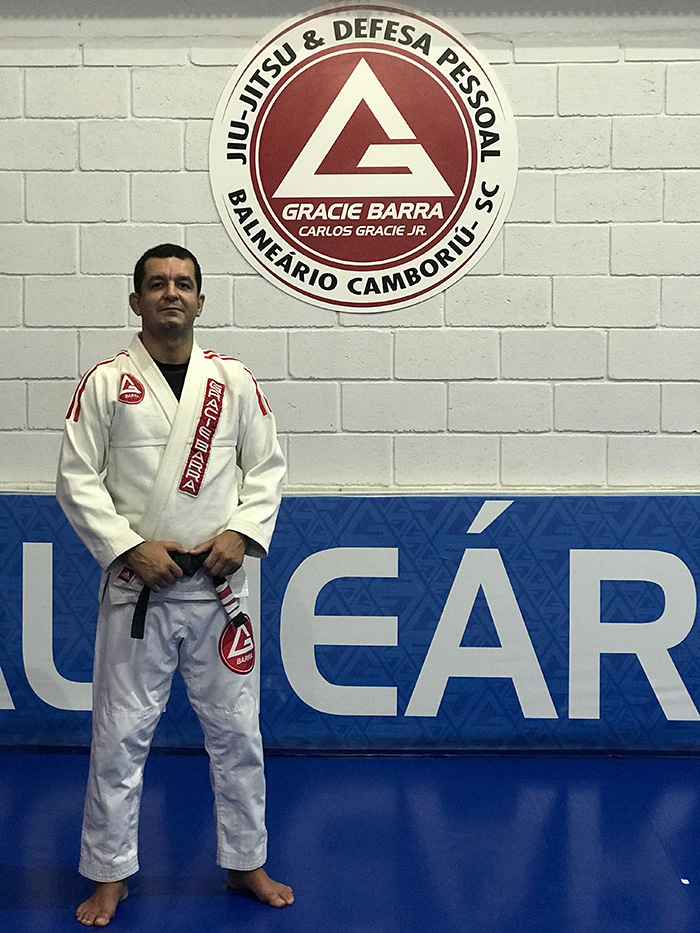 "Knowing how to allow yourself and not charge yourself too much at the beginning of training makes the white belt student improve faster."
ㅤ
This week we meet Prof. Lucas Flores who will share his vision for students that are starting their jiu-jitsu journey. He is a multi-champion as an athlete having won Abu Dhabi Professional WPJJC, Brazilian CIGB, South Brazilian CBJJ, Floripa Open IBJJF, Copa Brasil CBJJE among others.
ㅤ
Have you checked out the GB Online Instagram account?
ㅤ
GB: Let's start by introducing you to the Gracie Barra readers. How did you start training Jiu-Jitsu and what is your Gracie Barra school?
ㅤ
Prof Lucas: First of all it's a pleasure to be talking to all GB members and I'm thankful to GB online for the opportunity.
ㅤ
I am Lucas Flores owner, head instructor and athlete of Gracie Barra Premium Balneário Camboriú, Brazil. Formed as Black Belt by Professor Mauricio Melo at GB Blumenau and received 1st and 2nd degrees from the hands of Master Carlos Gracie Jr at GB HQ in Florianópolis.
ㅤ
My first contact with jiu-jitsu was in 1996 when I was 15 years old, following a suggestion of my mother's friend because I was an agitated teenager with low self-esteem that always got involved in confusion. My mother was the one who took me to my first jiu-jitsu class.
ㅤ
I have always had contact with sports since I was a child. I had already trained in judo, karate, capoeira, surfing, swimming, basketball, and soccer among other sports. Jiu-jitsu came into my life because, in addition to developing my physical, it also developed my mental and spiritual sides. Living on the mats and jiu-jitsu training made me a healthier and mentally stronger person, having more confidence, self-esteem, and self-control to follow my journey.
ㅤ
GB: White belt students see hundreds of different techniques and positions – which is impressive. How can the new student understand the vast amount of things to learn?
ㅤ
Prof Lucas: First, the beginner white belts have to be well educated and guided by their school and their instructors. Be patient and know that the jiu-jitsu journey is long and they don't learn overnight. They have to be open-minded and not expect too much for quick results. Many of them already want to start training by attacking, submitting, and doing amazing techniques. But before all of that, they need to have a solid foundation, know how to make the right grips, know how to make correct postures, and the fundamental techniques for a good defense.
ㅤ
After this period of preparation and adaptation, they will understand that they are better for the vast amounts of stuff to hold on to their journey.
ㅤ
GB: What are the biggest mistakes white belts make?
ㅤ
Prof Lucas: Mistakes made by white belts are very common. In the beginning, it is normal to commit them. It is up to us instructors and graduated students to guide them in the best way showing how not to commit them in excess and harm themselves.
ㅤ
I have separated the three biggest mistakes made by white belts:
The first is not knowing how to have the PATIENCE go through all the processes within the training at their school. They need to be in a class suitable for beginners, to absorb all the basic and fundamental knowledge to initially starting with specific training and then for a full fight.
ㅤ
The second mistake made is the use of EXCESSIVE STRENGTH, the most common of all, doing too much strength makes the practitioners waste energy for nothing and lose learning time. In addition, the practitioners may be injured or even injure their training partner.
ㅤ
Last and the biggest mistake in my opinion is the practitioners not trying new positions, for the FEAR OF MISTAKE. Remember, the beginners, as the name says, are there to learn, and the more they make mistakes, the more they will learn.
ㅤ
GB: Do you have any advice for white belt students to improve as quickly as possible?
ㅤ
Prof Lucas: Pay attention to class, perform the positions step by step as taught, repetition of techniques, balance the rhythm of the training as much as they can. Tap and start all over again and the last piece of advice is always getting out of their comfort zone to improve each day.
ㅤ
GB: How can the white belt students keep motivated when they are being beaten so often – and not get discouraged?
ㅤ
Prof Lucas: This is a very recurring question and at the same time difficult to answer. We all go through that moment of demotivation, it's no different for a white belt being frequently submitted in training. One of the most important things for any practitioner is a strong mind. The best way to keep motivated is to control their emotions and let no one change their state of mind. Accepting and allowing themselves when they are submitted, not taking it personally, and thanking colleagues when this happens, make them improve and not make the same mistakes again.
ㅤ
GB: What advice do you give your first-year students most often?
ㅤ
Prof Lucas: The advice I usually say to beginner students in the first year is to know how to take advantage of all the learning processes, not skip steps so as not to harm themselves later on. Having frequency in training and respecting rest is also very important in the first year, having a correct diet serves as fuel for success as well.
ㅤ
At my GB school, I always say that it is the duty of the most senior, to help the less graduate students learn jiu-jitsu. For this, beginners must allow the graduate to help them. So they manage to improve much faster in jiu-jitsu and manage to benefit from this incredible practice.
Hope it helped leave your comments and let's go all the way!
ㅤ
See also on GB Blog: GB Inspiration: Prof. Flavio Almeida on overcoming struggles
ㅤ
Writer: Mark Mullen, Gracie Barra Black Belt