Challenging women's Jiu-Jitsu classes and self-defense training
Gracie Barra has developed a unique set of classes to help introduce women to the art of Jiu-Jitsu. Join our community to learn the most effective self-defense techniques and improve your fitness routine in a safe, challenging environment.
Our women's martial arts program is designed to teach women how to defend against any attacker – even those who are significantly larger in size. Our instructors will help you run drills to simulate realistic attack and escape situations you might encounter in the real world. With practice, you can leverage an attacker's weight against them, allowing you to escape and get to safety unharmed. The self-defense techniques taught in this class use Jiu-Jitsu fundamentals that complement our selection of additional adult classes.
In addition to effective self-defense techniques, our women's program is a great solution for anyone who wants to take their fitness routine to the next level. Gracie Barra's Jiu-Jitsu techniques and versatile class schedules are a great way to keep your fitness routine from plateauing. Enjoy aerobic exercise and strength training that will help you achieve your fitness goals faster and more efficiently than classes offered in regular gyms.
Our martial arts classes for women include Rape Prevention, Jiu-Jitsu Conditioning and even social "get togethers" so you can swap Jiu-Jitsu tips and techniques with other like-minded women. We offer a sense of community that is unparalleled by any other martial arts studio in the world.
Get in the best shape of your life when you join the "Gracie Barra Pink Team." Claim your free class at a GB School near you!
A black belt is a white belt who never quits. – Carlos Gracie Jr.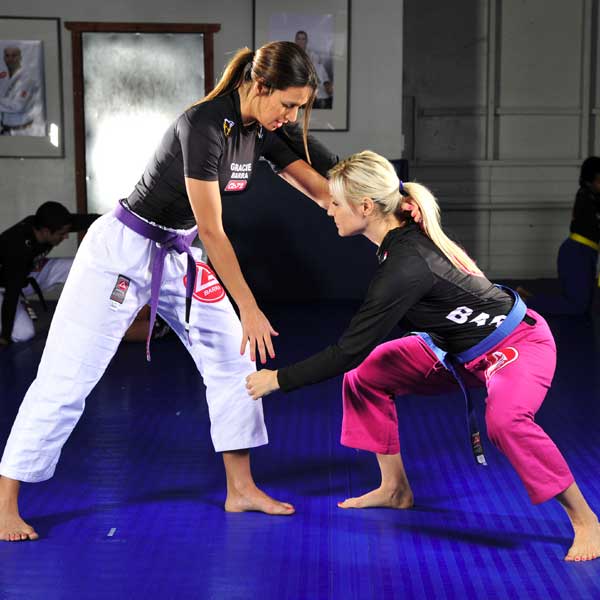 Benefits of Joining our Womens Program
Learn how to protect yourself from most common attacks
Develop awareness and self-confidence to deal with typical assaults against women
Increase focus, energy and concentration
Increase self-confidence
Enjoy significant gains in overall fitness level
Become part of the "GB Family"
Train in over 200 different locations in United States and 700 worldwide
Free access to the school's events and special classes
One in six girls will be subjected to sexual assault in their lifetime. – RAINN
You'll notice a very positive and friendly environment when you enter our school. Although martial arts can be intimidating for women, this class is definitely not intimidating. You will find a group of girls, some of them wearing a pink GB uniform, who are excited to be there and excited to have you there. The instructor will run several basic drills and after a few classes you will catch up with the rest of the group. Once you master the basics you will really enjoy the intensity of a class based on effective self-defense techniques and real life scenarios.