Meet the Instructor: A Lasso Guard System with Professor Thiago Aso
Growing up in the small mountain city of Teresopolis, Brazil, young Professor Thiago Aso wanted to compete so badly that he sold chocolates on the street to raise money to pay the registration fees for the tournaments.
Professor Thiago Aso shares his story of discovering Jiu-Jitsu, his perseverance to travel and compete, and how he developed his Lasso guard game.
Starting in Jiu-Jitsu
Professor Aso's father was a blue belt in Jiu-Jitsu himself, and young Thiago was fascinated with the Jiu-Jitsu magazines like Gracie Mag around the house.
Aso admits that he was not the best-behaved kid, and Jiu-Jitsu provided him with a positive direction for him to focus on his youthful energies as well as a way to deal with his problem of being an overweight boy.
"There were two problems with me getting into Jiu-Jitsu," Professor Aso explains, "The biggest one, I think, was that I was a poorly behaved kid. So they were afraid that Jiu-Jitsu would actually give me the strength to do even worse! And money, of course. I couldn't pay for the Jiu-Jitsu school."
"When I went to the doctor, my aunt decided to pay for my Jiu-Jitsu classes. The doctor said that I was almost obese. I was super overweight. So my aunt paid for me to do Jiu-Jitsu for the first year," says Professor Aso. The Jiu-Jitsu classes were a birthday gift for his 14th birthday. Eventually, Professor Aso started coaching and helping at the Jiu-Jitsu school, allowing him to continue training.
This first exposure to Jiu-Jitsu came through the legendary PitBull MMA school in Teresopolis. Professor Bitta – a black belt under Master Carlos Gracie Jr. – was involved in that gym where young Thiago got his first experience in training. Shortly after that, Professor Gustavo Aragao opened a GB school in Teresopolis, and young Thiago officially became a Gracie Barra Jiu-Jitsu student.
Traveling to compete in the USA
From the start of his training in Jiu-Jitsu, Professor Aso got involved in competition and competed for the first time at age 14. Being well known in his home of Teresopolis for being an active competitor, Professor Thiago found support from family, coaches, and friends and sold tickets for raffles to raise money to travel to the USA to compete in the blue belt division of the World Championships. 
In 2017, he made his first trip to compete in the USA. He was just 19-years old. Professor Aso stayed with Professor Marcio Feitosa, which proved to be an influential experience for the young competitor. 
"I stayed in California with Professor Marcio Feitosa. It was very good to be with him. He mentored me a lot. And he gave me even more advice for the next year."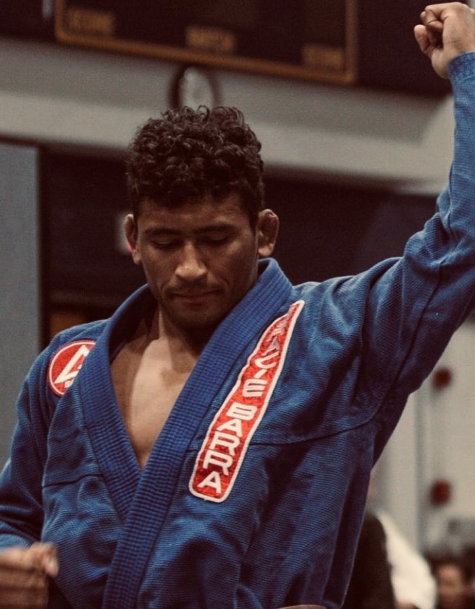 Eager to return to compete in the USA, he borrowed an idea from a friend selling "Brigadeiros" Brazilian chocolates to earn money to pay for his next trip. His GB Professor sponsored his flight to the 2018 World Championships, and once there, he met several GB instructors living and teaching Jiu-Jitsu in the USA.
"I told them that my dream was to be part of GB…that I really wanted an opportunity to make my life in Jiu-Jitsu. And also to be able to compete because it was very hard to compete back then." remembers Professor Aso.
Competition experience
Professor Aso competes in the Middleweight division (up to 181.6 lbs), representing his home schools of GB Peoria and GB Arcadia in Arizona. He has also represented GB Arizona as the captain of the competition team. 
In 2017, Professor Aso was successful in getting to third place in the highly competitive blue belt category of the World Championships. 
In 2018, as a purple belt, he amassed multiple Open-class wins competing in Brazil. He finished the year strong by winning the World No-Gi Championships in his weight category. 
His biggest competitive accomplishment at brown belt was silver at the American Nationals. 
At black belt, Aso continues to develop and compete. He has a five-wins and no-losses record in the Fight To Win promotion. Now living in the USA, he has more opportunities to compete at a high level.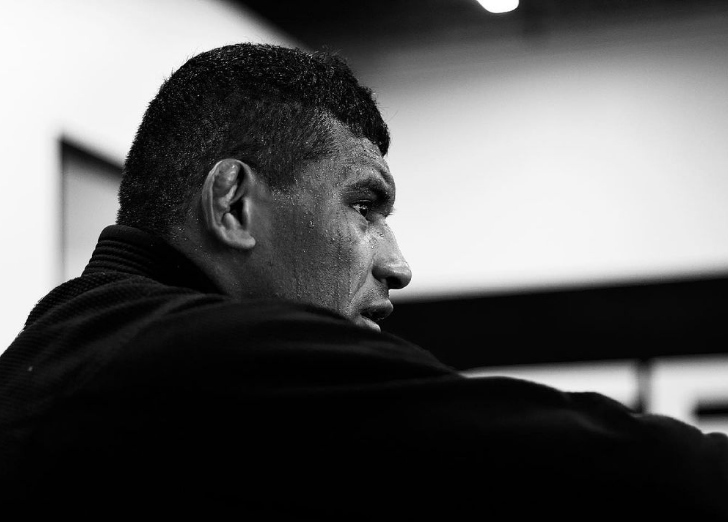 "I was able to fight Gabriel Arges in Arizona in a GB Compnet tournament. I ended up losing by 2 advantages. That was very good for me as a younger black belt, being able to measure my skills against somebody at that level. Last year I took a little break to heal some injuries. But next year, I will be coming very strong to the black belt divisions," – Professor Aso.
The Lasso guard system
Professor Aso reveals that he uses the Lasso guard in 95% of his matches. One of the advantages of the Lasso guard is that you do not need to have a high degree of flexibility to use this style of the guard in comparison to some other open guard styles.
"The Lasso guard can lead to so many things. It's made for stallers, it's made for attackers, it's made for people who like to defend a little more, and you don't need to rely on any kind of strength necessarily. At the same time, it's so traditional. It's a kind of open guard that you can play whoever you are." says Professor Aso.
Moreover, Professor Aso says that the Lasso guard is effective against taller opponents, unlike some other guard variations. He feels that he struggles with the Single Leg X-Guard and Spider guard against an opponent over 6 feet tall, but when he combines the Lasso with Single Leg X-Guard, he is much more effective.
When asked if the Lasso guard was especially well suited to smaller, lighter Jiu-Jitsu fighters, Professor Aso responds, "The Lasso guard is literally a guard for everybody. Because of how nowadays, Jiu-Jitsu is kind of divided into Gi and No-Gi, submission attackers, points-scoring people, and submission artists. I like to use the Lasso guard with the half guard, also called Z-guard. I do Lasso with Z-guard. If you train No-Gi, it doesn't matter the size of your legs or your flexibility; you can play Lasso and Z-guard at the same time. Gi, the same thing."
Professor Aso's students he works with vary from 8-year-old kids to a 55-year-old private student who are enjoying success utilizing the Lasso guard in their training. 
How he developed his Lasso guard system 
Professor Aso's interest in the Lasso guard was initially sparked by seeing some videos by his Jiu-Jitsu instructor, featuring top competitor Roberto "Cyborg" Abreu, who was demonstrating the inverted Tornado guard. Professor Aso was fascinated by the subtle details that allowed a fighter to sweep a heavy opponent. 
"That's almost impossible! How does he do that?" remembers Professor Aso. That experience clicked in his mind, and he looked for a way to combine his Lasso guard with the Tornado to build a guard style that worked for his body type.
The Lasso guard in competition
"Ok, this is kind of a secret, what I'm going to say here," Professor Aso says, "I'm the type of fighter who likes fighting with security. I'm not the type of guy who is going to be risking a lot in an important match."
Professor Aso explains that in the early days, when he was struggling to meet the expenses to compete in tournaments, he would literally be counting on winning the prize money in the Open class to be able to compete. He needed to find a strategy that would give him the greatest possible chance to win the match.
"So I would do anything to be able to win the match. I would not be exposing too much, like doing flying armbars, flying triangles, these types of things," he says.
Professor Aso often looks to start competition matches by first setting up his Lasso guard. He uses the Lasso guard to keep the opponent in close, make it uncomfortable for them to move, and force them to pass on their knees. 
"With this technique specifically, I'm not being arrogant; this technique is so strong. I've fought only two people in my life who defended my Lasso guard," Professor Aso says. "For example, if I don't sweep you, it's going to lead to one of the techniques that I show in the instructional. That's the 50/50 guard. If I mix those two, it's nearly impossible for you to move. I use the Lasso to pace my own time in the fight."
Professor Aso shares his favorite tournament technique in the video series: "My ultimate attack is the spinning Lasso Tornado," he says, "If I do that, you are probably going to fall for something. If you don't get swept, you will fall into some trap. The trap is based around the omoplata."
The Lasso guard and Jiu-Jitsu self-defense
Professor Aso understands the self-defense aspects of Jiu-Jitsu as being very different than the sports perspective, but his Lasso guard has influenced his entire Jiu-Jitsu approach.
"In both fights, it's not about how technical that you are. It's about how mentally prepared that you are. I like to put my students into a position where they feel in control all of the time," says Professor Aso.
He gives the example of the common problem of bullying in school experienced by many young people. 
"One of my favorite positions is the headlock in self-defense," he says, "I like to teach the kids how to stop, use that as a checkpoint. To breathe. And understand what is going on."
Professor Aso explains that the "checkpoint system" – of controlling the opponent and staying mentally calm – gives him time to think more clearly about the situation. 
"So what I like to teach with the Lasso guard is: you are going to use the checkpoint. You have about 30 seconds to think of your next movement. To think about what you are going to do. If this was a self-defense situation, not that you will be using Lasso guard, but another type of situation. You are still going to be able to manage your time; look around for help." he says.
Perhaps the most important message Professor Aso shares with students is using Jiu-Jitsu as a method to achieve self-control and keep a calm mind in stressful situations.
"My approach with Lasso guard and this whole Jiu-Jitsu situation is to always be in control of your own mind," he says, "The way that I teach my students and the way that I train myself is always being aware of everything around you. Be aware of the time. Of what is happening to you. And most importantly, is being aware of your own situation."
"I think what people can take from learning this Lasso guard is how to be able to attack and work the techniques, but take their time."
Check out Professor Aso's Lasso Guard instructional on GB Online when it launches on January 3, 2023.
Blog Written by Mark Mullen, a Gracie Barra Black Belt