Do You Know Where the X-Guard Blindspot Is? Discover the Strategic Jiu-Jitsu Passing System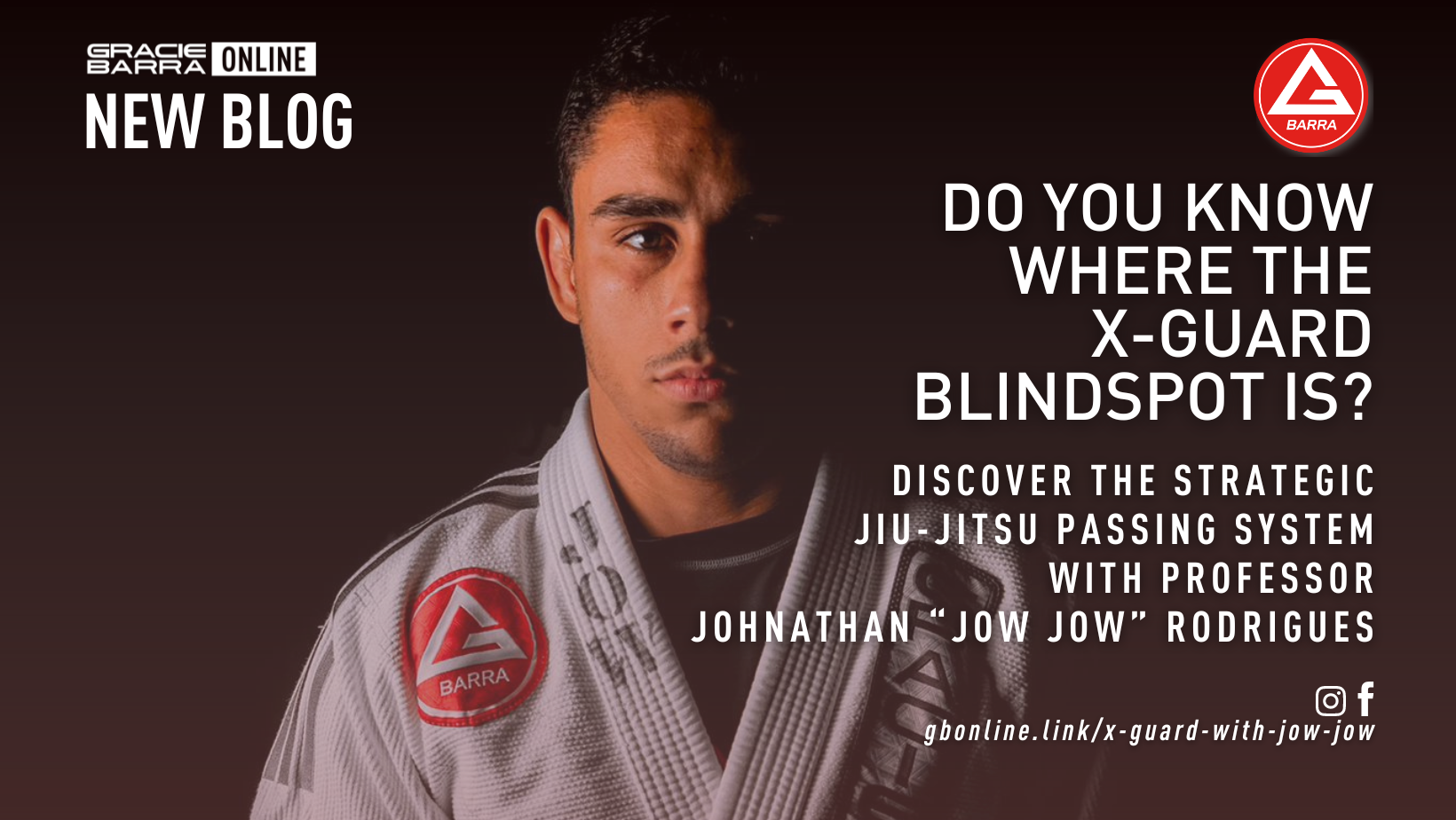 Meet Professor Johnathan "Jow Jow" Rodrigues, who brings Gracie Barra students the latest video series on GB Online. GB Online got together to talk with Professor Jow Jow (pronounced "Joe Joe") to get to know the person behind the techniques.
Professor Jow Jow got his start in Jiu-Jitsu when he was 10 years old in Belo Horizonte, Brazil. While swimming at a community aquatic center, he saw a martial arts class taking place in one of the rooms. Young Johnathan approached the instructor and said jokingly, "Hey, I used to do MMA back then…what will it take for me to train Jiu-Jitsu with you guys?"
The instructor agreed to allow Johnathan to join his class under one condition – Johnathan had to lose some weight first. Professor Jow Jow explains that he was a child with weight problems. Johnathon was motivated by the challenge to lose weight and prove to the Jiu-Jitsu instructor that he was tenacious and up to the task. 
Professor Jow Jow started under Professor Caio Gregorio – a black belt under GB Professor Erik Wanderley. Professor Jow Jow explains that due to a lack of funding, his school was not able to be an official GB school, but they always competed under the GB Belo Horizonte banner.
Paying it forward
Years later, after Professor Jow Jow immigrated to the USA,  he was able to provide some financial support to his original Jiu-Jitsu school in Belo Horizonte and assist them in becoming an accredited GB official school. The financial assistance goes towards renovations for the school and sponsoring uniforms for young students. Professor Jow Jow credits Professor Flavio Almeida and others in Arizona for helping make it all happen.
Professor Jow Jow is proud of his roots at GB Pompeia in Belo Horizonte and is currently a high-level athlete representing GB and helps with students at GB North Phoenix in Arizona. Professor Jow Jow graduated to black belt under Professor Flavio Almeida and his professor in Brazil, Professor Caio Gregorio. 
Competition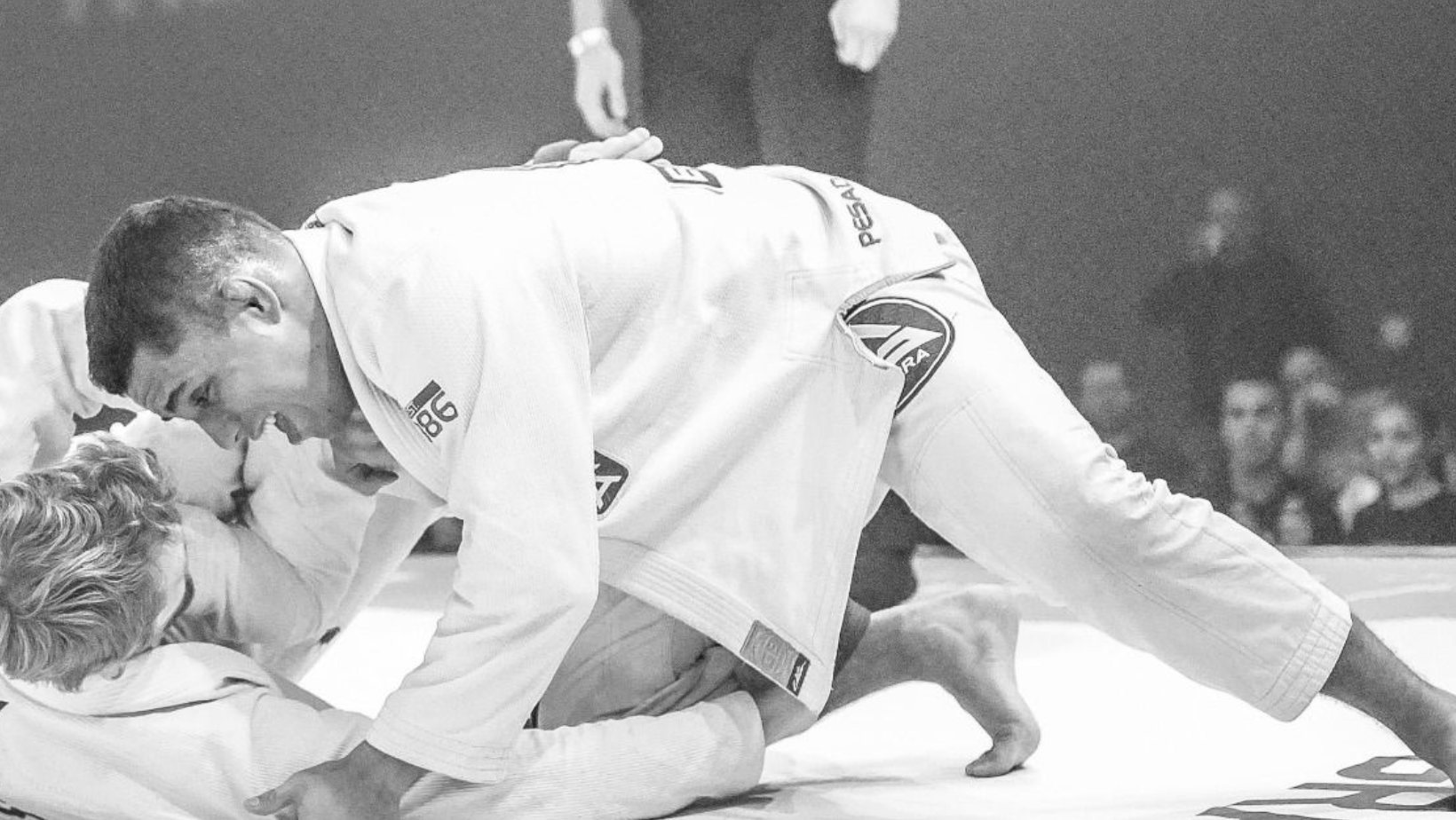 In addition to Paying it Forward by helping others on their Jiu-Jitsu journey, Professor Jow Jow is a family man and continues to be an active competitor representing Gracie Barra on some of the highest competitive stages.
"I live my life through Jiu-Jitsu. That's all I ever wanted to do. To be able to live through Jiu-Jitsu and live in the United States. To have a family here and still give back to my school in Brazil." –
Professor
Jow Jow.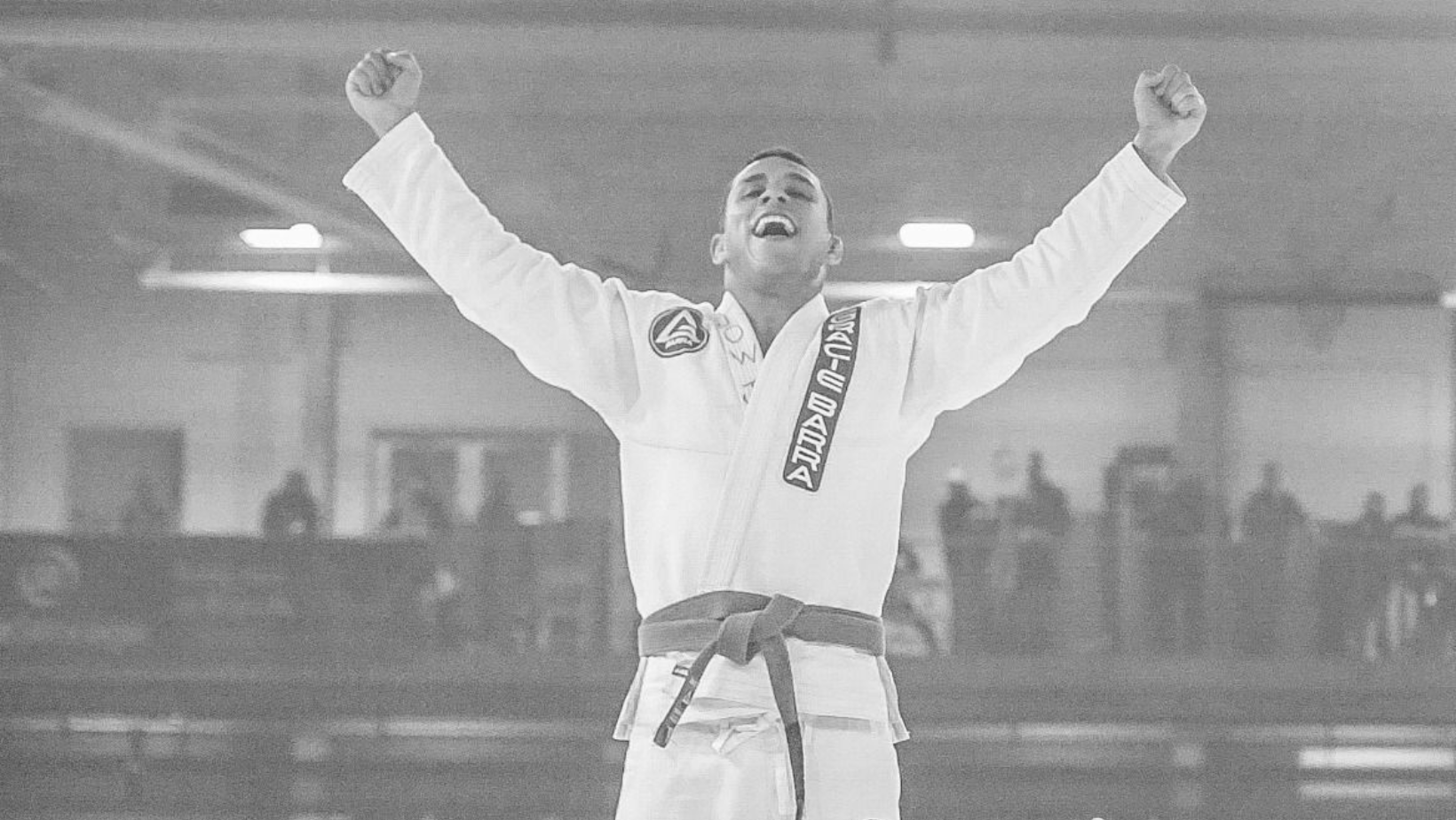 Professor Jow Jow started competing when he first started training in Jiu-Jitsu. His competitive highlights include the finals of the Pan American championships No-Gi in 2018. He has competed through the colored belts at the highly competitive Brazilian Nationals with multiple high placings in Copa Podio, CBJJO championships, Brasiliero de Equipes, Seletiva Abu Dhabi pro, and several appearances in the World Championships.
The Single Leg X Passing System
When Professor Jow Jow looked at the instructionals available on GB Online, he saw an area that he could offer some expertise – the Single Leg X-Guard – and, more importantly, how to defend and pass the position.
"The main reason is that over time I was able to develop some ways of passing Single Leg X-Guard and X-Guard that are very efficient in competition. I developed a passing game that was strong," – Professor Jow Jow.
While there exists an abundance of technical resources on playing the bottom Single Leg X-Guard, there is an absence of information on passing the Single Leg X-Guard. Professor Jow Jow saw how his experience could fill that knowledge gap for Gracie Barra Jiu-Jitsu students and competitors.
As a Professor, he sees many Jiu-Jitsu students struggling with positions that they are unfamiliar with, and the Single Leg X-Guard is a perfect example.
"I noticed that the majority of people in the Jiu-Jitsu community have a hard time passing the Single Leg X-Guard and X-Guard. I want to show them that it's not that seven-headed dragon that they think it is,"  he smiles.
Behind Professor Jow Jow's making of his Single Leg, X-Guard passing system lays a sincere desire to contribute to the Jiu-Jitsu community. "I want to be able to make the GB Jiu-Jitsu community stronger. And help Jiu-Jitsu develop more. I just wanted to show a little bit of what I know and what I was able to develop," he explains.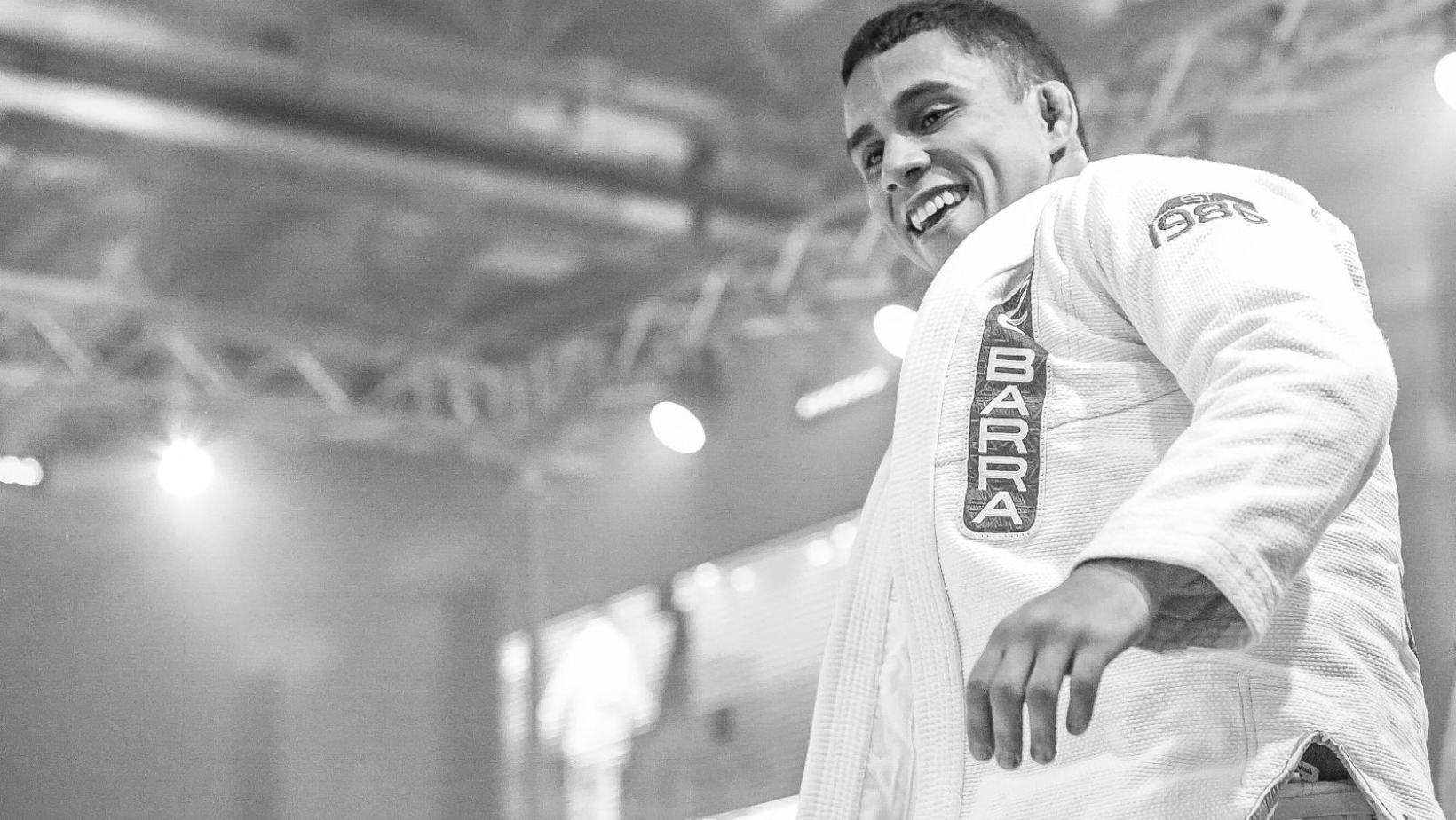 The Passing System and submissions
The focus of Professor Jow Jow's Single Leg X-Guard passing is obviously the Single Leg X entanglement but includes passing techniques for the X-Guard. In addition to the guard passes, he also teaches submission attacks that come off of the passes. 
"I have X passes. I have Single Leg X passes. I have submissions – entering into armbars, entering into foot locks, and I have back takes as well," he says.
The Single Leg X-Guard in competition
The position of Single Leg X-Guard – also commonly referred to as the Ashi Garami leg entanglement – is really important to the leg lock game that we see in most submission competition rule sets.
A key part of Professor Johnathan's passing system is teaching how to understand leg entanglement and avoid being submitted with leg attacks from Single Leg X-Guard/ Ashi Garami.
"The last four techniques of the video series are about when the person starts reacting to the passer. The reaction is the leg entanglement. I'm able to teach in the instructional how to react against it. Getting into the Leg Drag pass and back take scenario," says Professor Johnathan.
As a competitor, the Single Leg X-Guard passing position has been an important part of his success. The techniques have been tested in the intensity of competition matches.
"Over time, I was able to develop – in Brazil in competition, even in Arizona – a series of passes. Whenever I'm in the top passing position, sometimes I even give the leg (to the opponent) in order to pass. I feel so comfortable in that situation in order to pass and get to the back. I wait for their reaction."
Single Leg X-Guard and No-Gi
Professor Johnathan is looking forward to competing in more No-Gi events in the future. His Single Leg X-Guard passing system is highly applicable to the No-Gi game as well. 
"It applies to both No-Gi and Gi Jiu-Jitsu. There are some positions that, for example, I show how to get to the armbar from the Single Leg X-Guard, that is mostly for the Gi. But with the foot lock- I was able to get to the finals of the No-Gi Pans because of that foot lock that I show in the instructionals," he says.
"I was competing in Pans, and I had four matches. And in the four matches, I was able to do the same position. I got to the finals because of that position," says Professor Jow Jow.
Professor Johnathan shares one of his Single Leg X Passing secrets: "In the instructional, I show how to pass the Single Leg X controlling the opponent's sleeve. But you don't necessarily need the sleeve. That's why I say that it's for Gi and No-Gi. It's more about how to balance yourself and how you distribute your weight to the leg that they are trying to extend and off-balance you. So you are able to maintain your balance, and you are able to pass and get to the back."
Developing the Single Leg X Passing game
Professor Jow Jow explains that coming up competing in Brazil, the main focus in his school was on passing the guard. Competing at Light Featherweight, Rooster, and Featherweight, he had a difficult time with the common tournament situation of double guard pull. He had little experience with dealing with leg entanglement until he attended a training camp with Professor Samuel Braga in Knoxville. 
"I was losing in the competitions from a mistake, in the double guard pull, and didn't know what to do when they entangled my legs. They either got 2 points on me, or we stayed in the 50/50 guard. And I lost the match because of that," – Professor Jow Jow.
He got together with his professor and discussed the necessity of developing a strategy to deal with this tournament situation. To be able to beat competitors that were good at leg entanglement, Professor Jow Jow had to practice and improve in those double-guard pulls. 
"Whenever you come up to the top in a double guard pull situation, you always end up in the Single Leg X. So that's why I was able to develop my game in the Single Leg X-Guard position," says Professor Jow Jow.
Submission strategy from the Single Leg X 
Professor Jow Jow is a keen student of studying high-level competition footage. He observes, "In competition, all of the off-balancings come from the Single Leg X. That is where you hit your submissions. You off-balance someone, they forget about what they are doing, and you submit them! Or you sweep them. In the competition scenario, the position is really strong. People are using it a lot. People are having such a struggle to pass. The guard player is too good at the Single Leg X, or the other guy doesn't know how to defend."
Professor Jow Jow really wants you to use his Single Leg X-Guard passing system to develop your own passing game to a higher level. He explains that if he teaches people his techniques, they will get better and force him, in turn, to have to improve. Everyone gets better.
"I want to show to the world that I want to help them, and I want to make the community of Gracie Barra even stronger."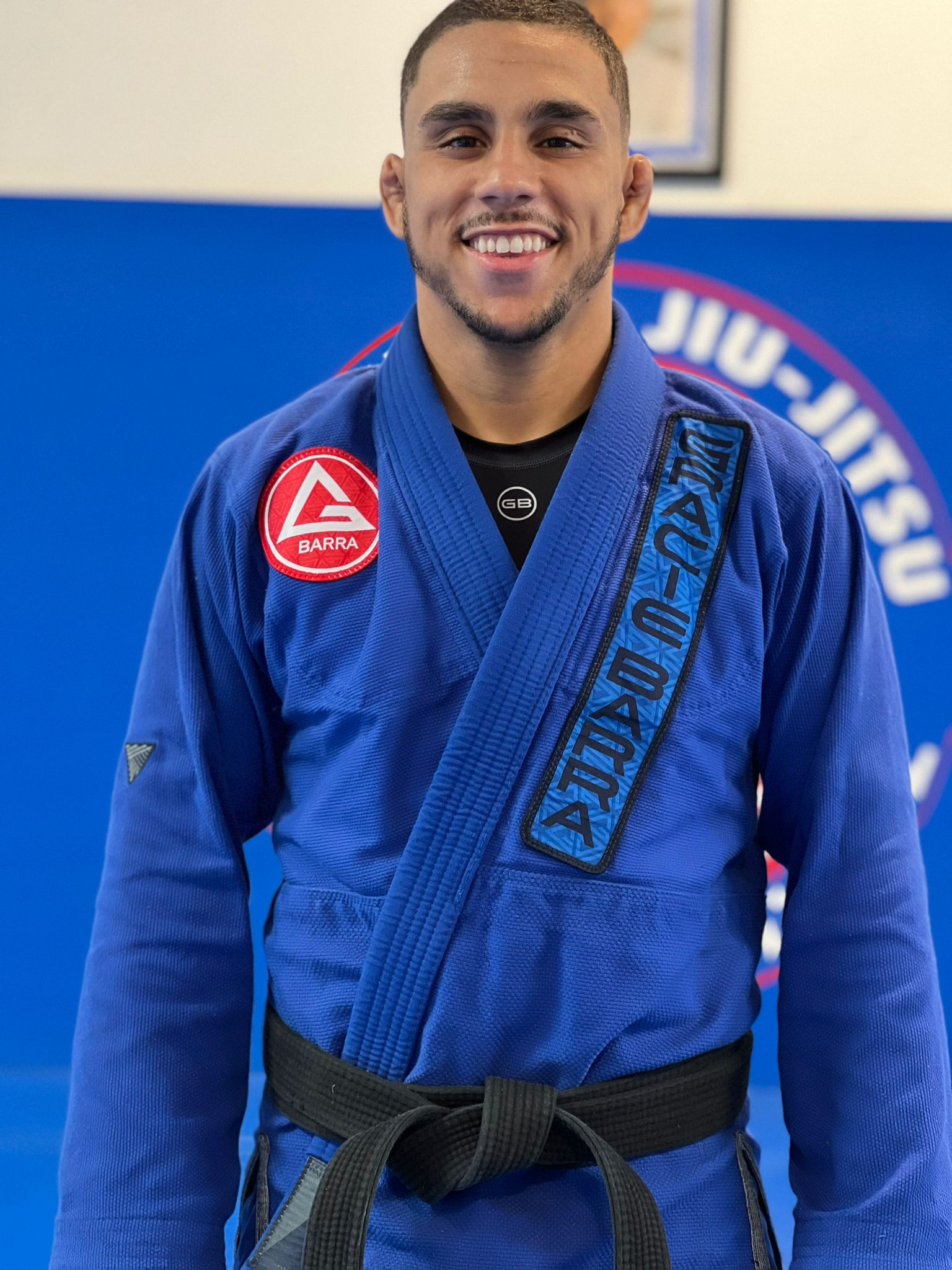 Check out Professor Jow Jow's instructional on GB Online when it is released on Tuesday, December 6th, 2022.
Blog written by Mark Mullen, a Gracie Barra Black Belt