Taking a break a from something you love is essential. Think of it as a breather. Yes. We all need it. And then, we go back to it. And somehow, it is an uphill battle to get back in shape. No matter what your reasons are for taking a break from Brazilian Jiu-Jitsu, this can help.
There are hundreds of reasons why people quit bjj. Most common are financial issues, relocation, life getting in the way of BJJ (LOL!), and even injuries. There are also personal reasons that I have heard of. There is also drama. Although, I have never heard of such drama in Gracie Barra that can drive students away. Yes. I am promoting Gracie Barra. One of the best schools there is, actually. Seriously, google it =)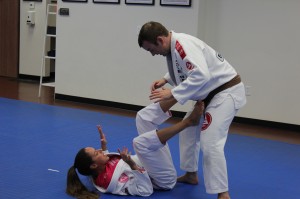 Take It Slow
Rushing into full monster mode in BJJ is not gonna help. Think about it, your muscles have become atrophied from not doing the strenuous activity known as BJJ. Going all out is not gonna help. Take this for example: when you first started out training, your mentor / professor gave you the basics. This is designed not to put too much pressure on your body, right? Taking it slow will give you more advantage actually.
Back to Basics?
Yes. Going back to basics will stimulate your drive to (again) enjoy bjj. My experience in returning to bjj was more enjoyable when I went back to basics. Not that I get to bully the newbies, but it was more interesting to relive the days when I was naive about the art. Ignorance can be blissful.
Find a Partner to Train With
Yes. Finding a training partner helps you get back on track. Preferrably someone who is also (again) starting out in the art of BJJ. This can be anyone! Like an old gym mate. Getting together back in the gym will always be a good thing. And oh. Both of you can track your progress.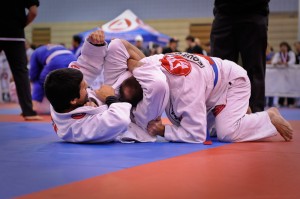 Sign Up for the Next Competition
Um… taking things slow, right? Well, signing up for the next competition is a good thing. Jiu-jitsu is a competition based sport. Get that drive back by getting the excitement of going against a complete stranger. You may not win, but at least the spirit of competing lives on.
Start Eating Right
This is commonly forgotten when getting back to active sports. You need to start eating right. No amount of training can help you if you are not putting good things in your body. For more information, you may check graciebarra.comblogs on eating well. We have tons of recipes there!
Reconnect with Your Professor
Your professor was someone that you looked up to. And it's quite interesting how things may have changed in the gym. I'll bet your old BJJ professor is excited to see you as well. In Gracie Barra, all professors would love to see those who have decided to give BJJ another chance.