Prof. Ubaldini on Blue and Purple Belt Training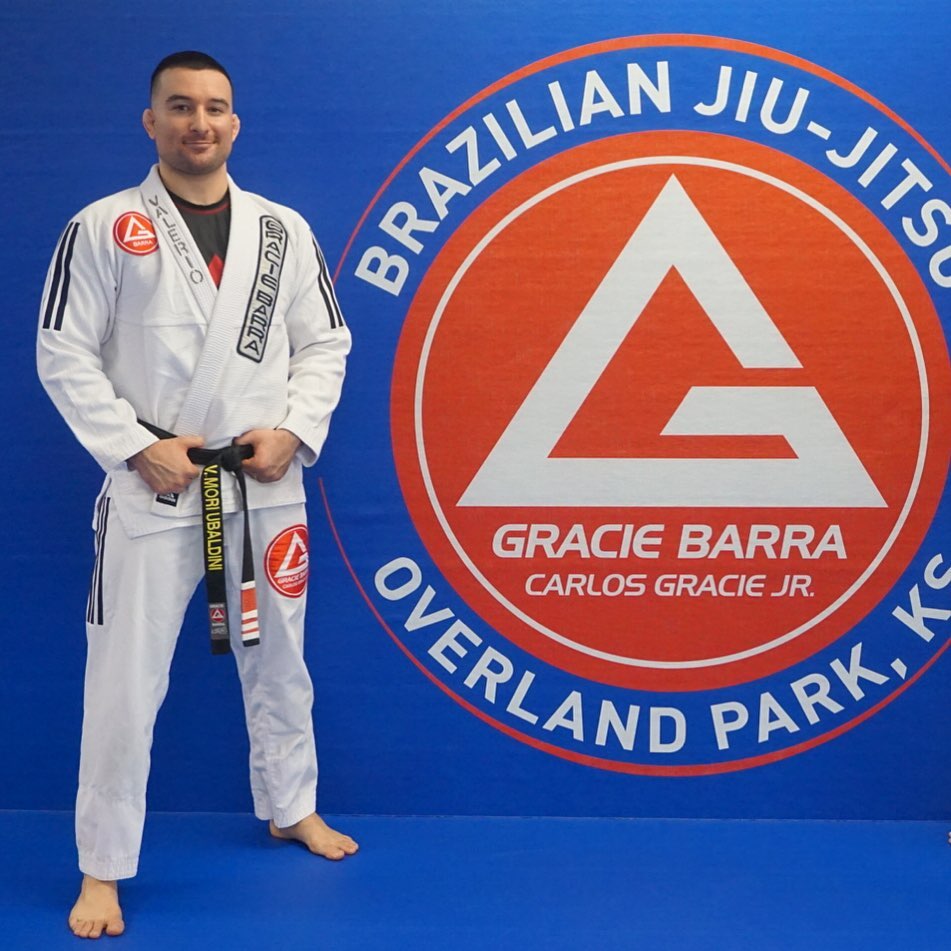 "I believe that the hardest phase for a Jiu-Jitsu practitioner is the blue belt era!"
Meet Prof Valerio who is the proud owner of GB Overland Park shares some great insights on training for GB2 – Blue and Purple belts. Prof Valerio is an experienced competitor and a graduate of the original Gracie Barra school in Barra de Tijuca in Brazil.
IG: https://instagram.com/valeriomoriubaldini?utm_medium=copy_link
Have you checked out the GB Online Instagram account?
https://instagram.com/graciebarraonline @graciebarraonline
GB: Prof Valerio, let's start by introducing you to the GB readers. How did you get started training Jiu-Jitsu and what is your home GB school?
Prof Valerio: Hello everyone, my name is Valerio Mori Ubaldini. I am a 2nd degree Black Belt under professor Jefferson Moura and I am the Head Instructor at Gracie Barra Overland Park – the very first Gracie Barra school in Kansas.
My story started back in 2008 when I was 14 years old in my hometown Livorno, in Italy after assisting one of the first videos of the UFC.
After a few years of practice when I was 18 years old, I start to travel to England first to learn from professor Victor Estima training at Gracie Barra Nottingham for about 1 year/1 year and a half and then I decided to go train where the movement of Brazilian Jiu-Jitsu started: in Brazil.
I lived in Barra da Tijuca, Brazil for 3 years from my purple to my black belt training at the very first Gracie Barra school founded in 1986 by Master Carlos Gracie Jr.
I am a 4x Italian National Champion (2x Gi and 2x No-Gi), IBJJF European Champion, 2x FILA Grappling World Champion (Gi and No-Gi), AEJJB Canary Island Champion, and the only Italian to ever win a CBJJO Brazilian National Championship.
GB: There are many articles talking about what the white belt student should focus on early in their training, but not as much for the intermediate level student – the blue and purple belts
After a GB student graduates with a blue and purple belt, how should their training focus change?
Prof Valerio: This is a very good question.
Let's talk for example about what happened after being promoted to the blue belt: you are going to attend the fundamental class with more experience and the advanced program with a different vision. You start to rank up in the attendance line: there was a time when you were the last in the line while now you start to move more towards the middle.
A brand new blue belt for example has been training for about 8-12 months and used to be the " punching bag " of the most colored belts in the class: now that they learned how to survive in training and how to stay more on the defensive, the focus changed in the possibility that they have to be able also to explore how to attack more once partnered up with lower ranks.
For months they have been dealing with how to give hard time to the most experienced partners, maybe working for the most time on the bottom of the positions: guard retention, sweeps or submission attempts, bridges, and shrimps. Now they will have the chance to be the one leading the action by working eventually on their top game: more guard passing, footwork, grips fighting, and stances.
It's also a transition where after getting a foundation with all the fundamental training, they can explore now more playing from all the different advanced positions like Spider Guard, De la Riva, Lasso Guard, and so on.
Being promoted to the purple belt I consider it a very important step. I believe that the hardest phase for a Jiu-Jitsu practitioner is the blue belt era! It usually lasts longer than the other belts because so much happens in this period of time. Not a high percentage of the students in a school would pass the blue belt phase, but if consistent and perseverant they will be able to move to the next stage. I think that at this level there is obviously always something to learn: a purple belt usually has trained already for about 4/5 years and now can have the time to get better in techniques or positions that already knows adding more details as weight distribution, distance management, pressure.
In my opinion, it's a phase where the practitioner starts knowing more what positions work and what it doesn't, so he would start eventually to develop a personal game.
See also on GB Blog: GB Inspiration: Prof. Flavio Almeida on overcoming struggles
GB Inspiration: Prof. Flavio Almeida on overcoming struggles
Writer: Mark Mullen, Gracie Barra Black Belt