Gracie Barra Head Instructor Prof. Moura Interview Part 1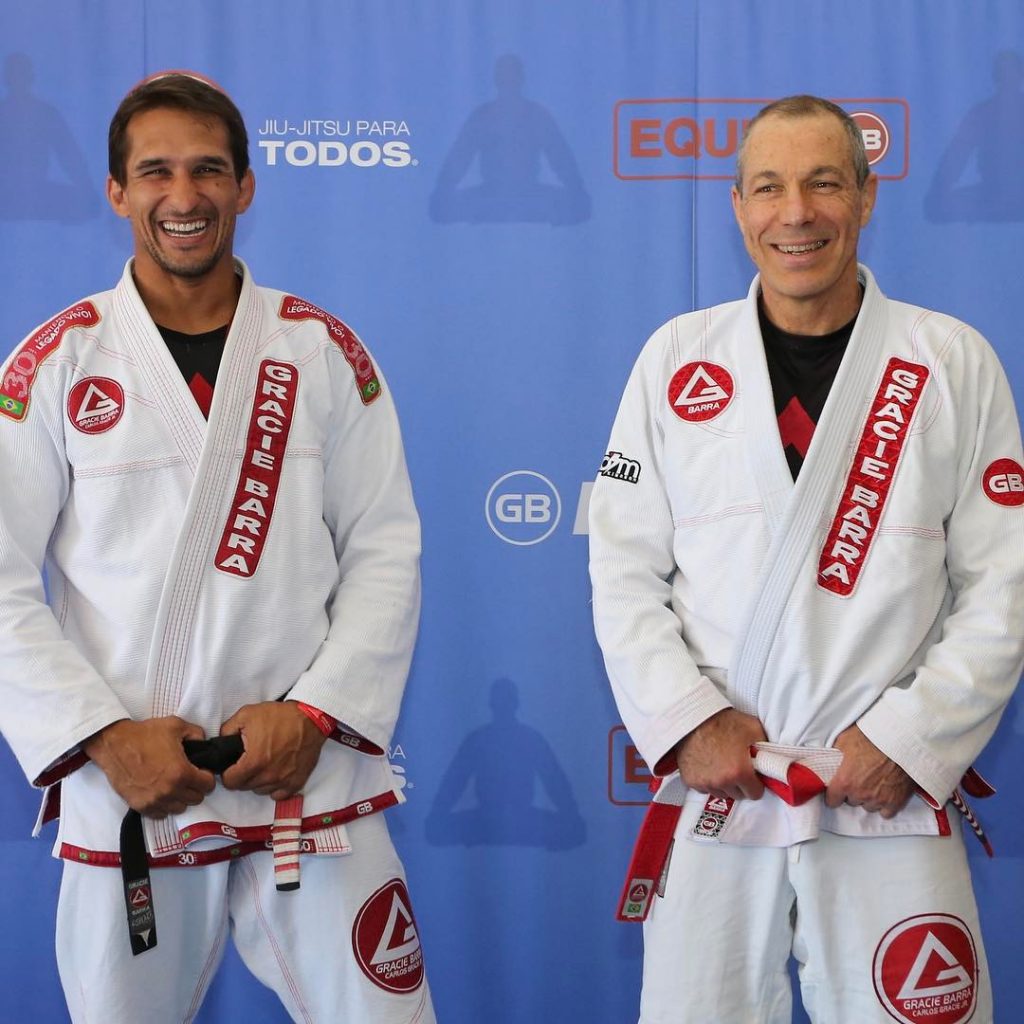 This week on Gracie Barra Blog we talk with Prof. Jefferson Moura about his role as head instructor at the original Gracie Barra school in Rio de Janeiro and the new challenge of spreading Gracie Barra jiu-jitsu in Colorado, USA.
 "Brazilian Jiu-Jitsu being used as a tool to transform people's lives."
ㅤ
GB: Let's start by introducing you to the Gracie Barra readers. When did you start training jiu-jitsu? What made you fall in love with training and living the Jiu-Jitsu Lifestyle?
What is your home GB school?
Prof. Jefferson: Hello Gracie Barra readers, I hope you enjoy this interview and that my story somehow inspires you.
ㅤ
Let's start:
I started training Jiu-Jitsu when I was 15 years old in 1992 at a school in Rio de Janeiro that was located in the Freguesia and called Carlos Augusto Jiu-Jitsu. In 1997 I got my Black belt and went to train in Master Carlos Gracie Junior's GB, today I'm 29 years practicing jiu-jitsu. 24 years old with an only black belt, "same time as I've been in GB, so I conclude I'm old, Hahaha.
Jokes aside, it's a long journey, with a lot of dedication, donation, and routine to get where I've managed to get so far and my inspiration for me to continue on this path is my masters and my more graduated friends who continue on this path until now.
My passion started with my first Professor, Carlos Augusto.
The way he talked about jiu-jitsu. The passion and respect he has for the Gracie family, the stories he told when he took classes with the family, and especially how he made me see jiu-jitsu, where you work levers and use intelligence and not just force, everything this set ended up infecting me, making me have this passion for Jiu-jitsu.
And when master Carlos Augusto sent me to the First Gracie Barra in the world, to Master Carlos Gracie Junior, to be part of the largest school for champions in the world, what was already passion became love.
as in my first school I learned many values, in GB with master Carlos Gracie Junior it was no different and over these 24 years I have learned a lot and I still learn today with the philosophy, legacy, brotherhood, personal growth, the concept of family within the GB, that is, we are a large community where everyone who is with us learns to defend themselves and receive values that will serve on and off the mat for life.
 Brazilian Jiu-Jitsu is being used as a tool to transform people's lives.
And I currently have a really cool new expansion project that is growing really fast. So far, two Gracie Barra here in Colorado, the state where I'm now living. The first is in Fort Collins (Gracie Barra Fort Collins), the other is in Broomfield (Gracie Barra Flatirons), soon, very soon, the third unit will be born. I'm together with an exceptional team, which we are and are already doing professional work, which has the objective of taking through Jiu-Jitsu GB the philosophy of our Master Carlos Gracie Junior and thus helping our community and the entire Colorado region to have higher quality jiu-jitsu.
ㅤ
GB: Prof. Jefferson, you were a long-time competitor for Gracie Barra. Can you share some of your honors and medals in the competition?
Which championship or victory meant the most to you?
Prof. Jefferson:
I always liked to compete and I always tried to fight in the IBJJF championships, which until today is the biggest Jiu-Jitsu championship company in the world.
 my main titles are:
Team Brazilian Champion – 2002
Vice – 2009
Brazilian championship Champion – 2001, 2006, 2009 and 2012
Vice – 2004 and 2005
Third -1998, 2000
Pan American Champion – 2014
European Champion – 2015
 World Championship Champion – 2002 , 2003
Vice – 2004
Third place – 2001
ㅤ
The world championship and the Brazilian adult Black Belt championship were the most important championships.
At that time because the world championship was held in Rio de Janeiro and the Brazilian championship too, practically all the athletes who fought were the same, so the level was very high.
the Brazilian championship marked a lot for the 8 years I medaled and for the 4 years, I was champion.
The Worlds For the 4 consecutive years that I was on the podium and for the two times that I was world champion, one year I closed the category with an ex-training partner.
ㅤ
GB: You were also the head instructor for several years at the original Gracie Barra Matriz in Barra de Tijuca in Rio de Janeiro, Brazil.
What can you say about your experience and knowledge after teaching 1000's Gracie Barra students of different levels?
ㅤ
Prof. Jefferson:
That's right, 11 years ahead of the number 1 in the world.
First, I would like to thank Master Carlos Gracie Junior for giving me this opportunity to be in charge of his school for all this time.
It was an incredible experience because when I took over the HQ, master Carlos Gracie Junior was in the US involved working on the expansion of Gracie Barra. Understanding that I was in this situation, I organized my thoughts, realized the scale of the responsibility, and saw that I had to follow the same path as the Master in making Jiu-Jitsu for everyone, within the number 1 in the world, work. Imagine a school that has been in operation since 1986 and from there, the greatest champions in the world were formed, everyone had a great affection for that school. I say it's everyone's house. That's why everyone wanted to know who taught if he really deserved the role of Head Instructor of number 1 in the world, the culture in the school to protect the Red Shield was very large.
 But protection without guidance would not be ideal. I knew if everyone understood what was coming it would be easier; the new GB system that would be implemented, our uniform being standardized, changes that would only bring benefits. I knew that all these changes would lead to organized growth, giving even the possibility for students to make a living from Jiu-jitsu and open their own schools in Rio de Janeiro.
When I started to make the changes I used the strategy of keeping connected with what the Master was doing out there and I was working little by little so that the students understood and became aware that the change was for something bigger and better.
At the end of these 11 years everything worked out, number 1 was working with 1000% power and to this day I am the regional director of Rio de Janeiro with 65 schools being managed by highly qualified Black Belt Students prepared to be school owners.
 I have several students in Rio de Janeiro who continue to practice our jiu-jitsu.
 The black belts that I always had by my side were a fundamental part of this change as true generals of the Red Shield. I made several friends there and we all remain connected and doing everything for the GB in Rio de Janeiro. All this because everyone understood our master's philosophy of rowing in the boat in the same direction.
I can only say that being ahead of Matriz during these 11 years was an incredible experience. Imagine sharing and training with more than 30 black belts every day and having an average of 80 students per class during all these years.
Our Belt Delivery Party had over 300 people every year and during that time I've formed over 50 Black Belts.
Remembering that every week there were visits from GB students from all over the world, from white belt to black belt, wanting to know, learn about the stories, take pictures, and train in the place where the greatest champions of all times came out.
I just have to thank everyone! Because I'm sure they were all fundamental for my personal and professional growth.
ㅤ
GB: You have recently relocated to Colorado, USA to open schools in GB Fort Collins and in Broomfield. How is your experience adapting to life in the USA? What is your feeling about the challenge of bringing your experience to GB students in Colorado?
ㅤ
Prof. Jefferson: You are right.
I'm here in Colorado on a much bigger project than the last one, and it's already happening. The team here is very professional, we are flying! The GB Fort Collins is already up and running, until the end of October or sooner we will be inaugurating GB Flatirons which is in Broomfield and we already have a project for the Third School and more surprises will come.
When I decided to come here to the US I was very calm about how I would teach and administer. I have a degree in Physical Education, I have already administered a gym, I have taught jiu-jitsu until today, I have taught large groups for over 25 years and the most important thing was the experience I had in the first Gracie Barra on the planet.
All this gave me the confidence that I could teach anywhere and life off the mat is a little different from life in Brazil, customs are different, the way things are done here is very different, but when I arrived I had the help and guidance of friends and students, so this adaptation was not difficult.
People here in Colorado are friendly, happy, and enjoy playing sports. The state provides this year-round and they love a self-defense class, they love being a part of something bigger.
It's going to be a big challenge for me to try to take all this experience I've acquired over the years to students in Colorado, but little by little I'm showing my work, I'm mentoring them, gaining the confidence to be a successful school with a jiu-jitsu and quality philosophy.
Whether it's no-Gi or GI, Championship or not, adult or children, the experience that everyone will have within the GB here in Colorado will be with a teacher who has lived the entire history and transformation of jiu-jitsu.
My aim is to benefit not only my school's students but other GB schools as well. We are a family and exchanging experiences, training, being together in championships is part of it.
 I came here to make a difference. Put the team forward.
 Master Carlos Gracie Junior's philosophy runs in my vein, it's been years of my life besides him listening, participating, and making it happen.
ossssssssss
ㅤ
See also on GB Blog: Technique Beats Strength with Master Carlos Gracie Jr.
ㅤ
Writer: Mark Mullen, Gracie Barra Black Belt