And Golden Boy are just two ways people use to describe Lucas Valente – one of the greatest lightweight promises in the world scenario, a student from the champions factory Gracie Barra Belo Horizonte.
A few days after turning 21 Lucas received his black belt from professor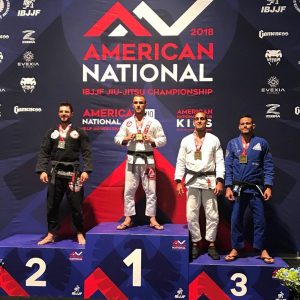 Draculino on a very special ceremony at GB Texas, in Houston,
surrounded by friends and family from Brazil the celebration lasted the whole weekend, but on the following Monday it was time to get back to the normal schedule.
Just a few months after Valente decided he was going to compete at the American Nationals Championship, a big way to start his career as a black belt. The result of that: He ended up winning 1st place.
Nowadays living in Texas, Lucas has been training Jiu-Jitsu since he was a little kid and has always shown that he would be a champion, but the numerous medals and titles did not come without effort, with a strict diet and intense training Jiu-Jitsu is a top priority in the life of the champion!
Lucas was recently invited to be the leader of the GB Texas Competition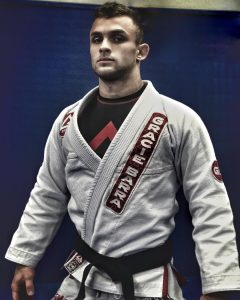 Team, led by Vinicius Draculino Magalhães, an important position within the Jiu-Jitsu scene across the United States.
Read the interview with Lucas:
What are your plans for 2019?
Keep my intense training routine and get ready to win the World Championship while I try to help everyone around me reach their goals as well.
Plans for the next 5 years?
In addition to continuing training for the world championships I want to establish myself as one of the best lightweight in the black belt division, I would very much like to be remarkable as a competitor. Out of the championships scenery my dream is to be a reference instructor for my students and my team.
Do you already think about your long-term dreams?
Being professor to my students close to as good as Professor Draculino is to his students, a reference on and off the mat.
What is your daily routine?
First thing of the day is to take my puppy Wave for a little morning walk then I go back and drink my bulletproof  coffee. First training of the day goes on from 11am to 1pm every day of the week. After that I go back home and cook a good and healthy lunch.
I rest a little after eating and then go do my physical preparation and then there's more Jiu-Jitsu training after that, usually from 6:30 to 9pm.
Every time I have some minutes between this schedule I do specific drills at home.
At least once a week I like to go to church to thank God for everything I have.
What are your most important titles until today?
All my matches were very important for my growth as an athlete and also to my personal growth but the ones I enjoyed the most were the two times I won the American Nationals, the Pan American and also won gold at the Brazilian Nationals. The 4 times I went to the podium at the Worlds Championship were incredible too.
Tell us a little bit about the 'Parabolic Guard' you've been seen doing at some BJJ tournaments?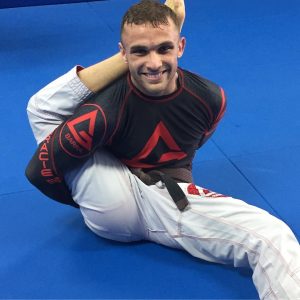 I am a very flexible person, so that is easy for me to do and I have found that it can be very efficient too.
Any remarkable moment in your career outside the championships?
It was very cool to be the #1 lightweight at IBJJF NO-GI rank.
Gracie Barra wishes you the best of luck in your career as a black belt!
We know we will still see you many times at the podiums around the world, representing our red shield!a