Safety, Quality, and The Gracie Barra Way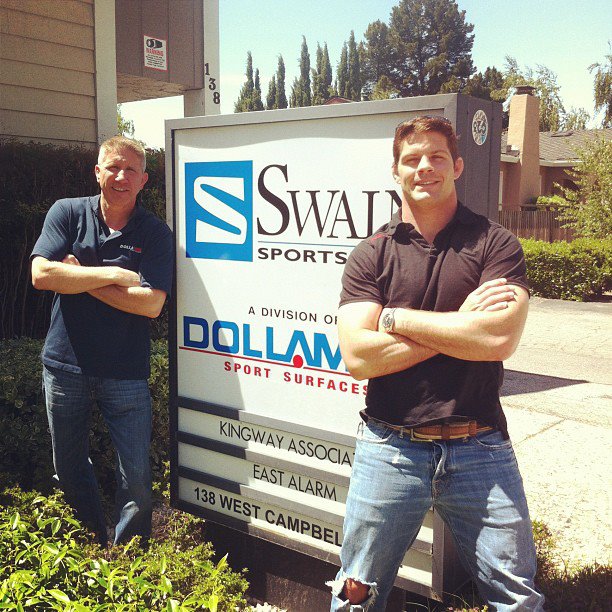 Gracie Barra and Dollamur continue the joint efforts to promote safety of GB Students through top quality mats
This week Professor Flavio Almeida, Executive Director of Gracie Barra (GB) Association, travelled to San Jose, CA to cement the terms for an on-going partnership with Olympic judo champion Mike Swain and Dollamur Mats, the leading provider of mat surfaces in the international martial arts community, wrestling, and gymnastics.
Four years ago GB first acquired Dollamur Flexi-Roll Mats for its headquarters, covering the then brand new two training-floor facility. Today the mats are still in great shape, doing exactly what they're supposed to do, facilitating safe training and exemplary hygiene.
"We stand for the highest quality of of Jiu-Jitsu instruction in the world," says Professor Almeida, "and we've gone to great lengths to locate the highest quality mat surface to put in our schools. Dollamur mats provides us with an outstanding, durable, high quality product and a level of service and affordability we have been able to count on."
The new phase of the GB-Dollamur partnership will focus on promoting the textured royal blue Flexi-Roll as the standard for our schools worldwide. Dollamur will also be the official mat supplier of the GB Compnet Tournaments.
"Our primary objective," says Professor Almeida, is to foster  a clean and safe training environment together with a certain look and feel for our schools. It goes back to Master Carlos Gracie Jr.'s vision of operating our schools under the highest standards and teaching 'Jiu Jitsu for Everyone'".
Existing schools currently using other kinds of mats won't have to switch to flexi-rolls immediately, but the Dollamur partnership will ensure that when it is time to upgrade surfaces, GB schools will get the best possible mats for an affordable price.
Dollamur Vice-President, Judo Champion and Olympian Mike Swain is excited about the relationship with Gracie Barra.
"What has struck me as most remarkable about our dialog with Gracie Barra over the last 4 years," says Swain, "has been the unique teaching style and focus on safety, above all other considerations. As a former Olympic coach for Judo, I genuinely respect martial arts teachers who recognize the importance of the highest standards for safety and training longevity."
GB and Dollamur will continue developing the partnership focused on making progress on the 4 principles over which the relationship was founded in the first place: quality, safety, affordability, and durability.
Here is a cool video of  Gracie Barra Jiu-Jitsu seminar taught at San Jose State Judo after the work session at Dollamur Headquarters.
To find out more about the Dollamur-Swain products for Gracie Barra schools, please contact GB's service representative, Mr. Chuck Jefferson, toll free, at 1-800-662-4616 (or at 408-370-4040); email him at chuck@swainmats.com.