Alexandre Ferreira bringing Jiu Jitsu to communities all over Texas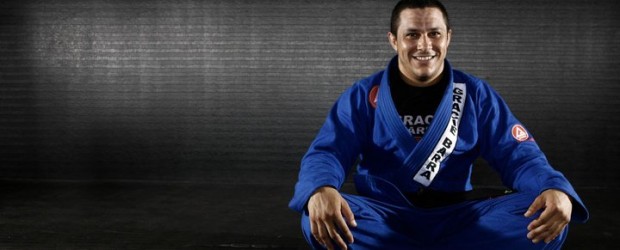 Professor Alexandre "Dande" Ferreira has been hard at work trying to promote Jiu Jitsu for Everyone throughout the state of Texas. As the owner of Gracie Barra Austin, South Lamar, and the new Southlake school he wants to ensure that the Lone Star state's communities experience the wonders of the art of Jiu Jitsu. Professor Dande took some time out of his day to tell us about where he comes from and what he has been up to.
So tell us about your background and how you got started in Jiu Jitsu.
I started in Jiu Jitsu back in 1996 after watching the first couple UFC videos together with so many other kids my age back in Brasilia, the Brazilian Capital. I had some close friends who were already taking Jiu Jitsu classes and they were totally hooked.
There was a Gracie Barra Black Belt that just moved to Brasilia from Rio de Janeiro and all my friends were very impressed with his techniques so I decided to give it a try. I had a blast on the very first day and Jiu Jitsu started to take over my life little by little.
What schools have you helped open?
I consider myself a very lucky person for more reasons than one and working at GB definitely has been a one of a kind experience.
I have had the honor to be deeply involved in the process of opening the first official GB School in Brasilia, which is Gracie Barra Asa Norte, where we had the chance to see GB Champions such as Fabio Costa, Roberto Tussa and Ana Laura Cordeiro just to name a few; growing from white to black belt.
In 2006 I moved to the US, and in the past years I have also helped opening and establishing some of the GB Schools in Georgia, California and Texas. I have been living in Texas for about an year now and with this steady growth that Brazilian Jiu Jitsu has shown in the state I am looking to add  a few more to the list.
What do you think of Texas?
I love Texas. I have lived in several different states and had the opportunities to visit many places and I believe Texas has it all. The weather reminds me of Brazil.  People here are friendly and lovely. They say everything is bigger in Texas, I believe this applies to the heart that the people have here.
Another big reason I like Texas so  much is because it reminds me of my Dad all the time.  My Dad is a big time cowboy and when I told him I was moving to Texas he was prouder than if I was finishing any college degree or something of that caliber.
What made you decide to open up another school in Texas?
The demand. Texas is huge and we still have a lot of great communities with no access to good jiu jitsu.  The Gracie Barra approach of teaching Brazilian Jiu JItsu for everyone fits perfectly into the big cities in Texas where people have so much pride in their state and families.  Its just the perfect combination between people strong hearted and a solid and healthy family environment supported by a strong economy making it all a win/win situation.
Who is your main professor and what is the best lesson you learned from him?
Like every other Gracie Barra Black Belt I had many professors.  Professor Jucao and Professor Fabio Costa taught me a lot back in Brasilia. But  in the past years, since I moved to the US, my main professor has been Professor Marcio Feitosa and he has taught me the real Black Belt way of life. Everything from teaching skills, teaching methods, techniques, to business administration, time management, public speaking and so on.
What is one of your best memories from Gracie Barra?
That is a hard one! There are so many good memories. But one good memory that I have is when I was a blue belt visiting the GB Head Quarters in Barra da Tijuca, RJ, for the first time.
Going up the steps I remember feeling the amount of butterflies double inside my stomach as I was getting closer to the top floor where the mats are currently. It was very intimidating and humbling to see so many black belts and all the people that I was used to seeing only on TV or in the magazines rolling around. Even though everyone was very polite I felt the tension in the air since we were only a couple of weeks from the World's Championship.
I remember a few guys being very friendly but as soon as we walked up to Professor Marcio Feitosa he gave us his warming smile, making us feel welcome and not so much like waking targets anymore. Right after that he took us to the center of the mats where Master Carlos Gracie Jr. was sitting on his little plastic chair  stretching his ankles. When we walked up to him he gave us a bigger smile and it really made me feel awesome and not so scared anymore.
Needless to say that I got smashed after that pretty much by everyone  that I rolled with and every time I went back to GB HQ in Brazil I felt the same way. Many other friends of mine confessed that they had the same experience going up that stairway including people born and raised in Rio de Janeiro who trained their whole entire life at that same place, so it is definitely one of my best memories of Gracie Barra.
What goals do you have for yourself, your schools, and your students?
My personal goal is to live Jiu-Jitsu for the rest of my life. I want my kids and whole family to be part of it and benefit from it like I did. The goal I have for my schools is to strive for excellence and become the Head Quarters of GB in the cities that I am.
"We have to teach our students to be better Jiu-Jitsu practitioners than we are otherwise our art will die"
-Professor Draculino
I heard Professor Draculino saying it once and it became my main goal with my students. He said: "We have to teach our students to be better Jiu-Jitsu practitioners than we are otherwise our art will die" and that is what I have been trying to do since.