ICP4 Testimonials and Graduate Certificates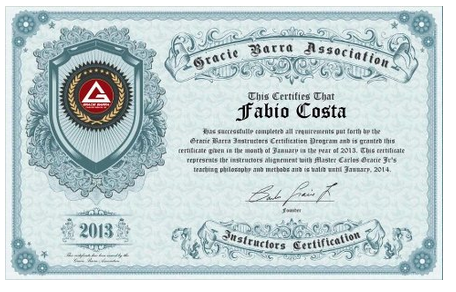 Developing Skills to Help Everyone Succeed
This year ICP4 has evolved by providing more practical information related to the implementations and challenges of systems and methods of teaching "Jiu-Jitsu for Everyone." As ICP4 finally comes to an end, the graduate certificates are being sent out by email right now for those who have completed the program.
Congratulations to everyone who participated in ICP4 this year and made it such a valuable experience!
The ICP4 courses provided methods for our schools and instructors to succeed by providing the best instruction possible to each and every student.  The following are testimonials of participants who have completed the ICP4 courses and who have received their ICP4 Graduate Certificates. Here are a few thoughts from some participants about their ICP4 experience and what it has meant to them.
"I began this course with an open mind about what I would be learning.  This course has been eye opening to me with each module.  This process has been put together with the highest level of professionalism and integrity.  What we are teaching changes peoples lives for the better.  What a great honor and privilege to be in the position to take this course.  What a great honor and privilege to be a Brazilian Jiu-jitsu instructor."  – Mike Geery GB Clearwater

"Having studied the ICP4 course these past ten weeks I am overwhelmed by and extremely comforted in understanding the professionalism, business commitment, long term strategy (and meticulously detailed execution of) and the concern for the safety and development of all practitioners. This is a mature and well defined commercial enterprise to which I will happily invest at the appropriate time to contribute to our combined responsibility – a commitment to bring Jiu-Jitsu to each city in the world."     – Natasha Riley GB Hornsby

"As one of the Seniors Black Belts of GB, seeing and participating on the ICP 4 was a life changing experience, without any exaggeration whatsoever. The content was so broad and detailed that any Instructor, Program Director, School Owner or investor benefited from it immensely. I got so many vital information from it that it already helped my business, my career as an instructor and as a member of Gracie Barra. It is so emotional for me to see how developed, organized and professional GB is right now."  – Vinicius Magalhaes

"What a challenge!! Get out of my comfort zone and made sure and hit the best score on each part! Means my life describe in words!!  A vision of my Master and the ones I look up too!! I really love what I do every day and I am proud to be able to hang on my wall and make sure its not the only piece of paper." -Fabio Costa
Remember that you can also get an ICP4 Graduate Certificate full color and full bleed 0.25″ x 16.25 to display at your school.
This is a great way to show everyone that you have developed a whole new set of skills: leadership, communications, marketing, management and computer to help ensure the best instruction and success of everyone at your school.
Once again congrats to everyone who completed ICP4 this year!