Taking care of your mind is Jiu-Jitsu: Making a living from Jiu-Jitsu is possible. It's totally up to you.
Having Jiu-Jitsu as your financial source was something totally impossible some years ago. Opening a successful school was very difficult and this was one of the reasons that many people left the mats and chose other ways of life.

Behind great instructors, there are, before anything, great persons. Actually, there is a human being, like any other, but one who chose to share his/her knowledge with those who want to learn it. Opening a successful jiu-jitsu school is one of the concepts transmitted and put in practice by the Gracie Barra. It's not easy and we do know that. However, it is possible to make a living from what you love. We must be strong to face all the obstacles before reaching our dreams. These problems will exist and, sometimes, they may take us to the point where we consider giving up. To get 'there', we must fight. And it's not only in the championships, it's a life fight.
The first battles of Royce Gracie in his fights at the beginning of the UFC – The Ultimate Fighter Championship – motivated Daniel Marques, when he was still a young guy, to look for the Jiu-Jitsu, as he told us: "Watching Royce fighting on the video tapes was really motivating. Such a thin guy beating everyone with locks and strangling was just perfect." At that point, his curiosity about this sport was just being born, but it was something that would change his life.
We are talking about the 90's, when the biggest MMA event was in its beginnings in the US, looking to expand this modality created on Brazilian soils. At that same time, in Brazil, some teenagers (not so much differently than today) would 'test' themselves in street fights, and in funk music parties. Rio de Janeiro communities were split into different territories by rival groups. But there was a common point to all those different groups: The majority of their members would end up in jail or losing their lives to drugs. From the age of 13 until he was 17 years old, Daniel was part of one of these groups. It was a problematic period but would take him to find, sometime later, an old friend who would keep talking about that 'Jiu-Jitsu'. "He told me that I could have a much better future. But I had to study and practice the Jiu-Jitsu to feel better," said this guy from Rio.
Those chats with his old friend, Ronaldo, were really productive. In 2000, Daniel's first contact with the gentle art happened. "I had trained a little, but still did not have a definitive way to my life. Things were not easy in Rio. I ended up moving to Rio das Ostras (a small city in RJ state), looking for a new path. When I got there, I saw a group of people that seemed to be fighters. I approached them and started a small conversation. One of them, Vitinho – who is still my friend today – invited me to show up at the gym the next day," remembers Daniel.
The beginning of a new life finally seemed to be happening. But breaking both of your arms in the first class does not seem to be a good beginning to someone who wants to learn the gentle art. "I got there and broke my two arms just in the first class. Just because I fell down. I don't know if it was due to a weakness or my 'stupidness'." So… With such an unusual situation like this, Daniel could totally have given up this sport. But, instead, this episode motivated him in a positive way, as he told: "I thought, 'I will come back and be a black belt. Just like this impressive teacher'."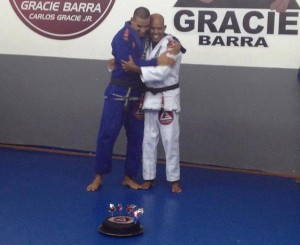 30 days later, Daniel Marques was back to the mats. The alcohol and cigars were left behind, suddenly, overnight. Being a real athlete was now a goal that would change the life of this guy forever, the leading actor in the most weird 'first class' ever registered in this website. This decision to make a change was then accompanied by a new surprise. Actually, another obstacle that Daniel had never imagined he would face some day, especially at that point when everything seemed to be just fine. "I was a blue belt. I was training the whole day, was running and swimming. All of that with my 59kg (130 lbs)". Being 23 years-old and in the top of his physical condition, a diagnostic of a serious cardiac problem took him to another difficult moment. "I did believe I would die sleeping, because of my arrhythmia." And this fear of dying was converted in a panic syndrome. The years would pass until 2005, when life would test Daniel's persistence once again. "I went to the doctor to correctly address that health problem I had. He gave me a medicine that I would have to take for the rest of my life. But this was not the worst part. I was then told that I should stop training." The challenges this guy would have to deal with seemed just like a drama play. But in the 'life stage', Daniel could not be just watching. He decided to be the star of his own story. Giving up seemed to be the easier way, but to react against all of that was his best (and only) choice. "In the same year I started training, I also started working in a theater play of my friend Zé Luis, who introduced me to Cristiana Lara Resende. We keep working together to this day." He would never imagine how much the Jiu-Jitsu associated with the theater stages could change his life.
Day by day, that heart problem seemed to be even harder to overcome, especially to someone without health insurance. In that point, Cristiana took Daniel to another doctor, who gave him a new hope. "He told me that this was just an extrasystoles, a benign defect which would not kill me.  And the best thing was that he told I should come back to sports," says the current instructor from GB Taquara and Pechincha.
This return to the mats also meant his return to Rio de Janeiro, now due to his work at the theaters. Because of that, some months passed before his actual return to training. "I stayed some months without training. Then I called to Renato who gave me the motivation that changed my life: "Skinny, you've got potential. I do not want you to stop training, because you have a future in this sport." It was these words, followed by the thankful expression about the respect I had for him that made me start looking for a new place for training once again," said this 'carioca'.
This motivation from the old instructor took Daniel to meet the Gracie Barra and become a student of Alessandro Marins, the professor responsible for GB Rio Sport. But, despite that, the difficulties would keep coming frequently. "There were many injuries, including three knee surgeries and a very serious financial problem. My parents were in a very complicated situation. I left home very young and I did not know what to do. In 2009, I reflected and decided that I would make a living from what I always loved: the Jiu-Jitsu."
When he got into the GB, he met someone whom he calls now as a 'friend / brother'. Who is this guy?  Marcio Chaves 'PQD'. "We used to train together for 40 minutes to one hour, consecutively. I told him about my intention to open a new school and invited him to be my partner." Marcio's answer was an immediate "YES!"
So these two guys got started with their dream of having a GB school. Everything started in a small gym, but they wanted to keep growing. So, soon, they decided to build their own space. "He has always been ready to work, so we started to save all the money from our classes. We were still receiving too little and with this money we started the construction," says the black belt Daniel. Opening a school with the right standards, quality, and structure was not easy. "I had sold my car and invested all the money I had made from the theater, plus PQD's remuneration from the drugstore. We invested everything and there was not even a cent remaining to complete construction of our building. I arrived to the theater despondent, with an unfinished space for my classes and a horrible situation in my house, where we barely could eat. It was very difficult," remembers Daniel.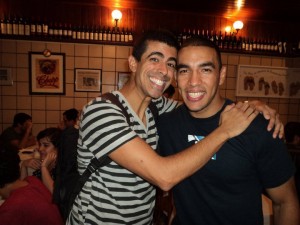 That usually captivating smile in Daniel Marques' face was replaced by a visibly sad expression. Questions like, "What do you do with your money that you are always broke?" were routine to the ears of this dreamer. Despite his desperation, he kept going to work until one day when Leandro Hassum, a famous Brazilian comedy actor, noted that sadness and asked him what was happening. "I told him everything I was facing. Right away, he shared my story with Marcius Melhem – Leandro's stage and TV show partner, and they gave me 10 thousand Reais as a gift to finish the gym." Daniel Marques started to cry. "They were happiness tears. Not because of the money, but for the attitude from some people who saw me working and who also worked very hard to achieve their goals, doing and believing in what they love. It was the 'lever' that was missing to, after five years teaching without receiving anything, finally start to make a living from Jiu-Jitsu," declared Daniel, touched.
And what would be the answer to those provocative questions previously mentioned here? Here it is: two new GB unities in Rio de Janeiro, with crowded mats and working the whole day. "I am feeling well now, making my business stronger and focusing on opening one more school, what I believe would be enough to give attention and quality to all the unities."
What was achieved by Daniel may seem enough. But only to those who are resigned. He still has many dreams, and, among them, the desire of becoming a black belt champion. How much time it will take, Daniel himself comments: "I do not know, but with the pleasure that I do my job and the dedication I put to the Jiu-Jitsu, it really does not matter how long it will take. Because until the point God decides that my mission in the Earth is done, I will keep trying, because I do love what I do."
Daniel's history represents a motivation to everyone who believes in Master Carlos Gracie Jr.'s mission of taking the "Jiu-Jitsu to everyone". Nothing is built without sacrifices, effort and much work. Grab your dreams convinced that, as hard as it can seem, you can and must reach them. It is really up to you!
OSS!
[ Check here the testimonial from Leandro Hassum and Marcius Melhem about the friendship with Daniel Marques (in Portuguese)]