In a male dominated sport, a woman to reach the pinnacle of the BJJ summit still astounds every BJJ fan out there.
It wasn't until lately that women has had the most exposure in the contact sport. Or at least its existence has come to be known. MMA as a male dominated sport produced names like Misha Tate, Rhona Rousey, Cris Cyborg. Yes. Very lethal. The real femme Fatale kind of deal. While scouring the internet for reviews, and attending various tournaments, I have made a personal list of current and the upcoming bets in the BJJ world. The
But talking about pure BJJ, there are those who have hit the spotlight, and the upcoming once. Here's some of the notable women in BJJ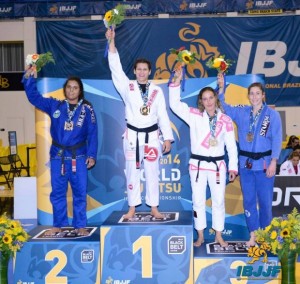 Professor Anna Cordeiro
A five year black belt that has seen the toughest tourneys out there. Proud to be wearing the red shield mark. Currently teaches in Gracie Barra Upland. Got her black belt back in 2009. Continously trains to be one of the best in the field. You can read her interview by clicking this link
Mckenzie Dern
Mackenzie Dern is a Brazilian Jiu Jitsu black belt and one of the top female grapplers of her generation, being also the daughter of another famous BJJ personality, the legendary "Megaton". Mackenzie Dern started competing in the adult divisions of Jiu Jitsu tournaments at the age of 14, winning the respect of most BJJ enthusiasts by winning several important trophies as a teenager. Her
grappling tuition has been closely followed by her father, and also by Royler Gracie, Letícia Ribeiro and Mackenzie Dern's boyfriend Augusto Mendes. – from BJJheroes.com
Professor Fabiana Borges
One of the most amiable black belts out there. Fabiana Alves Borges was born in Rio De Janeiro Brazil. At the age of 24, she is what we can probably call a woman who is on top of her game. A first degree black belt, she now works with her good friend Professor Jonatas "Rattinho" Eliaquim in Gracie Barra San Antonio.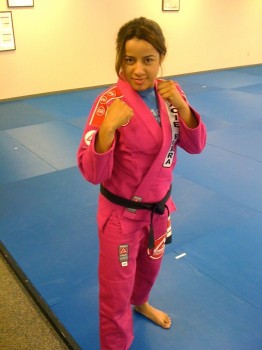 Her roots in Jiu-Jitsu didn't start out with Gracie Barra. "I started Brazilian Jiu-Jitsu in Brazil in a small team under Professor Fabiano Gaudio. When I moved to the USA 4 years ago, I became a part of Gracie Barra under Professor Marcio Feitosa." Read the full article here.
Kyra Gracie
Of course! Who could not talk about female BJJ without Kyra Gracie. Kyra Gracie is a jiu jitsu black belt under Carlos Gracie Junior and the first female member of the famous Gracie family to achieve world wide notoriety as an accomplished grappler. A true BJJ phenomenon, Kyra Gracie was already considered one of the best jiu jitsu competitors in the world in her early 20's, a status cemented by her wins at important tournaments such as the World Jiu Jitsu Championships, Pan American Jiu Jitsu Championships and the ADCC (Abu Dhabi Combat Club). Kyra Gracie is also one of the faces of the sport, and one of the most televised jiu jitsu practitioners with appearances in famous Brazilian TV shows such as Programa do Jo (with Jo Soares) and Sensei SporTv. Read more by clicking this link.
Like and share this article. Check out Gracie Barra's Facebook page.