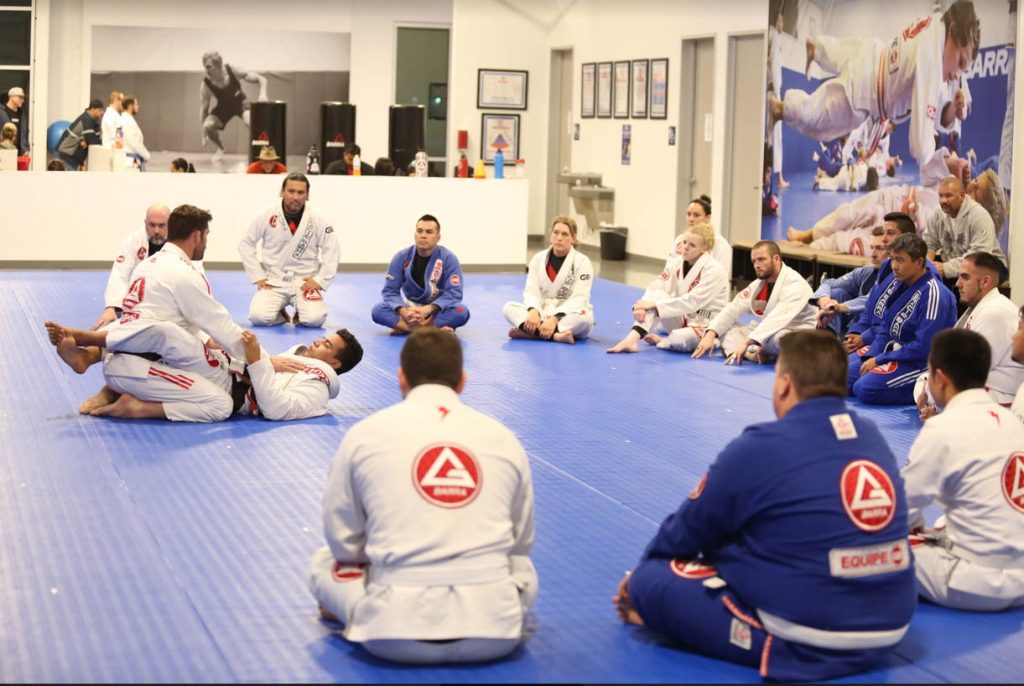 I meet a lot of different people in the Jiu-Jitsu community – whether it's chatting with people while watching matches at a tournament or traveling students who drop into my class or via social media contact.
ㅤ
Many times I've been asked the question "Why did you decide to train under Gracie Barra?"
ㅤ
This is a fair question because there are a lot of great Jiu-Jitsu teams out there. They all have high level technique. They all involve friendly, knowledgeable coaches and students. You will get great training in any legitimate Brazilian Jiu-Jitsu school. So why choose Gracie Barra?
ㅤ
The simple answer is that my instructor returned from living and training at the original Gracie Barra in Barra de Tijuca in Brazil with his black belt awarded from Master Carlos Gracie Jr. He had a strong sense of pride at having been a member of the GB Competition team. He shared how important the values and experiences he accrued during his years at Gracie Barra. There was a sense of pride and loyalty in his representation of GB greater than simply being the member of a fight gym.
ㅤ
Today, many years after starting to train with my first GB instructor, there are additional reasons that share when I answer the question "Why Gracie Barra?"
ㅤ
The GB method and the GB Curriculum. The first thing that many students with prior bjj experience – who start training at a GB school – notice, is the structure for learning created by use of the GB Method and Curriculum. Many of the students had come from Brazilian Jiu-Jitsu schools without any program structure whatsoever.
ㅤ
The students would show up at class and the lesson would likely be a few random techniques – unrelated to the previous classes that week – before the rounds of rolling started. In contrast, the GB Curriculum provided for many the first structured learning progression that they had ever experienced. Immediately they felt that the GB System organized the vast amount of information that they were taught each week. It is simply a better way to learn not only Jiu-Jitsu, but any complex skill.
ㅤ
Commitment to improvement. GB instructors who have become certified under the ICP Program are given the opportunity to learn from the most experienced senior instructors in the GB Network. The GB instructor in any of the GB schools all over the world has access to training on how to run classes, answers to their questions on all aspects of running a school, continuing education on techniques. A wealth of knowledge on how to create the best possible training experience for the students.
This creates a high standard for what a Jiu-Jitsu student can expect when they enter a GB school.
ㅤ
Gracie Barra asks more of the instructors and provides the tools for them to excel. In some affiliations, the support from the heads may be limited to a yearly seminar and use of the association name. But this is limited in terms of the growth of both the instructor and their students.
ㅤ
The GB Online web portal is a terrific resource for both GB instructors and GB students alike. The top minds at GB are there as resources for all. There is a constant effort to improve in every aspect of the GB school.
ㅤ
Positive philosophy beyond the mat. The technical training is of a very high level at Gracie Barra. But there is a high level of techniques at many Jiu-Jitsu schools. GB places a high value on other aspects of training Jiu-Jitsu like goal achievement, personal development through training Jiu-Jitsu, education for young people. There is a greater sense of using Jiu-Jitsu in our lives outside of school like in overcoming obstacles in our lives for example. Of living a healthy Jiu-Jitsu lifestyle. Beyond the techniques and competition medals to the development of the individual and team overall.
ㅤ
Why do you choose Gracie Barra?
ㅤ
ㅤ
Credits: Mark Mullen
Gracie Barra Black belt based in Asia