Useful Tips for the Martial Arts Journey: A Personal Perspective from a BJJ Practitioner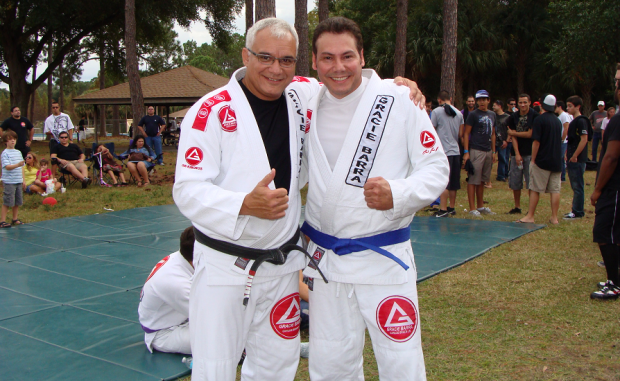 A Journey of a Thousand Miles Starts with a Single Step
The journey of any martial artist begins with interest and curiosity: the proverbial single step that grows over time and drives him forward. With consistency and determination the novice student finds the way to enjoy every moment of the journey, not rushing to arrive to a single final endpoint, but understanding that it is okay to have multiple goals stretched over a never ending learning experience. The true martial artist realizes that accomplishment and happiness comes from studying the discipline(s), the skills and knowledge gains, the experiences, the friendships and, ultimately, the legacy we leave behind. Gracie Barra gave me a little bit of everything since I joined close to five years ago – and also the satisfaction to know that the journey continues.
My interest in martial arts started at a very young age, growing up where Darwin's doctrine of natural selection, 'survival of the fittest', seemed to be the only rule.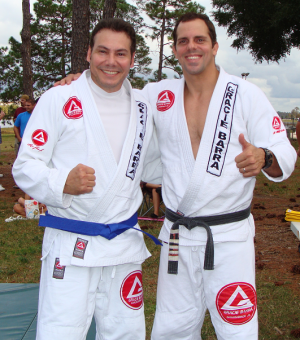 Often, I had to stand up to other kids in order to gain their respect. The need drove me to start reading books on self-defense and martial arts (improvisation and instinct helped). Not only did I learn from books but also from watching Bruce Lee movies with my friends (hey, they were popular at the time!). I practiced on my own until I landed my first part-time job and could afford to train at a martial arts school. I was a track and field athlete in college, trained in several martial arts disciplines since but none of those disciplines dealt with wrestling or grappling. It wasn't until recently, when I started having more time to pursue my interests, that I joined Gracie Barra Orlando. Training BJJ made me realize the huge gap I had in my overall ability to defend myself – I was a novice on ground fighting.
At first I was a little apprehensive (already being in my 50's.) I wasn't sure if I was allowed to practice and train without restrictions – but to my surprise the GBO Family welcomed me with open arms, treated me like one of the team, and gave me the opportunity to learn from the best. Based on my personal experiences I believe I can provide a few words of advice to other BJJ students already practicing or looking to take that first step and start a BJJ training program:
Define your goals early – you need to know what you're after – and make sure your instructor knows your goals: he is your best partner and coach

Start slow. It won't be easy at first, but pace yourself and increase intensity gradually – your cardio will improve over time

Increase your flexibility by stretching before and after your training sessions – this will reduce the risk of injuries

Know your limitations and work within those limits – as we have learned from Master Carlos Gracie Jr., "everyone can learn and benefit from BJJ"

Train with partners you can trust but don't be afraid to try your game against heavier or more skilled partners – also, when rolling with junior students allow them to trust you as a partner

It's okay to tap out, even if you find yourself doing it often, in most cases you learn more when you lose a match – think about what you did wrong that led you to defeat – ask questions when in doubt

Always maintain proper nutrition, high in protein and low in saturated fat, and consult a professional if you are following a strenuous training regimen

Realize the benefits of cross-training – mix your exercise routine with running, cycling, swimming, weight training and other physical activities

Give your body proper rest and sleep between workouts – don't train 7 days a week

Always consult your Doctor before starting an exercise program – especially if you have been sedentary for an extended period of time

Take the time to teach junior students proper techniques – improve your own game by teaching others what you have learned

And last but not least, involve your family in physical training and healthy lifestyle – there's nothing better than sharing time with your family doing something love
These are just a few words of advice but the wisdom behind them comes from years of training. Congratulations to those who already took the first step and are well into their journey – I hope my perspective has provided you with a few ideas you can use to improve your training program. For those who are still thinking about it, I hope the tips I offered give you enough insight to chose a path forward and make an informed decision. To all BJJ practitioners, practice what you love – happiness will follow…
__
Contributing Writer:
Hector 'HXC' Cordova, Sr.
Blue Belt at GBO  marciosimas.com
99% of the time – Oldest Student on the Mat
"Special thanks to my Teacher Marcio Simas, owner of GBO, and Congratulations on Achieving the GB Legacy Award"
Also, Big Thanks to my Instructors 'Gutty' and Rodrigo