This week on GB Blog we speak with Prof Danijel Brajčić of GB Belgrad in Serbia.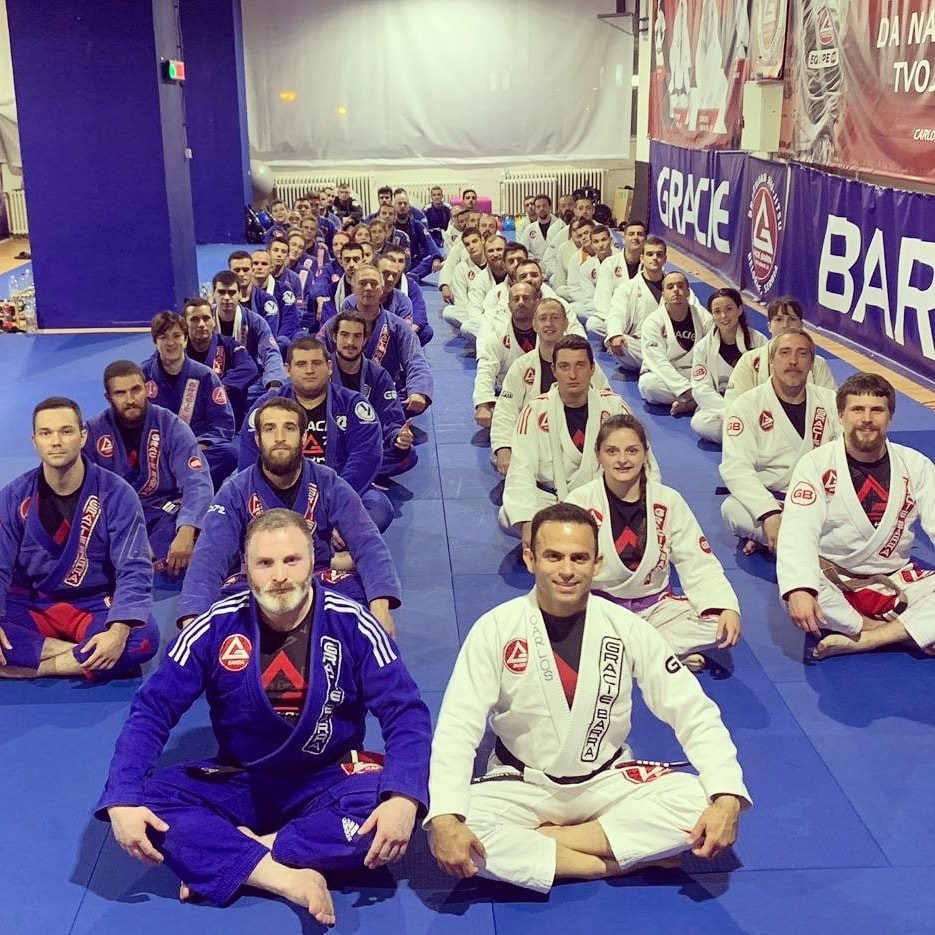 Prof Danijel is a representative of Prof Carlos Lemos and has managed to grow one of the largest jiu-jitsu programs in Europe despite many obstacles.
ㅤ
''If every person in the world would train Jiu-Jitsu, the world would be a better place''.
ㅤ
Prof Danijel Brajčić shares his story about struggles, learning, and perseverance on the road to introducing Jiu-Jitsu to many students 8n his part of the world.
ㅤ
GB: Let's start by introducing you to the Gracie Barra readers. Can you tell us how you got started training Jiu-Jitsu? What is your home GB school?
ㅤ
Danijel: Hello Team, my name is Danijel Brajčić (Brajcic) and I am a Jiu-Jitsu Black Belt ( Carlos Gracie Sr. > Carlos Gracie Junior > Carlos Lemos Jr > ) and owner of GB Belgrade school in Serbia.
ㅤ
I have started training Judo when I was 4 and continue it for 20yrs. I made my first Jiu-Jitsu steps back in 2001.
ㅤ
At that time, BJJ was just starting in Serbia and all were learning their first steps through VHS (videotapes) and through some experiences with other martial arts.
ㅤ
Being there with a Judo background, was enough for me to compete and won a medal in one BJJ competition back in 2002/2003.
ㅤ
After that, I was out of training for years because of a lot of injuries but that was a crossroads for me because when I got back I saw so many improvements in those JJ guys that were for me fantastic.
ㅤ
That fast changes I did never see in Judo before that gave me an underline understanding of such possibilities in life that I never understood before.
ㅤ
After a lot of ups and downs in life but also many Wars we had in and out of our country, I quit training Judo and made my comeback to Jiu-Jitsu in 2009, and until today didn't quit.
ㅤ
In 2013, my JJ school GB Belgrade with less than 20 students at that moment officially entered to GB Association and from that moment until today we have made nothing less than great successes in all the spheres that Jiu-Jitsu is offered. After many issues we had in this part of Europe when many GB schools fled with the Ze team, I have decided to stay loyal to GB, Professor Carlos Maya who was running GB Ljubljana, and a few teams from Russia kept the GB legacy alive in Eastern Europe.
ㅤ
For that, I am eternally grateful to my mentor Professor Carlos Lemos Jr. who had cleared the road for us and helped to establish a firm connection with GB.
ㅤ
GB: Many school owners would be curious to know what you are doing to attract so many students to your GB school?
ㅤ
Prof Danijel: Everyone can make success when they feel strong or in their best moments but we must train and work with our weak ones to become stronger. Sound familiar?
ㅤ
Personally, I see our growth as a consequence of many failures.
I am not scared to fail in anything worth trying or fighting for. I honestly love what I do and do what I love every day.
ㅤ
As the fight is teaching us if we don't fail we won't learn. Latter we can transfer, replicate and apply that to everything we focus on.
ㅤ
I had many failures in my life and also being an entrepreneur. Many failed in running the BJJ schools and give up, but what I did is learning from those mistakes and applying corrections to ongoing projects.
ㅤ
For GB Belgrade, nothing came easy and quick. Instead, everything is carefully planned and waited for the perfect moment to launch. It takes time and patience to be able to adopt changes and focus to continue. Circumstances play a great role in everyone's success so we must learn how to constantly pay attention to every signal we are getting every day from everyone around us.
It is the same when we teach students. Every individual has their own way and time in improving themselves but we have to be the ones who will suggest and teach them how to better recognize their effort compared to circumstances in order to keep them motivated.
ㅤ
This is not easy to comprehend, but being a teacher does not mean just showing some technique or pointing to some detail learned through some experience in competitions. Some of the best JJ competitors fought everyday life fights and won through with what experience on mats gave them and teach them how to transfer it into their life.
ㅤ
If we make better people in that process we can say our work succeeded and if we make good competitors that is just a plus.
We are not the school competition-oriented but we have won more than 800 medals and a lot of trophies since we started our school so we do have success in it.
ㅤ
Gb Belgrade is working all day and offering classes from early morning to late night. We have classes for kids, parents & kids, all levels, competition classes, and a woman's only class once a week. Also, we have a Striking class once a week and Barrafit classes 3 times per week. Also, I personally have more than 30 private classes during the week with students all over the world and Online classes. In this way, we can accept more students and keep our gym less crowded. Besides myself, GB Belgrade has 5 more everyday coaches.
ㅤ
Currently, we have a bit less than 200 students in our School. But our road to that number was anything but easy.
ㅤ
GB: Can you share with us about the growth of your school and team despite the economic obstacles in your country?
ㅤ
Prof Danijel: Since I started my own JJ school, I had many plans for how to incorporate my vision of running it as we all had in the beginning.
ㅤ
When I connected with GB and completed my first ICP back in 2014 (I have finished ICP4, ICP5, ICP 6, ICP Legacy and currently working on the newest edition) I have realized the greatness behind it and how in many ways was similar to what I also imagined by myself before.
I immediately knew that I am on the right path.
ㅤ
Because the nearest GB school at that time was almost 500km away and in other Countries, everything I had to refer from was what I learned through ICP and gradually, with applying that, the school was becoming stronger, bigger, and functioning better and with a better atmosphere.
In Serbia's capital Belgrade, there are many Black Belts and many clubs so it was always challenging.
ㅤ
I started my club as a Purple belt surrounded by many Blacks but I wasn't a beginner in Martial arts and had many years of life experience and some managing-developing skills.
ㅤ
In 2017, when I was promoted to Black Belt, many things changed and so was my school in eyes of others. To be honest that didn't change me at all and I have stayed a true student of Jiu-Jitsu to this day with constant thrive to learn and develop in every way.
ㅤ
During my school development, my primary focus was to popularise JJ more to the ordinary people, many different profiles of people, from 5-to 65 yr. old people, and to create many followers who will help me spread this martial art to a wider audience.
ㅤ
Even though BJJ hit Serbia back in 2000, until 2014 when officially entered GB, no one in Serbia has started working with kids!? So GB Belgrade was officially the first BJJ school in Belgrade and in Serbia working with kids in groups of different ages. In 2015, we created the first parents and kids class also. Until this day, we are the only BJJ club that has this here.
ㅤ
We have organized Kids only tournaments from 2015 when we had only 50 little champions until we hit 400 in 2019! So after us, many followed with kids classes and now we have Jiu-Jitsu growing as it should, from a young age. So the sport is still developing. Also the understanding of it.
ㅤ
Gb was and is the leader today in many things in Serbia but for sure it is the ''Biggest club'' with groups from 3-6yrs, 7-12yrs, 13-16yrs, adults, masters, and a woman only group.
We are hoping for establishing 2 new GB Schools in Serbia soon and 2 more in the Republic of Srpska (BiH Federation).
ㅤ
My philosophy was pretty much the one that Master Carlos Gracie Sr. and Jr's teaches us but not because I only represent GB but because I do honestly and truly believe in it.