The Jiu-Jitsu journey :From the white belt to the black belt, students share their stories on what got them started, and why they keep going.
"Jiu-jitsu for Everyone." We see this around in many memes and in photos, we hear it sometimes from our coaches and teammates, but what does this mean? I interviewed several practitioners of Brazilian Jiu-jitsu, from the white belt to the black belt, the occasional trainer to the championship competitor, to gain some insight as to how and why they train.

WHITE:
Rachel Pak, a Gracie Barra student in Edmonds, WA, started training upon a friend's recommendation. "I had no idea what Jiujitsu was," said Rachel. "I thought it was like Taekwondo."
At the time, Rachel was working at an area in Seattle known for its high crime activity. Her main motivation for training is to learn self-defense. However, after about six months of training, she has also found a sense of belonging: "I really love the community in it. It's what really brings me back. It's also really fun to learn and is a great way to exercise. When I'm on the streets, I feel like it's something I can actually use to protect myself."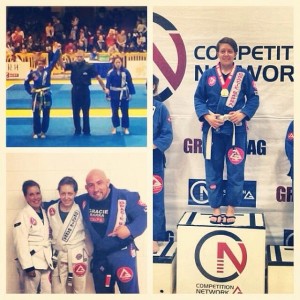 Anya Kajlich trains at the Gracie Barra in Pasadena, CA. As a San Francisco Open champion and Pan-American Jiujitsu 2014 silver medalist, she has been practicing and actively competing for over a year, with her latest tournament being the IBJJF World Jiu-Jitsu Championship scheduled for May 29. "I started out getting smashed, but I kept training and trying and it eventually paid off," said Anya. When asked why she trains, she had this to say: "BJJ has helped me improve my confidence, self-respect, and discipline. I use excuses way less in my life and find myself finding more peace. I love what it has done for my body (lost at least 15 pounds and changed how I FEEL in my own skin), but what BJJ does for me mentally is the biggest contribution to my life. …The more I learn, the more I know I can't possibly learn it all! I love that!"
BLUE: 
Bong Abad, known more commonly in the grappling community as Gawakoto, has been training for over three years now at the Tokon Academy in Bedfordshire, England. For Gawakoto, Jiujitsu is just one of many martial arts he trains in, with the others being Muay Thai, boxing, and Kali (Filipino Martial Arts). He started training in Jiujitsu so that he could improve his overall fighting skills—specifically, his ground fighting. A graphic designer and business owner known for his kalabaw rash guards and vibrantly designed wrestling spats, grappling is his muse. "Gawakoto is mostly a 'Jiujitsu lifestyle' brand," said Gawakoto. "It gives me inspirations for designs, for fitness, and the challenge that it brings, physically and mentally. And as an artist, it also brings out my creativity when I roll. It doesn't always work, but it's fun," he said jokingly.
PURPLE: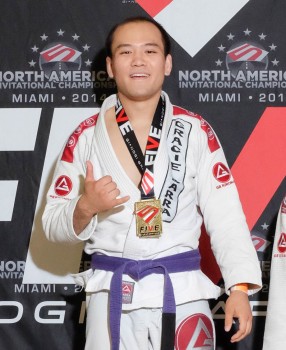 Ed Kang got into Brazilian Jiujitsu through Judo. As a judoka black belt, Ed wanted to improve his groundwork and was interested in Brazilian Jiujitsu after seeing Royce Gracie fight in the UFC. Now a purple belt under Prof. Rodrigo Lopes in Seattle, he trains rigorously and competes frequently, having recently placed first in his division at the Five Grappling Oregon 1 Open Championship on May 10. When asked what motivates him to keep training, especially at such a high level, he had this to say:
"To be honest, a lot of times, I have to dig deep for motivation. The BJJ tournament lifestyle is not for everyone, and there are a lot of things that are hard about it. Training every day multiple times a day, hours of drilling, strength and conditioning sessions, waking up early, etc. really does eventually wear on me physically and mentally. What keeps me going, though, is the winner's mindset. I don't want to be on my deathbed and think back, wondering what could have been. I would rather do what I can and do my best and know, even if I failed, that I tried my best. I don't want to live a life of regrets, just of best efforts."
BROWN: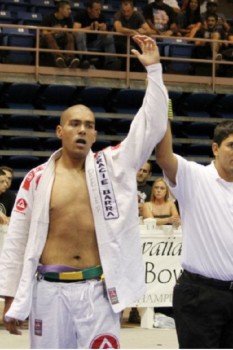 Peter Ménage, who also trains mainly out of Gracie Barra Seattle, has been into martial arts his entire life, having dabbled in the different arts here and there, including Kung Fu. "I always wanted to know how to fight," said Peter. It was only after he got sucker punched in high school while doing a "garbage martial arts system" that he decided to try Brazilian Jiujitsu. "I called different schools," he said. "Rodrigo [Lopes] was the first person that called me back."
"What is this Jiujitsu stuff?" he asked. "I didn't really think it was fighting at first because it was on the ground." He tried it, though, to supplement his Kung Fu. However, after a few classes, he didn't want to go back to Kung Fu.
Going on his seventh year of training, Peter is a dedicated, well-rounded practitioner who trains daily, teaches classes at two Gracie Barra schools, and has competed frequently. After so many years of training, what motivates him is the desire to be good. "It makes me feel better about myself. I just don't feel right not training. I just feel like something is missing if I don't train. It's fun. It's a big part of my life."
BLACK: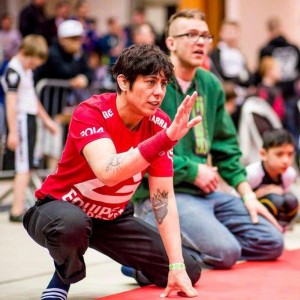 Professor Cindy Hales teaches classes at the Gracie Barra schools in Kirkland and Seattle, WA. She started training in Brazilian Jiujitsu because she was unhappy with her job and was looking for an outlet to relieve her stress and to get some exercise. She had seen the UFC several years earlier and, like Ed, was fascinated with Royce Gracie. She has been training since 2001, starting at a different school (Marcelo Alonso) until she eventually met Prof. Rodrigo, who introduced her to the Gracie Barra family. A martial artist who has competed in MMA, kickboxing, and grappling, Cindy's primary focus is Brazilian Jiujitsu and submission grappling. When asked why she keeps training, she replied, "I keep training because I love it."
"I can't really think of what else I would rather be doing," she said. "Even on my days off, I do something related to BJJ or training. At this point, it is so completely part of my life, I couldn't imagine not being involved on some level. I learn new things every single day so I think that is the main reason I can't stop training."
As a respected and well-known black belt instructor, coach, referee, and competitor, she offers this piece of advice to those who are thinking about or who are on the fence about training:
  "My advice to new people is to just come in and give it a try. I think it can be very intimidating to do anything new, but if you can just get in the first time and check it out. I think that is the most important step. Also finding the right gym for you. Every gym has a little different vibe so it's important to find the gym that is the best fit for you and your goals."
Credits: Michelle Llena
Gracie Barra Edmonds