Professor Murillo is one of the top athletes from Gracie Barra who started training with Master Carlos Gracie Jr. in Brazil, at the first GB School in the world. He has been part of our organization since 1995, and was invite to move to the USA to represent our team as an athlete and also help the next generation to succeed on the mats like he did and many other Black Belts from GB.
Take a minute to read the amazing interview with Professor Murillo, Black Belt 4th Degree under Master Carlos Gracie Jr.
1- Can you tell us a little about how you got started in Jiu-Jitsu and where your home academy is? Which of your professors has been the biggest influence on your Jiu-Jitsu?
Since I was a kid I always wanted to train in Gracie Barra HQ in Brazil. I a had a few friends that were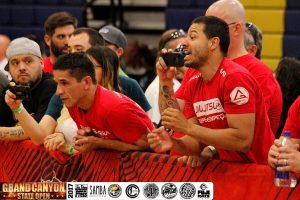 training on those mats for a long time and I had a chance to visit once in awhile just to see the roll. A couple of years went by and my girlfriend at that time and her sister were best friends of Coach Vivi Feitosa, Professor's Marcio Feitosa sister.  So I met Professor Feitosa and right away he took me to train and since that day I have been training, 22 years ago. Master Carlos Gracie Jr. and Professor Marcio Feitosa had the biggest influence to build my Jiu-Jitsu, my character also, and I can`t forget to mention Professor Eduardo de Lima at that time as coach/assistant who really helped me and my training partners a lot.
2- You are currently in GB Phoenix preparing for the 2017 Championships. What is your training like to be ready to compete in a high level event? What does a typical training week look like for you? (ex. training rounds, conditioning, diet etc.)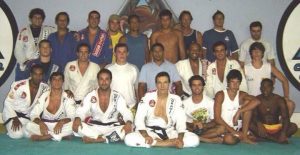 I have been travelling for many years to different places, training, coaching, fighting and what I can see in Gracie Barra Arizona is amazing. There is such a high level of competition training with very technical fighters and committed to the cause of representing the red shield.  This creates a very unique environment where every each coach, student or professor can achieve their prime to work on their best.  I am very glad to be part and helping all to reach those achievements. We train hard every other day in one of the Gracie Barra Schools in Arizona. We start with a very technical standing session followed by tough interval training.  After that we keep the focus on the ground game, technical drills, specific training and wrap up with a light roll session. We also work hard on the psychological part that makes a huge impact on getting good results in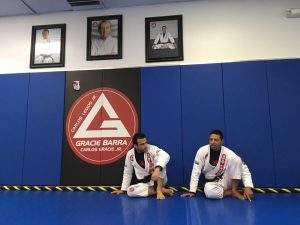 tournaments.
The days that we don't have competition training we follow a program of training two times a day. At least in one is a Gi Training focused on drills and live rolls and the other on working out the muscles, conditioning and breathing. We also include that as a second part on the days that we have competition training.
3- What is your mindset before a major competition? Do you prepare a specific strategy or game for a major competition?
I just make sure that nobody trained more than me or my students.  I believe that you can train the hardest as it is possible to be prepared but it will never be the same as the reality. The mindset is to believe that you deserve the victory and be comfortable to apply what you have trained. The strategy pretty much is to have discipline to stick to your game, don't try to change, don't try to create it.  It will not be fair to you,  that have been training a lot what you supposed to do or your coaches and your training partners that invested their time in you. And like I said, every fighter needs to know that in any moment he'll see himself in a situation that he will have to give more than them he thought it would be necessary to reach the point that you can't achieve during the simulated during the training.
4- Can you tell us about some of the Championships that you have competed in in the past and some of your victories? What is your philosophy about winning and losing in the tournaments? What inspires you to train so hard to compete?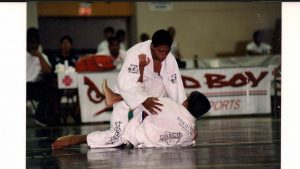 I've been competing for a long time.  I was born in Rio de Janeiro, capital of Jiu-Jitsu in the World. As a Jiu-Jitsu fighter I had the opportunity to fight the toughest tournaments from the late 90s to late 2000. it was a milestone to win the world championship in 2001 when the rivalry among the schools was very high. But even having that, you should at least be champion in two others tournaments in Barra da Tijuca. Two local tournaments that were considered an obligation if you wanted to be recognized as a though fighter were Copa AlfaBarra and Copa Novo Leblon. I got those three which made me very happy at that time.
The good thing in winning is that you become happy, put your head on a pillow at the end of the day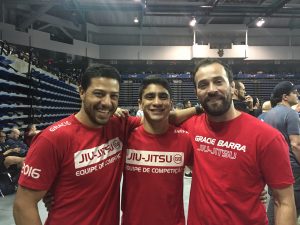 and sleep with the feeling of mission accomplished. Next day you are not the champion anymore. When you loose you have the chance to stop and go over and over on those fights.  I believe that is where you really improve yourself. My inspiration to compete is to see how far can I go, how much pressure I can embrace, and still going forward. I fight to keep pushing my limits.
5- Can you give some advice to Gracie Barra students who like to compete? Many students deal with stress before the competition and ask for advice on how to overcome the nerves. What was the most helpful advice that either of your brothers Ricardo or Flavio told you about competing?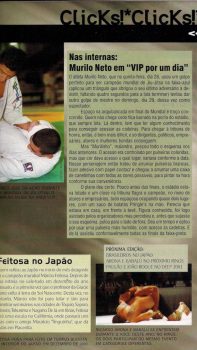 Keep the discipline of the jiu-jitsu training. The student needs to understand that everyone is stressed. You may think that is a pretty simple answer and it is, but if you go deeper you may understand that, you are stressed, your opponent is stressed, your coach and the referee are also. The best way to deal with it is to make sure you did a great camp, breathe and go for it. Be ready to leave everything you have on the mats, the rest is consequence.
Professor Ricardo Almeida and Professor Flavio Almeida are amazing. They don't need to say a single word to help you to compete. They lead by example and theirs stories for itself inspires not only me but every fighter in the Jiu-Jitsu community. If I could think of something that helped me a lot it's their approach about how great the opportunity is to show to the world the values of the Gracie Barra and how we can change people's lives thru this amazing art. I feel very grateful when I have a chance to broadcast outside the Jiu-Jitsu community those values, like I did last Spring to the Bayer Sales team from New Jersey.
6-  Professor, you are also helping, training and mentoring the future generation of GB Champions. This is an important mission for Gracie Barra. How you feel about that? And how you use your experience to help the young generations?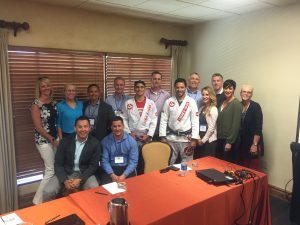 I've been a part of Gracie Barra since 1995. I've witnessed all the changes made by Master to bring us to where we are right now. We always had great champions and a great environment where we could learn every day and because of that we became able to lead this new generation to the gold medal. But much more important than that is to build great citizens under the values of Gracie Barra. Being a gold medalist in life is much more important than being a gold medalist in tournaments. I live my life under the Gracie Barra Values which made me who I am and I just try to give back to people what Jiu-Jitsu did for me.