GB Ambassador : Marcos Souza
The Gracie Barra Ambassadors Program is about recognizing and supporting GB athletes in their journey of competition, achieving their personal best and representing the Red Shield.
ㅤ
GB Online will share profiles of Gracie Barra athletes, their philosophies of Jiu-Jitsu, goals and advice on competition so that you can get to know these exceptional people and learn from their experiences along the way.
This time, we talked to GB Ambassador from GB Arizona, Marco Souza!
ㅤ
Introduction
GB : Let's start with sharing your background in Gracie Barra Jiu-Jitsu. Where are you from, your age, competitive achievements, home academy, when and why you started training Jiu-Jitsu? and etc
ㅤ
Marcos Souza: My name is Marco Souza, I am 18 years old and I was born in Rio de Janeiro, Brazil.
Everything started when I was 9 yeas old. I was playing out side with my friends when my neighbor Michael Sodre asked me if I wanted to go to his jiu jitsu class.  I said yes.  When I first trained I fell in love with jiujitsu.  I was given my first gi by Michael (it had belonged to him).
I started training at a social project called Projeto Drive-in and also at Gracie Barra, Barra da Tijuca.
I have a couple of big achievements in jiu jitsu, IBJJF World champion, IBJJF Brazilian National champion, IBJJF American National champion, 2x USEJJF National champion and 5x SJJIF World champion.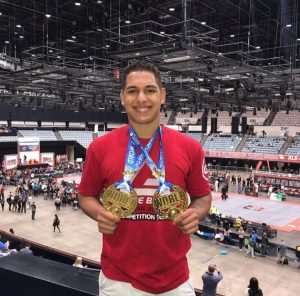 ㅤ
GB:  How/ When did you start to compete and what motivates you? When did you start take competing seriously?
ㅤ
Marcos Souza: When I was 10 yeas old I got my yellow belt  and I started to compete.  My first couple competitions I lost and I got really discouraged.  I didn't want to compete anymore, but my Professor Paulo Cézar talked to me and he said I could be one of the best competitors.  He said jiu jitsu could change my financial life in the future because I come from a poor family. He started to spend more time training with me and from that day I started training hard and I started to win more often.
I started to take competitions seriously.  When I started to get sponsors. I saw all that hard training was paying off and I wanted more and more.
ㅤㅤ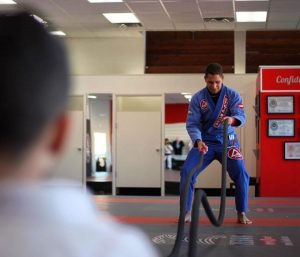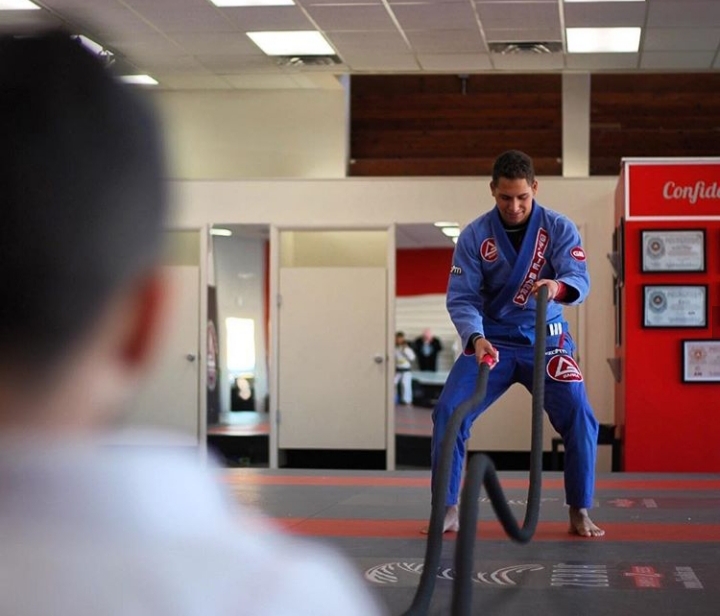 GB: Tell us a little about your training routine to prepare for tournaments? What else do you do in addition to your BJJ training?
ㅤ
Marcos Souza: My training routine to get ready for competition is- I get to the jiu jitsu gym before the training  starts and I do a little work out circuit and drill techniques. 3 times a week I go to the gym and weight lift.
ㅤ
GB:  What are the principal attitudes do you think you must have to achieve the position of a GB Ambassador?
ㅤ
Marcos Souza: To achieve the position of GB Ambassadors in my opinion you must need to be hardworking, respectful, and supportive.
I feel we have a good GB Ambassadors program here in Arizona because we are supportive of each other.
ㅤ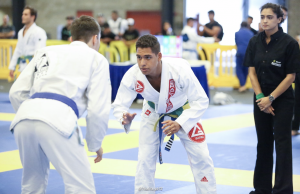 GB: What does being a GB Ambassador mean for you?
ㅤ
Marcos Souza: Being a GB ambassador means a lot because it helps me be a better version of my self representing Gracie Barra.  When I wake up and remember I am a GB ambassador I automatically inspire to be a better version of everything, as a competitor, as a student, as a friend, etc.
ㅤ
GB: What does Gracie Barra mean to you? Tell us about how Jiu-Jitsu influences your life on and off the mats.
ㅤ
Marcos Souza: I have been training with Gracie Barra since day 1.
Gracie Barra always taught me to be the best I could be on and off the mat. Gracie Barra influenced my personality so the way I am today is because of Gracie Barra.   This means a lot to me.  Jiu jitsu influences my life in many ways like my fitness, confidence, status of mind on and off the mat.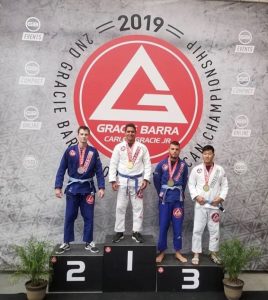 ㅤ
GB: Any training tips for our readers?
ㅤ
Marcos Souza: The tips that I can give you guys to help you at competitions are: be confident, believe in your technique, don't let ugly faces scare you, and try to  keep your mind in a state of happiness.  When I am happy and I go to compete I always do my best.
ㅤ
GB: Do you want to give a shout out to any sponsors, coaches or training partners?
ㅤ
Marcos Souza: I want to thank my professors Paulo Cézar, Michael Sodre, and Flavio Almeida for believing in me and for the opportunity.  I also want to thank my Brazilian and American families  for always supporting  and believing in me also.
ㅤ
ㅤ
See also on Gracie Barra : Stop Getting Tapped Out!
Credits: Mark Mullen
Gracie Barra Black belt based in Asia