Taking Care of your Mind is Jiu-Jitsu: Discouraged from training? Do not give up on yourself
Variations during the journey towards the realization of a dream are as common as the sunrise and sunset of every day. The steps taken are like the years that are left behind and as in any walk, you shall come across one or more signs that will make you stop and think "Which way should I go?"
Anyone – whether or not adept at jiu-jitsu – at some point will also face one of those signs. Usually, one path will take him or her through a shortcut to the final destination and the other will show a longer way, with the same destination: A dream coming true.

In jiu-jitsu, things are not that different. Sometimes, after many years of training, it happens that you come across a new obstacle and with that also comes the question: "Should I stop or proceed?"
Diogo Ferreira (32), after six long years on the road of the gentle art and with numerous medals in championships, deservedly received the brown belt.
That's the one that carries the weight of being just one step from the so-desired black belt. A new graduation, a new motivation. But it does not always work that way. The energy to keep going comes from several factors unrelated to training, among them family, professional, and personal lives.
If you are not in tune with your body and mind, nothing else will push you forward. Even after "darkening" his belt and being so close to the black one, Diogo experienced just the opposite of that new stage's excitement, as himself recalled: "At that time in my life I was going through many problems and due to all that, I stepped back from jiu-jitsu and the friends I had made there. I went to work in a gym as a personal trainer, but oddly enough, it was not what I really enjoyed doing. That left me unsatisfied and unhappy. Consequently, I was getting involved with bad company, being in bad places, losing people who really liked me and letting my health get worse and worse."
Facing a bad moment, being discouraged, unmotivated, and still having to decide which way to go and which path to take for the rest of your life are some of those conflicts that consume the human mind. Diogo was deeply feeling the weight of this decision, but even though he didn't exactly understand everything that he was facing, there was one thing he was sure of: He wanted to be happy.
Gradually, this guy from the Brazilian state of Minas Gerais began to regain his consciousness about all that atmosphere surrounding him. "I reached a point where I could not stand to live that crazy life and being more and more alone, unhappy and in poor health. I asked myself: What am I doing with my life, health, family and friends? What can I do to get out of this?" told Diogo Ferreira.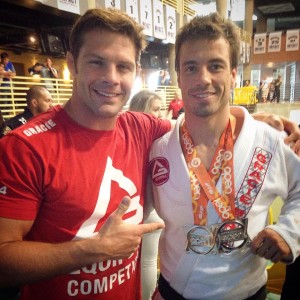 The answer had already passed through his life in an earlier time, and his heart knew that: "The first thing that came to mind was the jiu-jitsu. I came back to the classes at the gym and slowly returned to the championships."  So, two years after a return to the mats for this current instructor from GB San Clemente (US) the black belt finally arrived. "With all that happening, my life was getting back to normal: friends, family and health. I became once again that happy person who I always used to be. I was lucky enough to meet the woman of my life, Leticia, who is now my wife and helps me to be a better person every day. I am eternally grateful to this wonderful martial art that gave me focus, discipline, loyalty, trust, health, respect, wisdom, lifestyle and a livelihood."
Currently, Diogo owns major titles in the world of BJJ competitions, including the Brazilian Championship (IBJJF), bronze in the World and the 2014 Pan American Championships (IBJJF). Facing what our black belt had to face is not easy, nor simple to handle. Whatever the situation you are living with, before anything, DO NOT GIVE UP ON YOURSELF. When we give up, we eliminate any possibility of someday returning stronger to the battle.
"We all have and will continue having problems and difficult moments in our lives. However, with Jiu-Jitsu lessons taught in every day trainings, we learn how to manage and organize our problems in a much wiser way. If you are going through some very difficult times in your life, or you if you are considering stopping training, as I considered, DO NOT DO IT. Look for a GB in your city and rely on this martial art. Take your time in learning. Be patient and persistent in what you believe. Jiu-Jitsu is not a fight that will be learned overnight. It requires many years of dedication, which will result in great results in the future" – Diogo Ferreira, black belt, instructor at GB San Clemente (US).