3 Great Reasons That Kids Should Do Jiu-Jitsu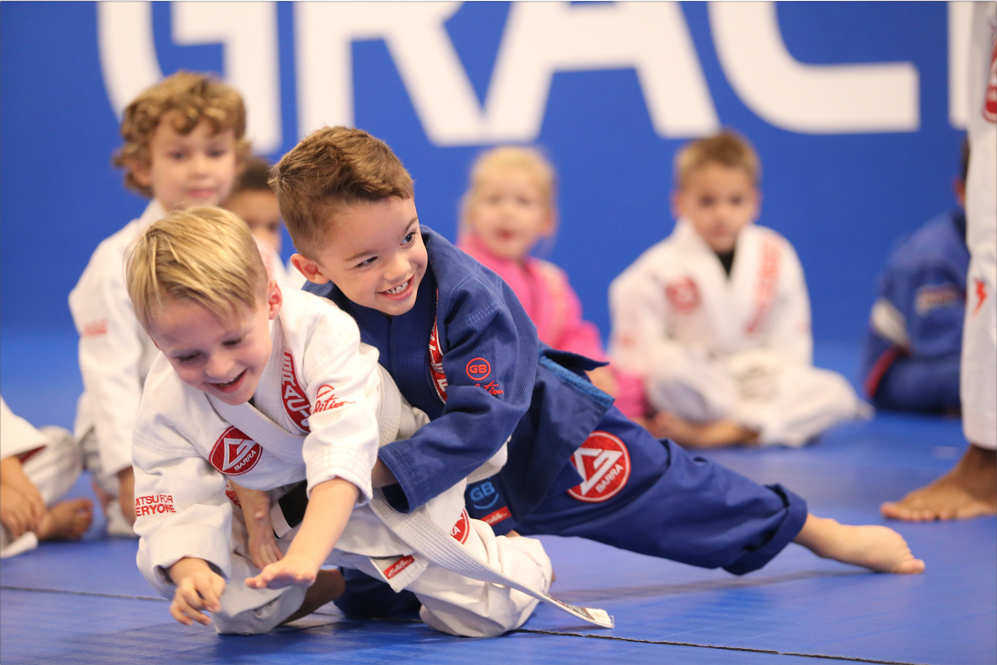 "Jiu-Jitsu is training for life."
One of the most important parts of the Gracie Barra school is the Little Champions Jiu-Jitsu programs.
ㅤ
Many parents are aware that martial arts training can help today's children deal with many of the challenges they face – from bullying to lack of proper role models to sedentary lifestyle.
ㅤ
Gracie Barra Kids Jiu-jitsu classes are a great way for parents to help provide children with the tools (both physical and mental) that builds a healthy foundation for their personal growth.
ㅤ
Prof. Felipe Guedes says
"Remember that at this age the benefits that most parents are looking forward to providing to their kids are, coordination, balance, control, interacting with other kids, listening skills, responding to commands, eye contact, fun activity, exercising, etc."
ㅤ
Jiu-Jitsu provides all of this and more. Here are 3 reasons children benefit from doing Jiu-Jitsu.
ㅤ
1- Anti-Bullying and self-confidence
The statistics on school bullying are sobering:
1 in 7 students in grades K-12 is either a victim of bullying or the perpetrator of bullying.
90% of kids between the 4th and 8th grades report they are victims of bullying.
The National Education Association reports that more than 160,000 kids miss school every day because they are afraid they will be bullied.
ㅤ
Prof. Fabio Villela believes that developing Jiu-jitsu skills build up stronger self-confidence in young people.
"We as Jiu-jitsu instructors have the job to take them out of the comfort zone and every day makes them have a good challenge then kids can be proud of themselves.
Their parents will see their evolution inside and outside the mats."
ㅤ
Children who are training Jiu-Jitsu at Gracie Barra are building self-confidence which makes them less of a target for bullying and developing real self-defense skills that will protect them in any aggressive situation.
ㅤ
Prof. Fabio Villela adds "For sure self-confidence issues is the biggest problem for kids and this can develop speech and sociable problems. In Jiu-jitsu we always need to challenge ourselves training with somebody stronger, heavier, higher level and learn new techniques every day, whenever the kids find out they can do it their self-confidence will get stronger inside and outside the mats."
ㅤ
2 – Working with others and developing key social skills
"I've been teaching martial arts for kids since 2008, to hundreds of families. And I've seeing Jiu-Jitsu helping their kids in so many ways!
Every child is different and we use Jiu-Jitsu to benefits each child the best way possible.
Some kids are on one side of the spectrum being very shy, for those the first benefits that the parents notice is the level of confidence becoming higher, they start to understand what they are capable of and not allowing anyone to take advantage of them and being comfortable on their own skin and even helping them to be more decisive and confident to make decisions.
Their abilities to interact socially with other kids improve so much, and they are not afraid anymore of looking others in the eyes when having a conversation and having to even speak in public." says Prof. Felipe Guedes.
ㅤ
Gracie Barra Jiu-Jitsu is a structured environment where young people learn and practice crucial social skills like cooperation, working together as part of a team, and respect for other people. Lessons on having a good attitude are reinforced every class.
ㅤ
3 – Physical Activity – The statistics on the number of hours young people spend playing video games and their overall screen time in a day -at the expense of physical activity is alarming.
ㅤ
According to the President's Council on Fitness, Sports & Nutrition:
ㅤ
Only 1 in 3 kids are physically active every day.
Kids now spend more than 7.5 hours a day in front of a screen (TV, computer, video games, etc.).
Source: GB ICP
ㅤ
The Gracie Barra children's Jiu-Jitsu programs are a great way to get kids active in a fun, interactive, and SAFE physical activity under the supervision of qualified instructors.
ㅤ
GB asked Prof. Bryan Waltz from GB Colorado Springs – where he runs a successful GB Little Champions program – "Some parents may be concerned that jiu-jitsu carries the potential for injury. How does Gracie Barra ensure a "safety first" experience in the kid's programs?"
ㅤ
Prof. Bryan: Kids come into class all the time with a cast on their arm or wrist! Haha. Where did they get this injury? It's always the playground or falling out of trees or being careless at home. In all my years I have never had a serious injury in class. The injuries kids get at a Gracie Barra school are along the lines of a scraped knee or bumped nose, a few tears followed by laughter after a hug from mom or dad. Other sports like football, soccer, gymnastics, or cheerleading all carry more dangers in general than BJJ for kids in my opinion. Kids at Gracie Barra train under close adult supervision on the state of the art mats which keeps injuries at a minimum."
ㅤ
See also: Gracie Barra Kids Jiu-jitsu with Prof. Bryan Waltz
https://graciebarra.com/gb-news/gracie-barra-kids-jiu-jitsu-with-prof-bryan-waltz/
ㅤ
Credits: Mark Mullen
Gracie Barra Black belt based in Asia