Eating Well is Jiu-Jitsu: Green Smoothies – Your Body Will Thank You!
Gracie Barra Blog published an article a few weeks back: Extra Things That You Can Do to Help Your BJJ
#1 was Green Smoothies. This was the single best addition to my training in the last several years!

There are many healthy ingredients that you can put in your smoothie but perhaps the most important is the center piece: kale.

Called one of nature's super foods, kale is very nutritionally dense and a great way to get those nutrients into your body before jiu-jitsu class.



Here are some of the benefits of kale:

"Kale, also known as borecole, is one of the healthiest vegetables on the planet. A leafy green, kale is available in curly, ornamental, or dinosaur varieties. It belongs to the Brassica family that includes cruciferous vegetables such as cabbage, collards, broccoli, and Brussels sprouts."

"Kale is a Nutritional Powerhouse. One cup of chopped kale contains 33 calories and 9% of the daily value of calcium, 206% of vitamin A, 134% of vitamin C, and a whopping 684% of vitamin K. It is also a good source of minerals copper, potassium, iron, manganese, and phosphorus. Kale's health benefits are primarily linked to the high concentration and excellent source of antioxidant vitamins A, C, and K — and sulphur-containing phytonutrients."
source: webmd.com

"While not as well researched as some of its fellow cruciferous vegetables like broccoli or cabbage, kale is a food that you can count on for some unsurpassed health benefits, if for no other reason than its exceptional nutrient richness. In our own website food rating system, kale scored 4 "excellents," 6 "very goods," and 10 "goods"—for a total of 20 standout categories of nutrient richness! That achievement is difficult for most foods to match. "
source: whfoods.com

"Anti-inflammatory: Inflammation is the number one cause of arthritis, heart disease and a number of autoimmune diseases, and is triggered by the consumption of animal products. Kale is an incredibly effective anti-inflammatory food, potentially preventing and even reversing these illnesses."
source: organicauthority.com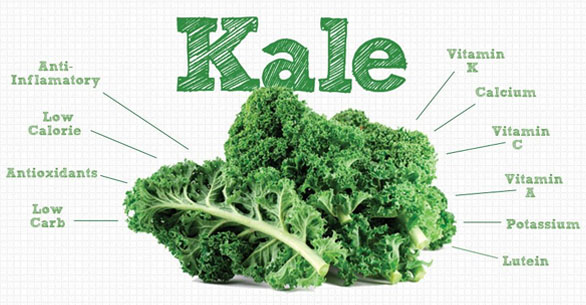 My personal experience has been that introducing kale shakes to my diet has greatly reduced my joint pain. Many jiu-jitsu practitioners can attest to sore fingers, elbows, shoulders and knees at times in their training.
Joint pain is partly caused by inflammation and kale shakes reduce the overall level of inflammation in your body. I found after a few weeks that I was no longer complaining about sore joints and I was reducing the amount of pre class taping!
I had previously tried fish oil capsules and glucosamine with modest success.

I usually have my kale shake before my training at the noon class. A quick rinse of the blender after you are done, grab your gear bag and you are off to class. The smoothie provides enough sustenance to fill your stomach without being overly heavy and making you feel full before getting on the mat.

* Note – You need to have a higher end, powerful blender like a Vitamix, Blendtec or Nutri Bullet (what I use). Your household blender lacks the power to reduce the vegetables to a smooth consistency > invest in your health and buy a quality blender!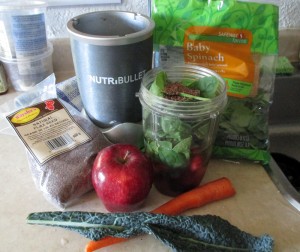 I Call this recipe "The Beetdown"

handful of frozen mixed berries
1/2 apple
2-3 leaves of kale (spinach is my 2nd choice)
slice of raw, peeled beet
1/2 cup of acai juice (plain water is ok)
carrot
1 tbsp of flax seed
water

30 seconds in the blender until you have smooth consistency 

You may want to add a different veg or fruit – but resist the urge to add some of everything. Simple and fresh is the key.


Credits: Mark Mullen 
GB Black belt from GB Calgary, Canada
Twitter: @MarkMullenBJJ