GB La Cruces School Opens in New Mexico
Gracie Barra will now be leaving a huge mark in the city of Las Cruces in the coming years. Joining the ranks of elite martial arts training and instruction, the newest addition to the ever growing Gracie Barra network of schools will hold the same high level instruction of any school carrying the brand name. Formerly the Three Crosses Brazilian Jiu-Jitsu, the team has now embraced the name Gracie Barra.
Head instructor Jacob Benitez shares his insight about the new school. In an emailed correspondence with the head instructor he mentions, "I have opened up my school in Las Cruces, New Mexico. Las Cruses is Spanish and translated into English means "the crosses". It is a medium sized city in a state rich in culture, food, and art. Over the past several years New Mexico has become a hotspot for MMA."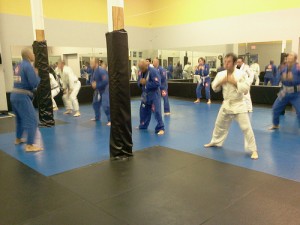 When it comes to vision and purpose, the team is never short of it. "Our vision and hope is to provide world class, high quality  Brazilian Jiu-Jitsu instruction to the people of Las Cruces bringing the understanding of BJJ in our area to a whole new level. We also would like to cause the world to recognize Las Cruces as a place with top notch  Brazilian Jiu-Jitsu."
A truly inspired head coach for the team, he shares his insights on the benefits of the art: "What inspires me most about Brazilian Jiu-Jitsu is knowing what a powerful tool it can be used as in order to make positive changes.  Brazilian Jiu-Jitsu can be used to improve health physically and mentally, it helps improve and strengthen relationships, it can improve your self and social image.  Brazilian Jiu-Jitsu can be used to improve individuals, families, and even entire communities."
For those interested in checking out the new school, everyone is invited to attend its grand opening, together with a seminar with Professor Roberto Tussa Alencar on the 2nd of March at around 11am local time.
The Gracie Barra Las Cruces Instructor List
Angela Benitez – Purple Belt
Craig Ansbach – Purple Belt
Roberto Nava – Purple Belt
Spencer Cooper – Purple Belt
Josiah Cuellar – Blue Belt
More Photos from the Team!

Created with flickr slideshow.
How to get there:  
View Larger Map