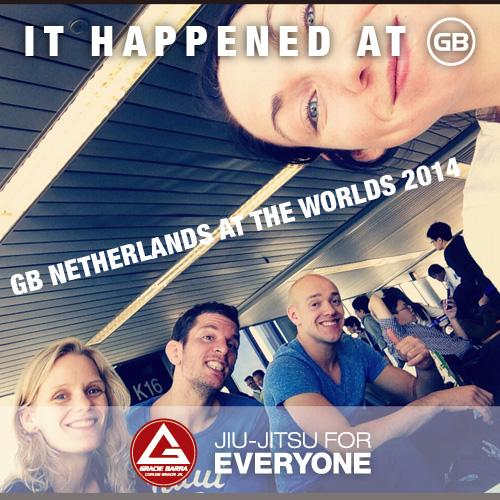 Hello fellow Gracie Barra students, athletes and professors! This will be my first of hopefully many blogs for Gracie Barra. Today's blog is about GB Netherlands' representatives on the 2014 World Jiu-Jitsu Championships. Last Friday, we flied to California and stay with Professor Alberto Crane of World Famous Gracie Barra Burbank!

"Organized like a team, fighting like a family." Everyone knows the motto. Professor Crane exhibits the Gracie Barra spirit perfectly, as he has let us stay at his gym for several years in a row now, which has enabled us to fight and medal at the Mundials. Truly Gracie Barra is one big family.
First of all, there is our professor Jordy Peute, one of Europe's top black belt Rooster and Light-feather competitors. Unfortunately, due to an injury, he is unable to fight this year, but being the great professor he is, he is still coming with us to coach his students!
Laura Hondorp: after dominating the female purple belt Featherweight division in Europe, winning a silver medal at last year's world championships and competing in the 2013 ADCC in Beijing, she is ready to take on the world's best brown belt featherweights this year!
Florent Minguet: a solid purple belt fighting either Medium-heavy or Heavy. Florent has won medals at IBJJF, NAGA and multiple local tournaments. Last weekend he won bronze and silver at the British Open. He's ready to compare himself to the world's toughest purple belt heavyweights this year!
Renee Hondorp: Laura's younger sister. She has shown to possess the jiu-jitsu talent that runs in the Hondorp family by winning several NAGA and local tournaments. She is ready to try and become this year's female white belt middleweight world champion!
And finally, Stefan Uittenboogaard, your blog writer. He has won multiple medals at local, NAGA and IBJJF tournaments and has also medaled at tournaments in Rio de Janeiro. This year, he hopes to become blue belt heavyweight world champion by winning his second medal at the Mundials!
Stay tuned for the results!