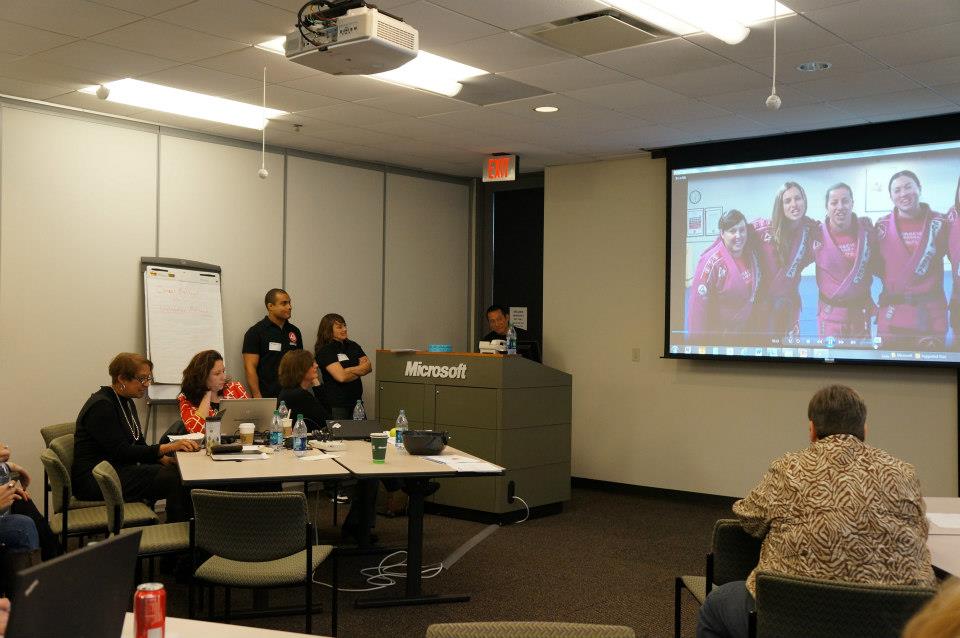 Spreading the BJJ Lifestyle to Local Businesses
On January 23, Gracie Barra Charlotte held a women's defense class at the Microsoft Charlotte Campus. Being one of the leading promoters of the Gracie Barra lifestyle in the greater part of South Carolina. The event inspired to get the gears of Gracie Barra going for women in the area.
Corresponding with the Gracie Barra media team is Thea Silva de Souza (owner and program director of  Gracie Barra Charlotte) we were given insight from her on how the event materialized.
"We were contacted by our student Tam Viet Pham who has worked at the Microsoft Charlotte Campus for 20 years. They were hosting this event (see below) and sent a message to Tam asking him if he could help organize a Women's self-defense talk, knowing he trained Brazilian Jiu-Jitsu at Gracie Barra Charlotte," Ms. Silva shares, "Tam is a shameless promoter of BJJ through his social media interactions and by wearing GB Wear clothing causally and at work. Tam contacted us on a Tuesday and asked if we could get something together for a Thursday presentation and we were honored. With Tam's help we organized a presentation and he pieced together clips of GB video from YouTube to share with the women."
About Gracie Barra Charlotte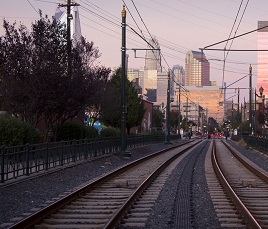 The Gracie Barra Brazilian Jiu-Jitsu School of Charlotte, NC was founded in January 2012. The school is the effort of Instructor Diogo Silva de Souza, a Black Belt under Prof. Adao "PQD" Januario, a 3rd Degree Black Belt under Master Carlos Gracie Jr.
"Gracie Barra Charlotte is the result of my husband (Professor Diogo Silva de Souza) and I coming together in Long Beach California. My husband, a GB student and fighter from Brazil, was in CA to learn the GB structure in the U.S. and I was a student at the GB Huntington Beach academy. We share the passion for BJJ as well as respect our Gracie Barra roots,' Mrs. de Souza explains,
"It was only natural for us to venture out on our own and help live out Master Carlos Gracie Jr.'s vision of one school in every city. We researched where there was an interest in BJJ but limited resources, as well as where Gracie Barra's presence would help the spread of Brazilian Jiu-Jitsu. Charlotte, NC stood out to us for many reasons including the growing economy and urban spread. Brazilian Jiu-Jitsu was present in Charlotte but there was no Premium GB. We ventured here and have grown into just what you would expect from Gracie Barra; Family. Gracie Barra Charlotte has not only changed the lives of it's students but the climate of BJJ within Charlotte. We have been able to work closely with other academies and instructors within the surrounding area to help spread BJJ for everyone and have found a comfortable niche within the community," she says.
"The seminar was strictly for women. We were honored to be involved because we both feel that women are often left out of the martial arts equation due to a number of misconceptions. I myself train and love BJJ and am passionate about getting more women to learn the sport. This was an opportunity we jumped on. We weren't given much preparation time, but because we have so much experience with presenting and teaching BJJ due to the GB Certification courses, it wasn't difficult to organize something on short notice. It was also made easy because Gracie Barra Charlotte has a very strong and growing Women's Program (Pink Team)," she writes.
How They Did It
With passion and belief in the system of Gracie Barra, the team of Gracie Barra Charlotte quickly mobilized to get the gears going…
Having been given the chance to host this event, they went for the universal appeal of self-defense which was immediately enticing to the audience. "We showed video clips of the Gracie Barra Pink Team and self-defense techniques, and opened it up to discussion and questions. My husband, Professor Diogo and myself were able to demonstrate some common real-life self-defense situations and ways in which the women can escape and protect themselves. The video and demonstrations were met with applause and screams of excitement from the group. It was clear they were feeling empowered. We invited them all to do a free GB Women's class to learn more in a safe training environment at the academy, and closed the presentation with Q & A. Tam has since reported that the feedback he received was positive and that they enjoyed our time together very much. We are hoping to be able to work with the team at Microsoft Charlotte again in the near future. We truly felt our business models meshed well, and would be honored to be involved with their future endeavors."