Instructors Certification 2012 : Registration Has Now Been Opened
 
Gracie Barra Opens Registration for Jiu-Jitsu Instructors Certification
On an effort to align teaching practices from Jiu-Jitsu instructors all over the world, Master Carlos Gracie Jr. is putting together the 4th Gracie Barra Instructors Certification Program (GB.ICP4). His goal is to reach hundreds of BJJ professionals across the globe with GB's best practices in teaching and school management.
According to Professor Marcio Feitosa, one of the main heads behind the initiative, "Our goal is of course the positively impact Gracie Barra Jiu-Jitsu students. Our vision as a team is to teach BJJ all over the world throught the work doen by our instructors and their staff at the school level. If we want to help our students learn great Jiu-Jitsu, we have to support the professors, inspire them, and give them the best tools so they can teach great classes everyday".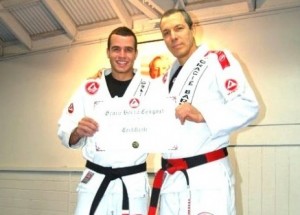 The 2012 program will be released in 2 languages, English and Portuguese. Gracie Barra Association believes the vast majority of Gracie Barra Leaders speak one of the 2 languages so this year the program will be much more inclusive. Another facilitating factor is the Online Learning Platform. Using cutting-edge e-leanirng technology instructors can log in to take their courses and tests at the time that is most convenient for them. If they are extremelly busy,m they can even take the course using their iphones or ipads on the road.
"We researched into the best technology to make the learning experience as convenient as possible for our people. The system we are using delivers great content whenever and wherever is convenient", continues Professor Marcio.
Here is a brief FAQ about the GB.ICP4:
1) How to I register?
Simple. Click here and fill out the form.
2) Who can participate?
Instructors and staff from Gracie Barra Schools approved by the school's head instructor
3) When is the program?
From October 1st to December 15th.
4) Do I need a fancy computer?
No. If your computer can access youtube, you are good.
5) Is the program going to be very time consuming?
Not really. 1-2 hours per week will be enough.
6) Is there any cost associated with the program?
Premium Schools can register up to four participants at no additional cost. Official and affiliated schools pay a fee per participant.
7) What are the requirements for Graduation?
Participants are expected to complete all activities. Score 7 out of 10 on the tests. Deliver a end of course essay, complete practical activities and provide a certificate of completion of basic CPR course.
To register for GB.ICP4 or get more info o the program, go to the Registration Page