Taking Care of your Mind is Jiu-Jitsu: To get higher degrees, do you have to win championships?
From the very beginning of Jiu-Jitsu until now, a lot of things changed. Literally. Since the initial publicity of this sport – hard work attributed to the Great Master Carlos Gracie's efforts – the Gracies would draw everyone's attention due to their superiority shown with the techniques during the fights and competitions, which was reported by the newspapers at that time. The years passed and the "Jiu-Jitsu guys" were stigmatized as "Pitboys" (like bad guys), in a period marked by serious fights against rival teams. The common mentality of those who lived that period was that, to get a higher degree, you should be champion of every competition (or, at least, get into the war.) Training just as a hobby? Well… it could be. But that guy should be aware he would be kept as a blue belt for years.

Unfortunately, this WAS the reality (and "WAS" must be written here in uppercase.) At that time, could anyone imagine that a child who was suffering from bullying would find in the Gentle Art, besides an option for self-defense, a passion for his whole life and, plus, a career?  Rodrigo Prujansky (32), black belt, graduated from Law School, policeman in Rio de Janeiro in the 'Polícia de Choque' (Riot Police group) and Jiu-jitsu instructor, lived that period in which the degree evolution was based on competitions.
It was not only a few professors that would grant a higher degree to their students only based on the championship results. "When I started my journey in Jiu-Jitsu, the focus from every school was practically 100% on the championships. It was essential to fight and have a strong team in the competitions," reminds Prujansky.
Usually, at that time, the instructor would be an easygoing guy, but who would struggle to sustain himself only by teaching Jiu-Jitsu. For many years, this was the scenario. The return would come from the students' victories in the championships, and nothing else. Great instructors gave up due to the frustrations of not finding in this sport something financially viable. The medals would give you only recognition and the pressure, for sure, was bigger than it is nowadays. Rodrigo's words express very well that sense of "fight OR fight": "I remember that, since I had earlier represented Brazil in the national team of Water Polo, I was constantly demanded to join every championship, get great results and obtain a higher degree. That used to leave me very concerned."
It was not only about wearing the kimono and fighting. In that period, Rodrigo was not yet a policeman, but the common military expression "Mission given is a mission accomplished" was already part of his life. Complete all the tasks proposed by his Master Alexandre "Café" Dantas, get a new belt, and not having a poor academic performance was not an easy job at all, as this black belt guy told us: "I was very eager to meet all the tasks and expectations from my master, but at the same time, I did not want to let those appointments mess up the other opportunities that were coming up, like travel the world and study. With the great support of Master 'Café', I would train after my Water Polo practices, which used to end at 10:00pm. I would go directly to the mats, with a very strong chlorine smell, only to train and train more."
This guy from Rio de Janeiro thought he was restricted to the advancement only through competitions. However, Master Carlos Gracie Jr. was already drawing some new lines to the gentle art learning at GB, as well as its expansion all around the world.  Along with GB founder's mission, Prujansky started to understand the vision that Master Gracie Jr. used to transmit to the members of GB schools.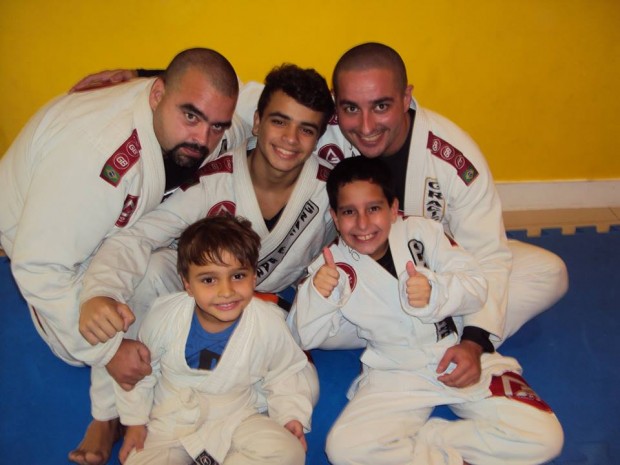 "Day by day, I was realizing that many people would have a routine quite similar to mine. When I got the purple belt, I started to help with the trainings at the gym. And then I saw the necessity of expanding the horizons to serve people who wake up early, go to their fight classes, train, and then go ahead with their other daily appointments."
This new vision took to a new dream. Winning championships was no longer the focus. Developing a plan that could serve the general public and not only the competitors ('the tough guys') was now the brand new mission. In 2001, just after being promoted to the brown belt, this former water polo player got an opportunity and a space to teach jiu-jitsu classes in a gym. "At that point I was sure that I would be doing something that I really liked and that could be profitable. The project was progressing and in 2006 it was converted in the 'Gracie Barra Botafogo', thanks to help from Marcinho and Piu-Piu (Marco Joca). Now it's been already eight years of lots of fights and success!" declared Prujansky.
"Men who respect hierarchy are aficionado for training, for personal development, and devote themselves to their profession and their duty. Nobody invited or called them. They make themselves ready, they want to do so." Rodrigo Projansky.
The dream did not stop there. After achieving his dreams of opening his own GB school and becoming a policeman, Prujansky got to combine business with pleasure. On May 24th, the training mat of the 'Batalhão da Polícia de Choque do Rio de Janeiro' (Rio de Janeiro Riot Police HQ) was opened. Captains, lieutenants, soldiers, regardless of their rank, everyone tried – many of them for the first time – the GB methodology.  Uncommon men who have to face the danger day by day armed, now have the opportunity to learn from the Gentle Art how to act, react and control some routine situations with self-defense techniques. "I believe that jiu-jitsu can help them in many ways, both developing their physical condition and during their daily job performance. Without any doubt, the greatest benefits are the mental control and serenity gained. And in the Riot Policemen's case, the scenario may be very disturbing, bullets crossing the air, but if we have a well-trained mind and body, we can solve any situation, as a team!" declared Rodrigo Prujansky, responsible for the BJJ trainings in the Police headquarters.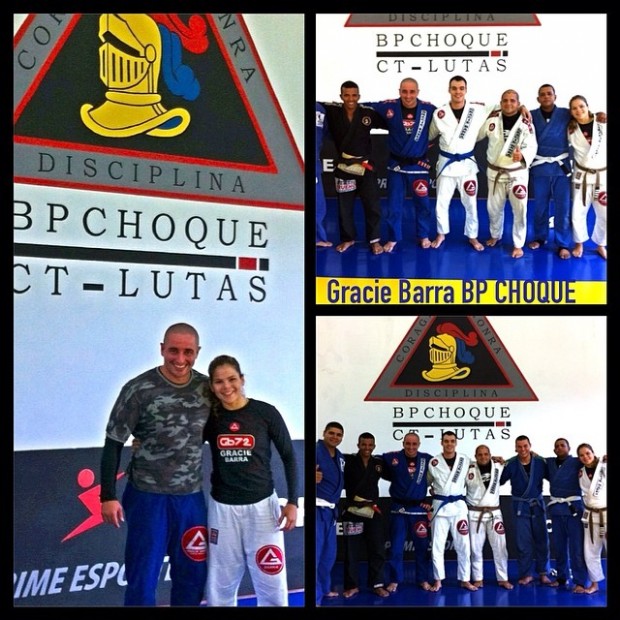 The necessity of winning medals to get a higher degree is now something from the past. Developing through the learning and believing in Jiu-Jitsu to Everyone means much more than simply tying a new belt on your waist. It's about perpetuating, by the sport teaching, that dream of becoming a capable instructor. It's about helping to spread a fight which already suffered with lots of prejudice in the past and now may save lives, change personal stories and assist those who have to combat the violence and protect the population. Jiu-Jitsu is FOR EVERYONE. 
Oss!