Taking care of your Mind is Jiu Jitsu tackling life's challenges
  Nobody is stronger than life "
For fans of the gentle art the many similarities between life and Jiu Jitsu are obvious. The road to a fight is paved with long and daunting training. You prepare for days and days with the goal of becoming a champion, but when you least expect it, during a normal workout you get hurt and it impedes with your capabilities. Those who've experienced this know just how big the disappointment and hurt is at that moment in knowing your dream may need to be delayed. After all, you love what you do and are at the peak of your combat form but depending on the severity of your injury it can be days, weeks, months and, in the worst cases, even years before you can go back to training.

Eight years, 2920 days and endless agony of not being able to do what he loves most – that was Renato Palmer (48) had to endure. "Nobody is stronger than life " is the phrase that best defines the story on this true warrior. For years, Renato traveled on a daily basis. This was never a problem as his will to train got him to continue training jiu jitsu wherever he went. "Every time I'd travel to a new town, I'd immediately look for a gym or Jiu-Jitsu schools". Says the purple belt.
The days of travelling the roads of Brazil seemed to have finally come to an end. This brought him the joy of knowing that he could finally train at home, with the former professor Carlos Augusto and his friends – today's big stars of the gentle art – Jefferson Moura, Lucio Rodrigues "Lagarto" Lucius Sergius "Bear Hand" among others. All of this made him believe the best days of his life had come.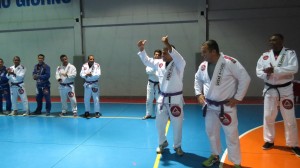 But this was far from the truth, recalls Renato "When I stopped travelling, I thought I could then focus on jiu jitsu more seriously, but I had an accident that changed my life. A truck was maneuvering in the courtyard of the company where I worked and the driver asked me to help him open the back door. I walked behind the truck and that's the last thing I remember. I had partial memory loss, but I know he backed up. That moment changed my life forever ."
This effectively ended his daily trips to the beach and his workouts. Renato's bond with the dojo was severed and he spent countless hours in hospitals in pain and unable to train. The partial loss of memory was keeping him from comprehending the full extent of the severity of the situation. "When I was in the hospital, lying on the stretcher, I did not understand why and where I was. A nurse told me not to get up as I had a serious spinal injury." He spent 15 days immobilized before doctors decided what course of action to take to do. The first choice was a pelidural lock but it was unsuccessful. As a result his nickname "Beliscão" was given to him by his training buddies.
Another surgery followed, this time a laminectomy to decrease the pressure in the injured nerve of the lumbar spine, but it too was unsuccessful. Five years after the second surgery his physical state got worse, "I was suffering from depression. I didn't bath, got out of bed, and didn't see a point in living when I was so dependent on others for everything."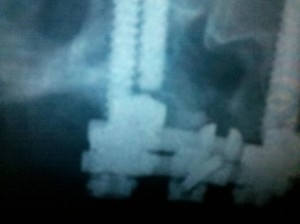 A more delicate operation, arthrodesis was scheduled for Renato to relieve intractable pain. After 8 hours of surgery and 18 nails to piece his spine he was able to walk again but the pain was so excruciating he wasn't sure he could live with it. "When I was discharged, I went to stay with my parents. I couldn't walk properly, taking care of myself was difficult. I got depressed again and went for therapy. My psychiatrist prescribed me anti-depressants, lots of anti-depressants, "said Renato.
Even through he spent most of his days heavily sedated he decided to once again seek comfort in jiu jitsu. At first he could not control his emotions. "Three years ago I could not see a jiu jitsu fight. Not even on television. I once went to see a fight of my son (he insisted ). I had to rush out  in the middle. I didn't want anyone to see me crying. I cried a lot that day."recalls Renato Palmer.
The only way to forget it all, was the internet. It served as a safety valve and, ironically, it was through it that I re-discovered the gentle art, as he said, "I found Villem on Facebook.
I went to the gym and started training. I always followed his advice of NOT SKIPPING STEPS. I had spent nearly 8 years of taking sleeping pills, anti-depressants but after starting to train with Villem, I don't need any kind of medication. I sleep well, regained my self-esteem, I've never been better…Jiu Jitsu gave me back what I had lost  – life."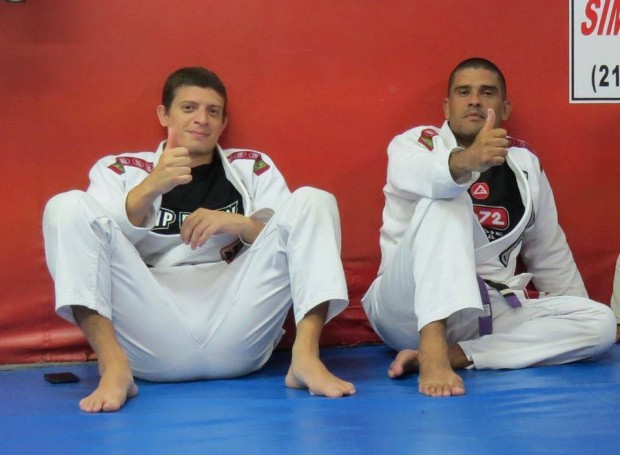 Today Renato Palmer returns to the mats after a 3-month break (even with a broken screw in his spine), helping in the school by tutoring children and adults. "Renato is a role model, an example of overcoming life's adversities. Even after his accident, his love of jiu jitsu never went away. He told me I came in his life at the right time, I now think it was the other way around. He is a key part of GB Jacarepagua , always willing to help." Professor Villem adds.
The story of this warrior is repeated hundreds of times across all GB schools, offering the fundamental points to keep moving forward:
– DON'T ISOLATE YOURSELF: This was a major mistake for Renato. Go out, find a goal, and work towards achieving it;
– HAVE FAITH: Regardless of your religious background you need to have something you believe in to achieve the required strength for recovery;
– MAKE TIME FOR FRIENDS: Having them by your side for comfort and support is vital;
– DO NOT SKIP STEPS: Follow through with all steps of the process. Don't rush. Returning to sports practice after an accident or a health problem, requires patience .  Time heals body and mind.