Winning in Jiu-jitsu and in Life with Prof. Jefferson Moura (Part 2)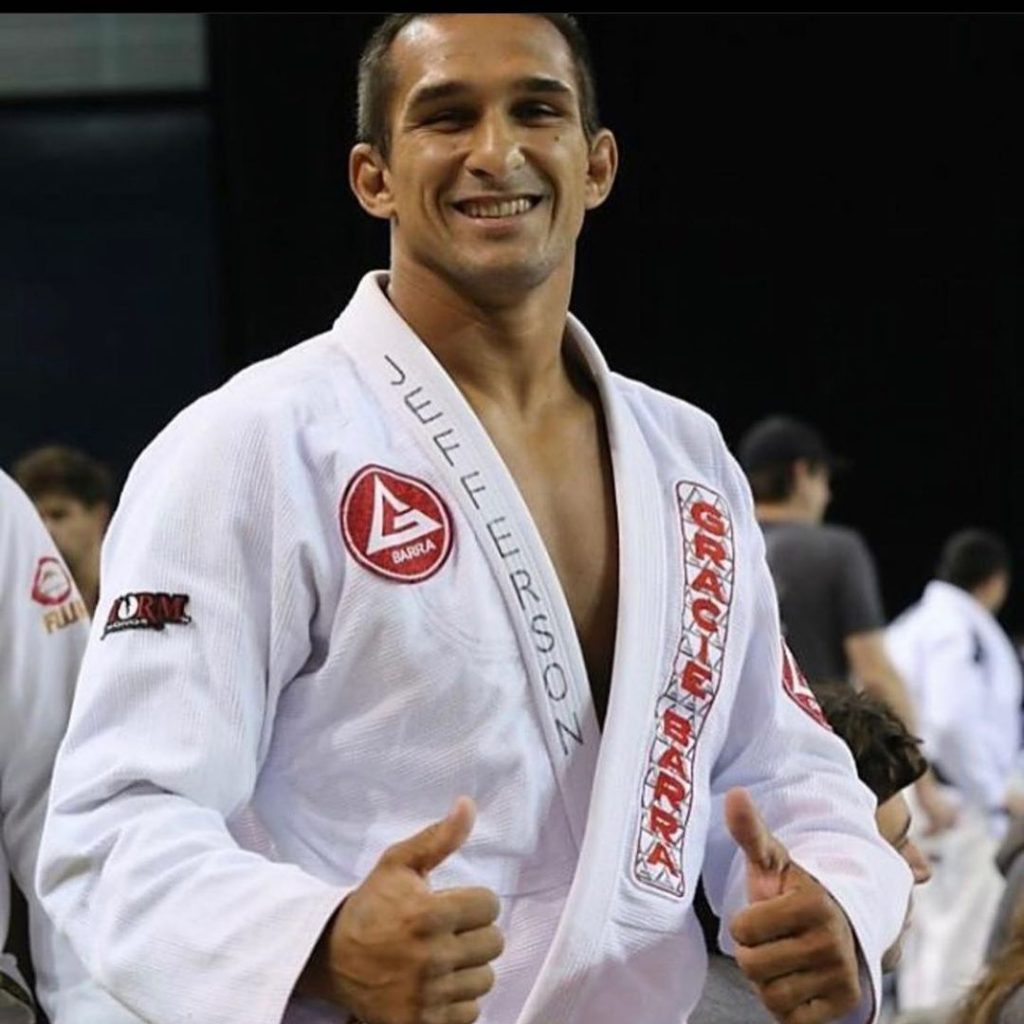 "Jiu-jitsu is like this all the time, one time you win, another time you learn, it's always starting over, trying something different and better until you start winning."
ㅤ
This week on Gracie Barra Blog we connect with Prof. Jefferson Moura who was the head instructor at the original Gracie Barra school in Rio de Janeiro for several years and has some inspiring words for Gracie Barra students.
ㅤ
GB: Can you talk about your philosophy of jiu-jitsu and life? What does Gracie Barra jiu-jitsu mean to you?
ㅤ
Prof. Jefferson: I always tell my students that the life and philosophy of jiu-jitsu always go hand in hand. This is for children, adults, parents, students, ETC…. for anyone.
ㅤ
I have several examples, but I'll say one:
ㅤ
You who are at home are a father, you are full of worries about life and you have a great responsibility to your wife and sons or daughters, if you do not have self-control and the responsibility to keep everything balanced, things end up happening differently. But if you are a jiu-jitsu practitioner and you can have self-control over your training in the most difficult times, why don't you have self-control when life will be pressing on you?
ㅤ
If you know how to take jiu-jitsu into your life, I'm sure the result, in the end, will always be positive, even in your defeats because here in jiu-jitsu we learned that with defeat we grow and come back stronger.
ㅤ
Your training opponent is like life, you need to use the Jiu-jitsu philosophy in your day to have respect, discipline, healthy habits, know when to breathe, wait for a good opportunity, use an extra movement, withstand the pressure until it passes and even when life takes you down, you know you can start again and do better, knowing the right time to be there to attack and if you reach a submission to emerge victoriously.
ㅤ
Jiu-jitsu is like this all the time, one time you win, another time you learn, it's always starting over, trying something different and better until you start winning.
ㅤ
So I ask, why in your life are you going to do it differently?
ㅤ
Be a winner put the philosophy of jiu-jitsu in your life.
ㅤ
Anyone who understands this will be prepared for life's challenges.
ㅤ
Gracie Barra's jiu-jitsu for me is more than a fight for self-defense, it is: family, lifestyle, brotherhood, Loyalty, legacy, it's having the opportunity to make new friends.
ㅤ
Being part of Gracie Barra is knowing that you will be evolving all the time.
ㅤ
I had many classes with master Carlinhos at the first GB school in the world, he always talked at that time about everything that is happening today.
ㅤ
GB is our Master Carlos Gracie Junior, that's why those who have never had the opportunity to learn directly from him have a way to make this happen, we have the PCI, there is where you have all the information you need to understand the legacy of our Mestre, then, trying to follow everything that is there and believing in the online platform, I am sure that you will replicate all the teachings learned in PCI by making it happen and that you will be connected with all the values of Mestre Carlinhos.
ㅤ
ossssssssssssssss
ㅤ
GB: What advice about training can you share with Gracie Barra students?
ㅤ
Prof  Jefferson: You who are just starting Jiu-Jitsu, you who are in the middle of your journey, or even for you who are already an athlete or who are here for whatever your objective is.
ㅤ
All of you need to understand that Jiu-Jitsu is an infinite martial art and that it is constantly evolving.
ㅤ
So for your training, you need to be studying the jiu-jitsu position in all its details all the time. Always put yourself in uncomfortable positions to strengthen your weaknesses, try to be with your physical part and nutrition up to date, always try to adjust and make a different strategy for your attacks, keep your bodybuilding up to date to keep your joints protected. Our martial art is not easy, it needs routine and focuses like any challenge you have in life, the jiu-jitsu has its good and difficult moments, so never think about giving up because the black belt is the white belt who never gave up.
ㅤ
GB: To finish, would you like to give a shout-out or thanks to many sponsors, friends, or instructors from Gracie Barra?
ㅤ
Prof. Jefferson: Before I go to the acknowledgments, I would like you GB student to understand a way of thinking and seeing things.
ㅤ
Many Jiu practitioners think that our sport is individual and end up thinking that the journey is all alone because when it comes to training or competing, it's up to you.
ㅤ
In my view, I can share a different way of looking at this situation.
ㅤ
We need a partner to train at school and opponents in the championship to be able to have the chance to win, we have our friends and family who encouraged us to practice the sport, there are all the instructors, teachers and masters who were always on their side directly or indirectly making you a better person and fighter and everyone who has coached your fight saying that detail at the right time for you to win the championship.
ㅤ
These sets of factors plus your dedication will define who you are within our sport.
ㅤ
I was very lucky to have gone through all of this and understood that to reach the goal I had these factors that have maximized the result so far and my jiu-jitsu has a little bit of everyone who has always had by my side.
ㅤ
I hope it has helped you to see a different side of this sport that is said to be individual and which for me is not really.
ㅤ
For all this I am grateful and I leave all my thanks first to my family who always encouraged me and had by my side throughout my journey, my wife and son, my first teacher Carlos Augusto and all the students at Carlos Augusto school Jiu-jitsu that they had with me at that time and are with me today, to the sponsors who always believed in me (Flake, Guarana Energy, Loft … etc), my biggest sponsor of all these times, which is GB, to the students and teachers from Gracie Barra Rio Matriz, all GBs in Rio de Janeiro, the schools where I taught special classes and took seminars. My private tuition students who accompany me to this day, friends and professor Flavio Almeida, professor Marcio Feitosa and Marco Joca, the four of us who have been side by side for over 20 years for more than 20 years fighting for Mestre Carlinhos and defending our red shield.
ㅤ
Taking Jiu-jitsu to the world and especially to our Mentor, visionary, and Master Carlos Gracie Junior that without him, none of what is happening around the world today with jiu-jitsu would be possible.
ㅤ
Osssss
ㅤ
See also on GB Blog: Technique Beats Strength with Master Carlos Gracie Jr.
ㅤ
Writer: Mark Mullen, Gracie Barra Black Belt