Win or Lose, You can Always Learn

Don't Let Failure Discourage You, Learn & Grow From It
"I've missed more than 9000 shots in my career. I've lost almost 300 games. 26 times, I've been trusted to take the game winning shot and missed. I've failed over and over and over again in my life. And that is why I succeed"- Michael Jordan
The topic of my blog today is winning and losing in amateur combat sports and how I believe this concept should be approached. Competition is a great thing in any sport. It allows athletes to grow and progress, test their skills, and create goals for themselves. However in my experience a large reason why athletes do not want to compete in combat sport's, more so than in traditional sports is the fear of losing. Whether this is pressure put on by themselves, by other teammates, by family members, or by their coach, this is often the driving force of why combat athletes do not want to compete.
Now let me ask you this question. Does anyone truly care if you lose in house league soccer, volleyball, basketball etc. No not really. So then why is there so much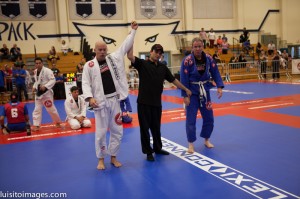 pressure placed on athletes to win in combat sports? I firmly believe in the concept of amateur sports and athletic development. This is how I feel amateur combat sports must be approached. Of course we all want to win, and train to win, but at the end of the day, this is where athletes are given the chance to work out their games and experience both success and failure, before moving on to a professional career, if they choose. This is where athletes may gain experience in a safe setting without any pressures of pay day, sponsorship's, contracts, etc. Do you ever hear anyone ask about what Michael Jordan's grade school stats were? Nope… Why? BECAUSE NO ONE CARES! For a matter of fact he didn't even make his high school team one year, and is now regarded as the best player of all time! Talk about growth and development! People understand that this was his amateur developmental stage.  At the end of the day combat sports should be treated no different from any amateur or house league sport, with the intention of learning, safety, development of the athlete, and without any pressure of winning or losing. These days many house league sports don't even keep score. While I do not agree with this extreme, as children need to learn how to both win and lose gracefully, I do agree that it definitely helps take away such pressure and allows athletes to just compete for the love of the game! Is this not why we all participate in amateur sports? We are not getting paid and we spend much of our free time training…why is this? BECAUSE WE LOVE THE GAME!!! Allow yourself to compete because you love the game. Let's nurture this love and make it even stronger through competition! Forget about winning and losing and just go out there, give it your all and have fun! This is how you will learn, grow, gain experience and become a better athlete.
Of course we all want to win, but the fear and pressure to win and fear of failure cannot be so strong that it discourages us from competition! One of the top Muay Thai fighters in Canada right now lost his first 8 amateur fights. I know a world championship kick boxer who lost his first 10 fights. Both of these guys became champions because of their will to compete and their love for the sport. Win or lose, they just wanted to compete and better themselves!
I will be fighting in amateur Muay Thai on July 13th. I am very excited and plan to leave it all in the ring! I do not fear failure as I know I have trained hard and will perform to the best of my ability. Win or lose, I know I will learn, and grow from this experience. Losing is a part of life and is what makes us stronger and gives us the strength and will to persevere when things get tough!
Contributing Writer
Jordan Kravitz
Lanna MMA/ Gracie Barra North Toronto