What is Jiu-Jitsu for Everyone?
Another year is over and with it many achievements, training and realizations. Our GB family, as usual, remained within what we aim for our team: a constantly evolution to take Jiu-Jitsu for Everyone.
Spreading the gentle art and its lifestyle around the world are like the pillars of feeling that drives us. It is not only about wearing the kimono, tying the belt and completing another training session. Being Gracie Barra is – first of all – love for the sport that makes us brothers. But how to describe and share something that only those who are "GBs" know what it is? Why fighting for a mutual goal?
Few could express in words, in so admirable a way, what we feel when defending the red shield and the Jiu-Jitsu for Everyone project like Arthur de Freitas, instructor from GB Aclimação, São Paulo, Brazil. An inspirational text and a picture that went viral among the GB family in Internet social media, the photo used in the post was taken in 2001, in the first school founded by Master Carlos Gracie Jr. back in 1986 in the neighborhood of Barra da Tijuca, Rio de Janeiro.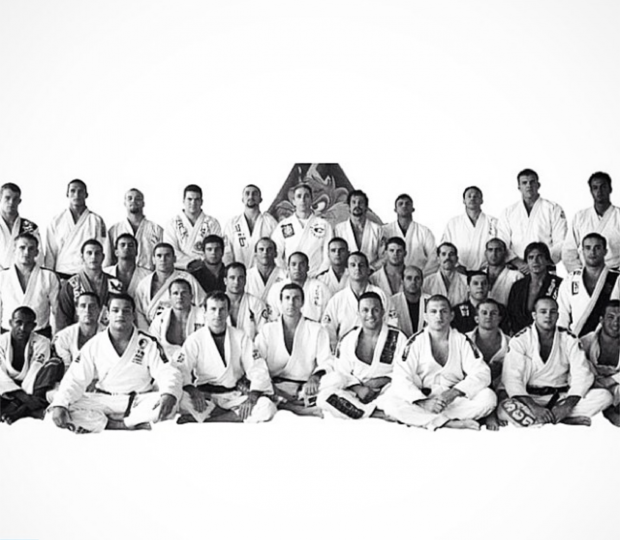 Being of great significance for the GB family, this image "click" made history. After all, there we have the mentor of our mission – Master Carlos Gracie Jr – teachers and athletes who have made of the gentle art their lives and were essential to the steps taken to get here. With simple words and the subjective value of this image, Arthur said what we often cannot express.
Here's Arthur's text:
"Every time I look this picture I see who I represent here in the city of São Paulo, and the weight of the responsibility of the most complete Jiu-Jitsu teaching and the Red Shield. I see that we are succeeding generations from the biggest and best team and the most traditional family in the world. I represent the best martial art and self-defense system in one to one fighting which ever existed. And then I cannot help but thank all those involved in this process. Everything that I studied, trained, good and bad moments lived within the sport and those who made my character and my technique. All of that brought me to here. This Red Shield is a very big source of pride.
"Medals oxidize. Character, tradition and legacy, do not."
While you guys are wondering how many medals we won, we ask ourselves how many cities we achieved. While you guys invent blows that do not do a thing in a real situation and serve very few practitioners, we teach boys to turn into men.
When you guys ask yourselves what is the next movement, someone will be living an inclusive and complete Jiu-Jitsu: falls, self-defense, bjj competition, EVERYTHING. This can only be recognized when you guys understand that medals do oxidize. Character, tradition and legacy, do not."
Some might say that those are "only words". There will also be those who by reading this beautiful text, even not being one of us, may be touched. Anyway, there will always be a bit of everything and everyone. Consequently, we are that. We cause impact, we reach not only the body, but especially the heart and for this reason we carry the red shield. We use the red color of blood that runs through our veins and that truly represents love. In 2015 we will continue to win and grow towards completing the JIU-JITSU FOR EVERYONE project, fulfilling the dream of Master Carlos Gracie Jr. shared by all of us about having a GB school in every city in the world. OSS!
Credits: Arthur B. de Freitas 
Instagram: @arthurturogb