The BJJ Book Shelf – 10 More Great Books for your BJJ Library
Like any subject we wish to gain knowledge, extra study off the mat – in addition to regular class attendance – supplementing our physical training with new ideas can not only speed our progress, but cast a different perspective on our training and lead to increased appreciation of the higher concepts and philosophies beyond the techniques.

My first article 10 Great Books for the Jiu-jitsu Reader was very popular so let's take a look at additional books that the bjj student will want to add to their library.



1)  Drill to Win: 12 Months to Better Brazillian Jiu-Jitsu
by Andre Galvao, Kevin Howell

Drill to Win: 12 Months to Better Brazillian Jiu-Jitsu. If you want to move like Galvao, submit like Galvao and win like Galvao, this is the book for you.  In this one-of-a-kind manual, Andre outlines both a 1-year schedule to overall improvement as well as smaller game plans for short term competition preparation.
Description courtesy Amazon.com

*Authors note: I really enjoy the ideas for sports specific exercises to develop your ability in all of the major positions.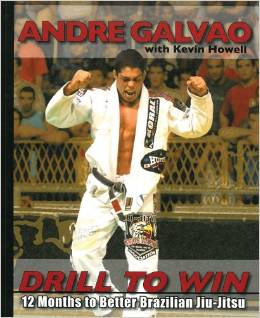 2)  A Roadmap for Brazilian Jiu-jitsu
by Stephan Kesting 

This book is part of the materials provided in a FREE e-Course designed for people starting out in Brazilian Jiu-jitsu, available at www.beginningBJJ.com.
The goal of this book is NOT to teach you specific techniques – you can learn those from your instructor, your fellow students, and other resources such as books and DVDs. My goal here is to give you a basic framework to help you make sense of all the different techniques you are learning. In essence I am trying to give you a big picture which functions as a kind of filing system to help you learn more efficiently, and to access the correct technique quickly in the heat of battle.
Description courtesy goodreads.com

*Authors note: This is an e-book and FREE! I recommend this to ALL new students beginning brazilian jiu-jitsu! The author Kesting was also my first BJJ training partner.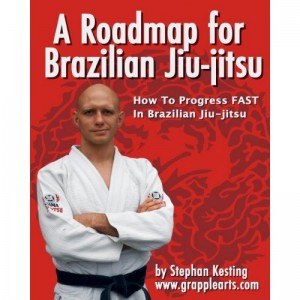 3) Passing the Guard: Brazilian Jiu-Jitsu Details and Techniques: Volume 1
by Beneville Ed

The first book of its kind on the fastest growing martial art in the world, Brazilian Jiu Jitsu. 
The book is unique in its concentration on a thorough treatment of one of the most important aspects of ground fighting, passing the guard. Visually oriented, the volume is teeming with photos and illustrations. Must be seen to be appreciated.
Description courtesy Amazon.com

*Authors note: A unique method of showing the flow of movement in the photographs of the techniques. You can tell the author has an analytical mind and nicely lays out the concepts.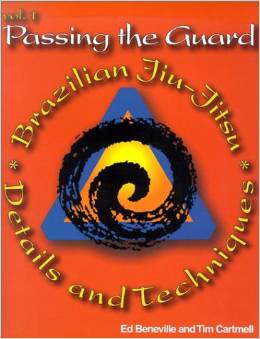 4) Guerrilla Jiu-Jitsu: Revolutionizing Brazilian Jiu-jitsu
by Dave Camarillo 

Guerrilla Jiu-Jitsu is a groundbreaking system of grappling that integrates the Olympic sport of judo with Brazilian Jiu-Jitsu, today's most sought after grappling art. These are the techniques and strategies that allowed Camarillo to devastate the competition at some of the world's most prestigious judo and jiu-jitsu tournaments and have led his students to more than a dozen victories in the Ultimate Fighting Championship.  Guerrilla Jiu-Jitsu offers a leg up on virtually every opponent who refuses to stray from the parameters of his discipline.
Description courtesy Amazon.com

*Authors note: Best part of the book is the introduction where Camarillo relates his story of getting into bjj from his judo origins and how he combined the 2 arts.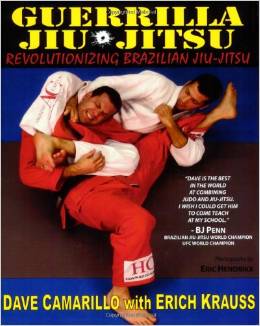 5) Attacking Judo: A Guide to Combinations and Counters
by Katsuhiko Kashiwazaki

Unlike most Judo manuals (or most Martial Arts books in general), this book focuses solely on the creation and counters of throwing combinations.  At 136 pages, it does an excellent job of giving Judoka with some experience (1-3 years) a solid base from which to create their own combinations.  Those with more experience will still find the book worth reading, but will probably only learn combinations for their non-tokui waza.
Description courtesy Amazon.com

*Authors note: The best book to demonstrate the classic combinations between the most popular judo throws. This book will take your appreciation for setting up your techniques to a whole new level.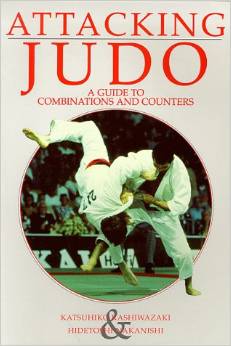 6)  Judo in Action: Grappling Techniques
by Kazuzo Kudo 

One of two superb master-volumes by Kazuo Kudo on the techniques of Judo (the other being on throwing).
Description courtesy goodreads.com

*Authors note: I found the pair of these in a used book store and they remain among my most treasured finds. Unusual camera angles taking photos from a glass floor underneath the grapplers make this a unique book.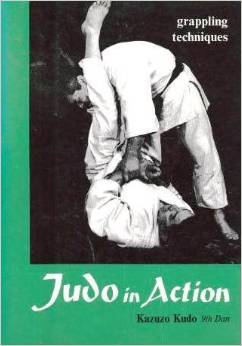 7) The Fighter's Mind: Inside the Mental Game
by Sam Sheridan

In The Fighter's Mind, Sheridan does for the brain what his first book did for the body. To uncover the secrets of mental strength and success, Sheridan interviewed dozens of the world's most fascinating and dangerous men, including celebrated trainers Freddie Roach and Greg Jackson; champion fighters Randy Couture, Frank Shamrock, and Marcelo Garcia; ultra runner David Horton; legendary wrestler Dan Gable, and many more. 
Description courtesy Amazon.com

*Authors note: This book might even be better than Sheridan's first book The Fighter's Heart. Terrific interviews with the world's best on their psychology. Don't miss this book!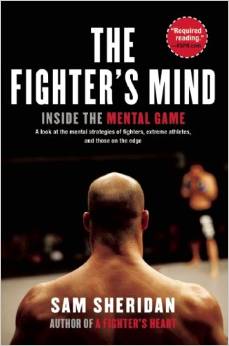 8) Brazilian Jiu-Jitsu: For Experts Only
by Carlson Gracie 

The moves that Carlson Gracie has taught to such stars as Vitor Belfort, Amauri Bitteti, Murilo Bustamante, Wallid Ismael, Mario Sperry, Kevin Costner, Catherine Zeta-Jones, and Mickey Rourke are revealed in this book on the Brazilian Jiu-Jitsu style of martial arts.  One hundred and one positions that provide a complete game of guards, sweeps, and submissions are detailed. 
Students will find more aggressive techniques that expand their game in all directions, and advanced practitioners will learn the tips and secrets that make the difference between competence and greatness.

Description courtesy Amazon.com

*Authors note: Legend Carlson Gracie shows his unique flavour of Warrior jiu-jitsu. Book is divided into sport bjj with gi, submission grappling and vale-tudo techniques.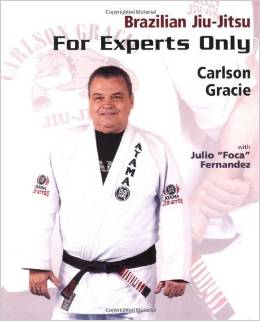 9) Brazilian Jiu Jitsu Black Belt Techniques
by Jean Jacques Machado, Kid Peligro

Now for his superior technical abilities and his unique and innovative moves, Jean Jacques Machado now presents his entire Brazilian jiu-jitsu system in book form for the first time. Detailed is a complete repertoire of jiu-jitsu moves to handle any situation that arises, whether on the mat or on the street. 
Techniques are not presented in isolation, but rather through a series of moves that guide practitioners from an initial threat or opportunity all the way through to a submission hold.  The subtle interplay between various strategies is depicted, allowing students to choose the right attack or defense every time.  More than 100 step-by-step martial arts positions are demonstrated.

Description courtesy Amazon.com

*Authors note: A lesser known book that details the philosophy of one of the greatest submission artists of all time. Get this book!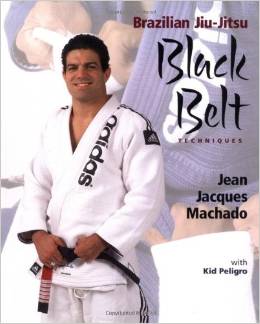 10) Jiu-jitsu Unleashed: A Comprehensive Guide to the World's Hottest Martial Arts Discipline
by Eddie Bravo 

In Jiu-Jitsu Unleashed, expert Eddie Bravo teaches you the moves that he used to defeat legendary Royler Gracie–a member of the reigning family of jiujitsu–the victory that made him one of the sport's most feared competitors.  Jiu-Jitsu Unleashed features: Detailed instruction on stance, kicks, punches, takedowns, and submissions. Step-by-step photos of basic and advanced moves modeled by "Fear Factor" host and former "NewsRadio" star Joe Rogan. Various theories and strategies behind training and competing.
Description courtesy Amazon.com

*Authors note: Eddie reveals his innovative ideas and philosophy behind his unique brand of bjj. Many of his ideas are considered revolutionary – especially for no-gi grappling.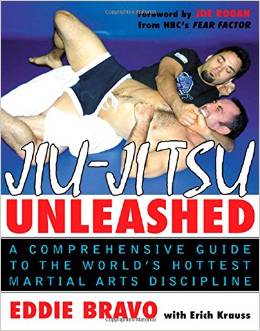 Credits: Mark Mullen 
Gracie Barra Black belt from GB Calgary, Canada
Twitter: @MarkMullenBJJ