GB Pride, Unity, Belonging & Team Spirit at the Pan Ams

GB Team Geared Up for Combat! 
GB Athletes were in full force at the recent Pan Ams Championships held in Irvine California. We caught up with a few of our GB Athletes showing their pride by wearing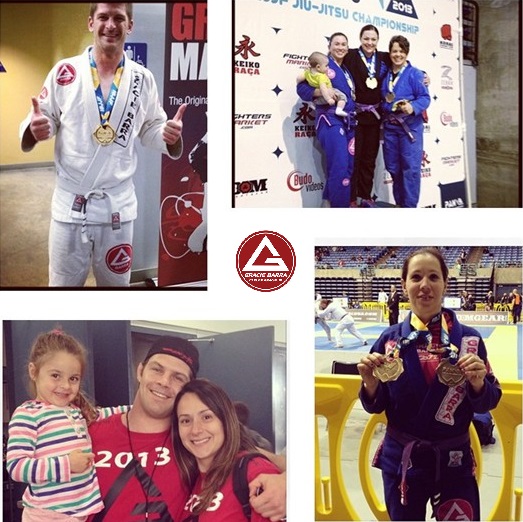 some of our new graciebarrawear gear and showing their team spirit by wearing the color Red.
Here are a few testimonials from our athletes who were extremely happy and proud to be representing the GB Shield and showing their team spirit and unity!
GB Team Spirit at the 2013 Pan Ams
"I have GB BLOOD and am so proud to wear our shirt 100%. I got to train with world level competitors, be part of an amazing training camp, play an active roll in our Pink Team boot camp, compete and place in both my division and absolute, come to beautiful sunny Cali, work for top level entrepreneurs who finds time to teach me even during pan ams over coffee."  -Coach Marcinha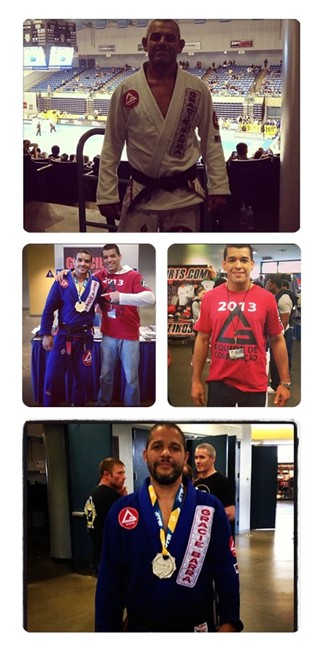 Professor Paulo Castro from GB Panama after a decade without competing took silver in his weight division. He was so happy with the new GB WEAR "PRO LIGHT" Gi! He said, "it was so light and allowed him to not only have a great light Gi to fight but also to represent his passion for his school!" Way to go Professor!
Professor Gustavo Alencar with his Brother Roberto "Tussa" Alencar won gold on his division. Professor Gustavo stated "I was so proud to wear the NEW GBWEAR "PRO TRAIN" GI! GBWEAR is always innovating and it looked so GOOD! It's a beautiful Gi."
Professor Eduardo de Lima from GB Clearwater competed at Pan Ams wearing the NEW GBWEAR "PRO TRAINING" Gi. We asked him why? And Eduardo said "I'm wearing the Gi from my school, representing my love for my team and carrying my shield with me!"
Professor Carlos Lemos Jr. from GB Downers Grove took two 3rd place medals! He rocked the NEW GBWEAR "PRO LIGHT" Gi. He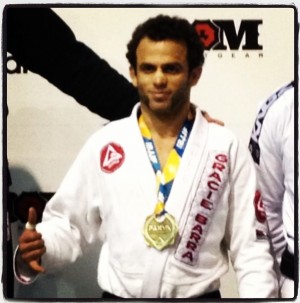 expressed his happiness with our new Gi, complimenting how it was light on weight but hard to give grips to the opponent…being the perfect blend! He stated he has no reason to buy or wear any other brand Gi.
To help support our competition team and display our team pride and unity, GBWear provided a kit to all male adult A team finalists which consisted of a gi, rashguard, t-shirt, shorts, and hat.
The GB Competition Shirt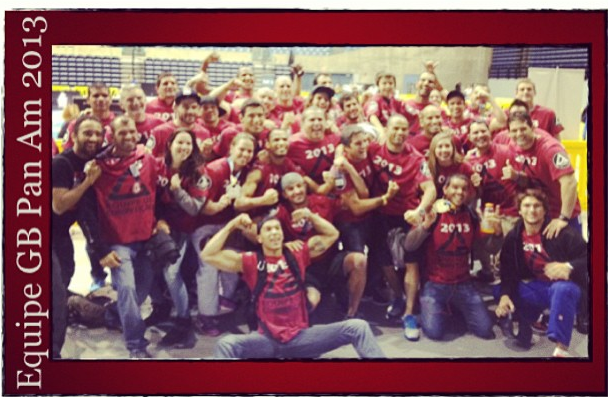 The color Red is Gracie Barra's official competition team's color. For years we have worn GB official uniforms to instill a sense of unity, pride and belonging among instructors, students and fans. We also have that same concept when it come to our athletics. Here is a picture of our GB Athletes wearing the GB Red shield shirt and showing their team spirit at the 2013 Pan Ams!
Wearing the new GB Competition t-shirt has been a great way to show our team spirit and pride in wearing the color red and displaying the GB shield. A portion of this T-shirt sales are used to support our Competition Team. The GB Red Shield shirt is available at the graciebarrawear website.
Let's continue to wear this color at future Jiu Jitsu tournaments. With enough support we will be able to strengthen our athletic's even more while keeping the GB legacy alive! Let's continue to create a "Red Tsumani" by all wearing the color red!