Professor Estima's secret to being a GB director and getting even better at Jiu-Jitsu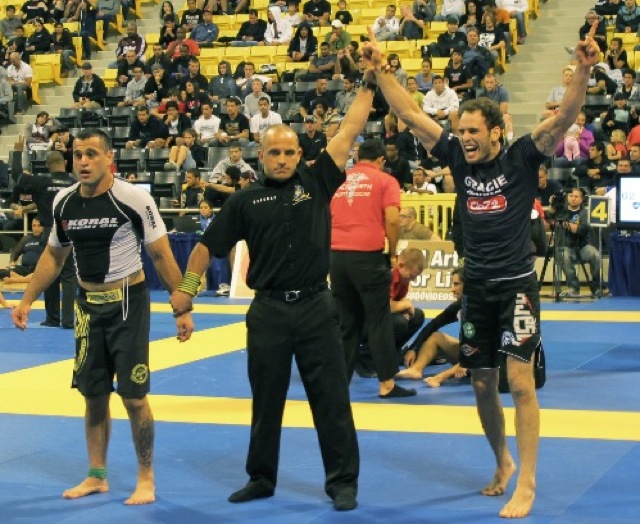 No-Gi world champion of 2011, Victor Estima is still hard at the grind in England. His next endeavor has him taking the post of regional director at Gracie Barra UK. Despite the greater responsibility involved, the younger brother of Professor Bráulio feels it will just make him all the tougher for upcoming competitions. Check out this interview with Professor Victor, where he explains just why.
1. What are the credentials required to be a GB regional director, in Europe in particular?
It's very important that a director have a good relationship with the people involved with Jiu-Jitsu and those not involved, as well. The teacher should be very familiar with how the sport is developing in the region and, furthermore, know the lay of the land—that's a really important factor. The United Kingdom is a country still developing, where Jiu-Jitsu is concerned; it's growing a lot. Gracie Barra is the strongest team in the area, but there's still a gap between it and countries like Brazil and the USA. But the way I see it, it's just a question of time.
2. How do you plan to go about making your time as a director a success?
My plan is to bring all the academies in line with the official GB model—simple as that. Our program is really effective, and it revamped my school. That's why I'm certain it will do the same with them all. I want to unify all the Gracie Barra schools in the United Kingdom with the aim of us all working under the same administration, so that the efforts of one benefit the rest.
3. Will this greater responsibility mean your not taking part in the big Jiu-Jitsu tournaments?
Quite the contrary… I'm more focused on competition than ever; I'm confirmed at the Europeans, then there's the Pan. The secret is that I have a highly capable team helping me out on and off the mats.
4. What will be your biggest challenges for 2012?
We have to deal with people, and that's always a challenge, but I have faith in the work being done at GB. My brother and I are showing how things should be done at the schools, and thus the changes become all the easier to make because we've already tested them.
5. And anyone who doesn't obey gets one of those footlocks of yours, right?
(Laughs) Truth is, anyone who doesn't take part is just doing himself a disservice. What we want is to help the schools get organized, improve the system with which classes are taught for all levels. So there's no reason not to go along with it. Everything is tried and true, proven through the success of the schools—all in line with Master Carlos Gracie Jr.'s philosophy.
And you know, I always thought it would be rough implementing the new system in Brazil, and yet throughout the whole country the new way has been successfully tested and approved, which went beyond our expectations. Here in the United Kingdom is no different.
6. You guys trained some folks from the UFC. Are you guys more coaches than you are fighters these days?
I'm constantly teaching class to some UFC fighters, like Dan Hardy, André Winner, and some others who will be making their debut there soon. But I'm at the peak of my Jiu-Jitsu career, so I'm focused on that. Now my brother is getting ready to make his MMA debut, so we do remain fighters.
Check out Professor Estima's perspective on the Jiu Jitsu Lifestyle: