Prof. Marcos Barros as Regional Director Shares His Philosophy on BJJ
A Lifestyle that has Proven to Change Peoples Lives for the Better
Prof. Marcos Barros of Gracie Barra Springfield will soon help further develop the network of GB schools in Illinois and the Midwest together with other GB leaders in the area. With years of experience and mastery in the gentle art, and tried and tested leadership skills, Professor Marcos takes on this role with the vision of spreading "Jiu-Jitsu for Everybody."
He first started his career as a Brazilian Jiu-Jitsu specialist 17 years ago in Gracie Barra Campinas in Sao Paolo Brazil. Eventually earning his blackbelt under Master Carlos Gracie Jr. in Rio de Janeiro.
In 2005, after years of teaching in the Gracie Barra headquarters in Rio, he was given a chance to teach BJJ in GB Birmingham (now, managed by Professor Braulio Estima). Moving back to Rio after a year, as a brownbelt, Master Carlos Gracie Jr. gave him the opportunity to teach at the GB headquarters.
His motivation and drive to succeed led him to pursue his dream of putting up his own school.
The opportunity to move to the United States presented itself eventually. He narrates, "Prof. Marcio Feitosa kept telling, 'marcao, be patient and your opportunity to travel to the USA will come!'"
The dream finally materialized in November of 2005 when he moved to the US.
No Child is Left Behind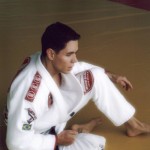 More than a BJJ disciple, Professor Marcos also believes in changing the world and making it better for the less fortunate children in orphanages. His drive to make a difference in the life of a boy led him to Russia. He shares "we knew in our heart that the older children get left behind in orphanages all over the world. Our journey led us to Russia and eventually to our blessed son at age 12. He arrived home at 14 years of age and has grown more precious to us every day. He is incredible and adoption will continue to create my family no matter what the age or circumstances." And yes. His adopted son does BJJ now.
Professor Marcos' Thoughts on BJJ
In an email he sent to graciebarra.com, Professor Marcos shares his philosophy on Brazilian Jiu-Jitsu
"BJJ is a very complete sport because it is both gentle and dynamic in activity. In both systems it's meant to not resist, to give way, to be compliant. It referres to conditions where someone imposes their will upon you. Usually this is a physical action, but it could be verbal as well."
The BJJ response is to give way, to not meet force head-on. However this is for the purpose of defensively beating the oppressor.
"The lifestyle of Gracie Barra is taking care of yourself, your family and friends. Living to serve and help others to have a better life fits into the core of my faith. It's a positive career and life style that has proven time and gain to change peoples lives for the better."
"The sport to Gracie Barra is a means of exercise that has meaning and significance to its practice. Each technique is a method that may apply to the situation of physical or mental attack either on the mats or in your life. As Master Carlos Gracie Jr. says, he doesn't limit his teaching to techniques, but also forming character. From the beginning he instills us with the understanding that the fundamentals for good Jiu-Jitsu are also fundamentals of good character. Without honesty, integrity, discipline and unselfish acts, one cannot become the great athlete he or she strives to be. As Master Carlos teaches us, if you want to truly know someone, pay attention to them as they fight. When one is engaged in struggle or combat, they cannot hide their true personality."- Prof. Marcos Barros