On Self Defense and Kids Jiu-Jitsu Success Stories with Prof Ericka Almeida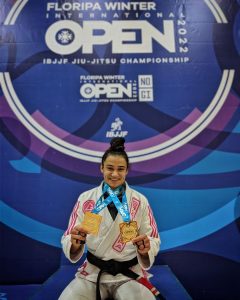 Meet Prof Ericka Almeida of GB Curitiba. Prof Ericka is very passionate about the self-defense component of Jiu-Jitsu and shares her perspective on how we can apply it in our lives outside of the GB school.
Prof Ericka also shares some success stories of young people overcoming personal obstacles through jiu-jitsu and how jiu-jitsu can be a great family activity for both the kids and mom and dad.
ㅤ
"…But when they do jiu-Jitsu, they are going to jiu-jitsu together; they talk about jiu-jitsu; they share their experiences in the training so it's really good for the whole family."
ㅤ
GB: Let's introduce you to the Gracie Barra readers. How did you start training Jiu-Jitsu? Where is your home Gracie Barra school?
ㅤ
Prof Ericka: My name is Ericka Almeida, I started Jiu-Jitsu in 2007. I moved from my town Sao Paulo to Parana – Curitiba, Parana. When I moved I looked for a Gracie Barra school. And now I'm under Gracie Barra Curitiba Prof Rodrigo Fajardo and Prof Nika. I'm also a Prof at GB Ecco Villi here in Curitiba. I teach men, women, and kids. I really believe in our philosophy that jiu-jitsu is meant for everyone.
ㅤ
GB: You are especially passionate about the self-defense aspects of Jiu-Jitsu. Can you share your philosophy of the importance of learning self-defense?
ㅤ
Prof Ericka: I really love my job. I really love what I do. I could do this every day until my last days. I believe in the purpose that jiu-jitsu can change people's lives. Especially in self-esteem – so that's why self-defense is very important. It's part of the process. I really believe that everyone should start jiu-jitsu when they are kids because this can develop childhood development by making them more confident and socially oriented adults.
ㅤ
GB: What are the most important parts of a solid Jiu-Jitsu self-defense program? What are the important parts to consider and focus on?
ㅤ
Prof Ericka: The most important part of a solid self-defense jiu-jitsu program is the position reflex and prevention. For example – if I see a suspicious person walking toward me I can prevent being vulnerable, make a good base so I can not be thrown to the ground so easily, and apply the techniques that we learn in the classes. Also, prevention before all because for example here in Brazil the violence is really high. And kidnapping is really common here. So for example if I'm leaving the school and I'm going to my car in the parking lot, I usually avoid looking at my cell phone; avoid staying in the car late at night alone. So this is a type of prevention that I must take here. This is self-defense that can be taught.
ㅤ
GB: Can you tell us a little about the kids' Jiu-Jitsu programs at your school?
ㅤ
Prof Ericka: I love the kid's class! At first, it can be hard. But it's great being involved in working with them. I really love it. About our kids' classes at school – I used to talk with them and then I adapted the self-defense techniques to their lives, their situations in school, and in their neighborhood. So for example the Tiny Champions used to tell me that some fried in school beat them up and now they want to know how to prevent this situation. So I really like to work like that with them.
ㅤ
GB: What are the challenges that young people face in their lives? How does jiu-jitsu help them meet their challenges?
ㅤ
Prof Ericka: Jiu-Jitsu is good for kids in so many ways. I see the little ones who came here shy and they begin to socialize better. And some aggressive kids also start to socialize better. Their self-esteem is so much higher now. I have a student here that prior to Jiu-Jitsu used to cut herself. She has depression. Since she started to do the classes, she stopped cutting herself. So this is the best reward that I can have through jiu-jitsu. I'm not a Professor for money or for fame – I'm a Professor to make people's lives better.
ㅤ
The biggest challenge for the kids at first is to work on winning and losing situations. They might think that when they lose that we are going to love them less or that we are not going to be proud of them. Then they realize that it doesn't work like that. We never love them less. Losing is part of the process.
ㅤ
Losing is part of the process and we are going to celebrate every little victory with them and the process.
ㅤ
GB: Can you share an example of a young person who has a Jiu-Jitsu success story?
ㅤ
Prof Ericka: A successful jiu-jitsu story – it depends on what you mean about success. Success for me is when a kid who is really shy starts to make friends and socialize better, or an aggressive kid controls himself and can make friends. Like I said before – a young, depressed girl who is loving herself more now. This is a success for me.
Another example is a kid that used to be shy and didn't defend himself from the bullies. They were in school playing soccer and some other kids started to mess with him and his friends and he applied a self-defense technique – took the bully to the ground and asked for an adult's help. So this is really, really successful for me. I'm really proud that he was successful in applying the techniques that he learned in self-defense in class.
ㅤ
GB: What advice would you give to a parent who is thinking about enrolling their child in Jiu-Jitsu?
ㅤ
Prof Ericka: The advice that I have for the parents is that jiu-jitsu is one of the best investments that you can do for your child's life. And if you want to invest, even more, the parents should do Jiu-Jitsu too! Because we have parents class and this is going to be a different experience for the whole family.
ㅤ
I used to talk a lot about it here in school with the parents – that if both the parents and kids do jiu-jitsu together the quality time together will be awesome. Because usually families spend time together at home, at night at dinner but everyone is stuck on their phones, on the tv – so they are together but they are not involved together. But when they do jiu-Jitsu, they are going to jiu-jitsu together; they talk about jiu-jitsu; they share their experiences in the training so it's really good for the whole family.
ㅤ
 Do jiu-jitsu together. That's a thing that I talk a lot about in the GB school.