Hollywood's Teri Reeves Trains at Gracie Barra Encino
Actress Teri Reeves on Brazilian Jiu-Jitsu, Staying Healthy and Acting
Yes. The title says it all. Ms. Teri Reeves plays Dr. Hallie Thomas for NBC's Chicago Fire which airs every Wednesday at 10p. Aside from acting, she happens to be a two-stripe blue belt at Gracie Barra Encino under Professor Juan Pablo Garcia.
Born in Castro Valley, in northern California, Ms. Reeves packs a good list of shows in her resume in her acting career. Following stints from popular soaps such as Days of Our Lives, Battleground, and now Chicago Fire.
Given the lead from Professor Garcia, graciebarra.com immediately jumped into getting Ms. Reeves in our pages. Here is what she has to say:
How did you get involved in BJJ?
Teri: I actually got involved in BJJ because I'm an actress. I've played mostly girl-next door type characters and wanted to play more of the strong, leading lady, kick-butt type of woman so I needed martial arts on my resume. The closest martial arts studio to my house was a Gracie Barra. They had a free intro class so I said, "Why not? I'll try it, probably train for a month, put it on my resume, and then quit." Three years later, I can't stop. I love it.
How were you able to meet or get to know Professor Juan Pablo Garcia?
Teri: I walked into Gracie Barra Encino to try a free intro class and was greeted by this fourth degree brown belt with a black eye (Prof. Garcia). He was very welcoming, but I just stared at his black eye and thought, oh geez, this sport looks rough…and awesome. I got to know him because he taught our classes. That's what makes studying at GB Encino so great. You're actually taught by brown and black belts.
How long have you been training?
Teri: It's 3 years I think. They've all blended together now!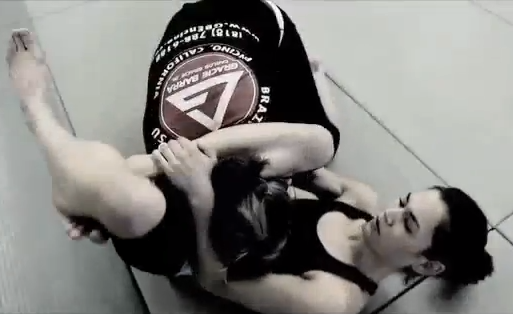 What do you think about the training in Gracie barra?
Teri: Gracie Barra has been awesome for me. The leaders that started the school come right from the source of jiu jitsu so you can absolutely trust what they teach. Their emphasis on technique and mental and physical discipline is motivating as well as encouraging. And they also stress respect for one another which means I'm in an environment that is safe. Plus, I travel a lot for my work and every city I've been to has a Gracie Barra so I can still train with the kind of jiu jitsu practitioners I trust.
Tell us about your lifestyle before Gracie Barra. Were there any differences?

Teri: Before Gracie Barra I always worked out and thought of myself as an athlete. After Gracie Barra, I realized just how much I could push myself physically and mentally. My lifestyle before suddenly seemed so lazy. I feel stronger now, my stamina is much higher, and those things affect me in my regular life as well as on the mats. I eat differently because healthier food means a better time training. And I feel like my approach to life has become more present and forward moving. I'm less scared to try new things or commit to something. I don't know if that makes sense, but it takes a lot of commitment to power through a jiu jitsu class. You're put in uncomfortable positions, you're challenged to your physical limit, you often fail and have to try again. Because I can do that in jiu jitsu class, the challenges I face in life seem less scary.
How often do you train? 
Teri: I'm on the mats usually four times a week. Some days I do technique class, other days black belt rolling classes, and some days both. Even on the days when I'm super tired and dragging my feet, it is always worth it to go train. I feel amazing afterwards. Sometimes a little beat up, but still amazing.
Training actually helps me a lot to deal with the tough life of being in show business. Gracie Barra is a place I can go and leave all of that work stress behind me. You can't think about anything but jiu jitsu when you're rolling. It takes all of your concentration. Plus, the people that train with me are awesome. It's like a second family, which means a lot of support and a lot of laughing.
Are you married. if so, does you husband train with you?
Teri: I am married. I've been married for 8 years. My husband, Jon, started training a few months after I did. When I first started, I kept coming home from class with these bruises and stories about choking someone out or getting arm barred. He was like, "What is this crazy thing you're doing?" Then he tried it out and fell in love with it right away. We've been training together ever since. He's gotten really good. I can't tap him anymore, but in all fairness he does have 35 pounds on me.
Tell us about your favorite move
Teri: I'm a triangle girl. I play a lot of open guard since I have long legs and am pretty flexible (plus, it keeps the big guys' weight off me) so I can grab a triangle pretty easily and once I lock it in there I don't let go. It's super versatile too.
Can you tell us something about your hollywood career?
My Hollywood career has been a rollercoaster. I went to undergraduate and graduate school for acting where I did a lot of theater, but after I got out I didn't book my first job for two years and even then it was only half a sentence on an episode of 'Numbers'. I kept auditioning for six years, booking little jobs here and there, but I often got discouraged. Finally I auditioned for a web-series called 'Battleground' and landed a lead role on that. That helped build my confidence. Then I got the audition for 'Chicago Fire' on NBC and have been working on that show this year in Chicago. That was a big deal for me. I'm grateful for all the years of struggle. They've helped me appreciate where I am now. It's still hard though. You never know where your next job is going to come from as an actress since they're all temporary. I'll always be auditioning.
//