Gracie Barra Wear's Secret Weapon: Marco "Piu Piu" Joca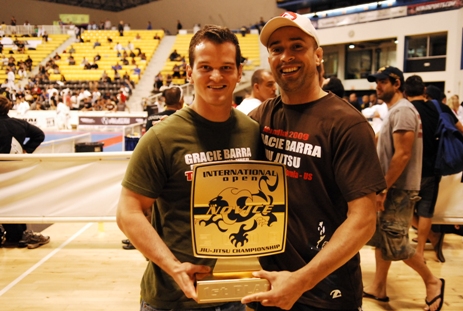 "If your life's work can be accomplished in your lifetime, you're not thinking big enough." -Wes Jackson.
A lesser know legend in the Gracie Barra community Marco "Piu Piu" Joca is one of the most important people behind the scenes at the Gracie Barra Headquarters. Professor Joca is not only one of the instructors at the school but he  is also the man in charge of Gracie Barra Wear as well as helping out with other area's of the association. At a young age Marco decided to dedicate his life to Master Carlos Gracie Jr.'s vision of spreading Jiu Jitsu for everyone around the world. Here is an in depth interview with him discussing his history, what he is up to today, and his vision for the future of GB Wear.
Tell us about your background and how you got started in Jiu Jitsu?
I was 6 years old and already on the mats watching my older brothers training. I started training in 1991 when I was 10 years old at Gracie Barra original school in Barra da Tijuca, Rio de Janeiro. A couple of years later my parents told me they couldn't afford my Jiu Jitsu classes anymore. I was in love with Jiu Jitsu and Gracie Barra, and could not let it go. I decided to go see Master Carlos at his house and asked him if there was anything I could do in exchange of a scholarship (I was only 13! I can't believe I did that!).
I was surprised by how Master Carlos reacted, he really cared about me, as he does for all of his students. He assigned me to assist the professors with the tiny and little champs classes and that's when I developed my love of teaching Jiu Jitsu. I believe I did a good job because two years later I was invited by Master Carlos to teach privates classes to his son, Kayron, at their home – he was only 6 and a lot to handle :).
I spent my first decade at GB as an avid competitor and dedicated assistant instructor. Many years went by and after winning most of the major tournaments back then and teaching several classes at GB I realized I was a 22 year old black belt with an important decision to make; finish university and pursue a professional corporate career (I was enrolled in one of the best Universities in Brazil) OR figure out a way to make a decent leaving with Jiu-Jitsu (not a common scenario many years ago).That's when, by late 2002, I had a meeting with Master Carlos and Professor Marcio Feitosa that changed my life and probably impacted the lives of many GB team members later on.
We talked about the lack of opportunities for GB students to, by the age of 21 or so, continue working with Jiu-Jitsu instead of shifting their focus to "real" work/jobs, specially if they had good education and great job opportunities in other mainstream industries. That's when they presented to me their vision of multiplying GB on several cities, states, and countries through an association that would create a strong and internal secure market for school owners, professors, and GB competitors (schools, seminars, uniforms, clothing, certification, tournaments, etc.). They had a very clear vision of what is actually happening today and they presented it to a few people back then but no one would believe or trust it.Well, I did. I was amazed by it, I didn't hesitate a second and said "I am in, "whatever you guys have to offer me I will accept, and I will dedicate myself entirely to this vision."
I did help with several different things but my main assignment was the uniform and clothing division, known today as GB Wear. I decided to put my time into all projects that would help GB's growth, rather than focus on winning more medals for the team. We already had enough great champions and I felt I could make a difference by helping build some of the main GB pillars (entities) we have today; GB Wear, GB Association, and GB Compnet.I am very satisfied with the result of these projects and with the current solid growth of our family around the world!
How long have you been in charge of Gracie Barra Wear?
Since late 2002. It started in Rio with just myself and Marcio as work staff, and a first batch of products stocked up in my own room. Today we have international offices in 6 countries distributing and selling GB gear to over 300 schools, employing over 150 people directly and indirectly, and warehousing several thousands of square feet of inventory.
What is your long term vision for Gracie Barra Wear?
GB Wear has 4 main goals: brand and promote GB locally in every community we have or are planning to have GB schools at, provide GB quality training gear and apparel to students, friends, and fans to enhance their BJJ lifestyle experience, benefit school owners by increasing their income revenue from proshop and online sales, and support GB entities and GB athletes with financial, human, and apparel resources.
The long term vision is to continue the current hard work and make sure we accomplish the goals listed above with efficiency and consistency. Gracie Barra and all of its entities are here to stay for many decades ahead. We, the current GB generation, are all responsible for help building a strong foundation to make sure it will last long after us. There are billions of people on this planet yet to be gifted with Gracie Barra Jiu Jitsu.
I am a big fan of the quote below, it describes what my dedication for GB means:"If your life's work can be accomplished in your lifetime, you're not thinking big enough." -Wes Jackson.
What benefits does GB Wear bring to school owners and students?
There are several benefits but to list a few I can say school owners have a full time team of people constantly thinking, creating, and providing ways (products and services) to enhance GB students experience on and off the mats, as well as increasing schools revenue from uniforms, gear, and apparel sales. We financially support the official GB training camps for athletes so our family can continue to be one of the top competition teams out there. We also sponsor social Jiu Jitsu projects to make sure our Gracie Barra Jiu Jitsu can be brought to EVERYONE!
Who are some of the people you have helping you out at Gracie Barra Wear?
Thankfully so many! Master Carlos gets always involved when he can, in fact our logo is red and our Gi patches are easy to read from any distance due to his opinion and participation during development phases.
Professor Marcio Feitosa has been there since day one and despite being a Jiu Jitsu star he was always available to help with all kinds of tasks (his favorite one is to get involved with design and artwork creation!).
As the years went by we had several students that became employees as well as GB leaders the embraced the vision and started supporting GB Wear in their schools and regions. I can't list names because the list is very long and I will probably miss a few, but the truth is, I have had lots of help. I never had any clothing or business experience before starting GB Wear.
We are all so fortunate to have so many great people inside Gracie Barra, they will be always there for us whenever we need them. I credit a lot of the GB Wear success to Gracie Barra in general. At the end of the day GB Wear exists for our team members and they are the ones that will make it happen!
Take a look at how Piu Piu passes the half guard