GB Women: Prof. Kendall Reusing on Competition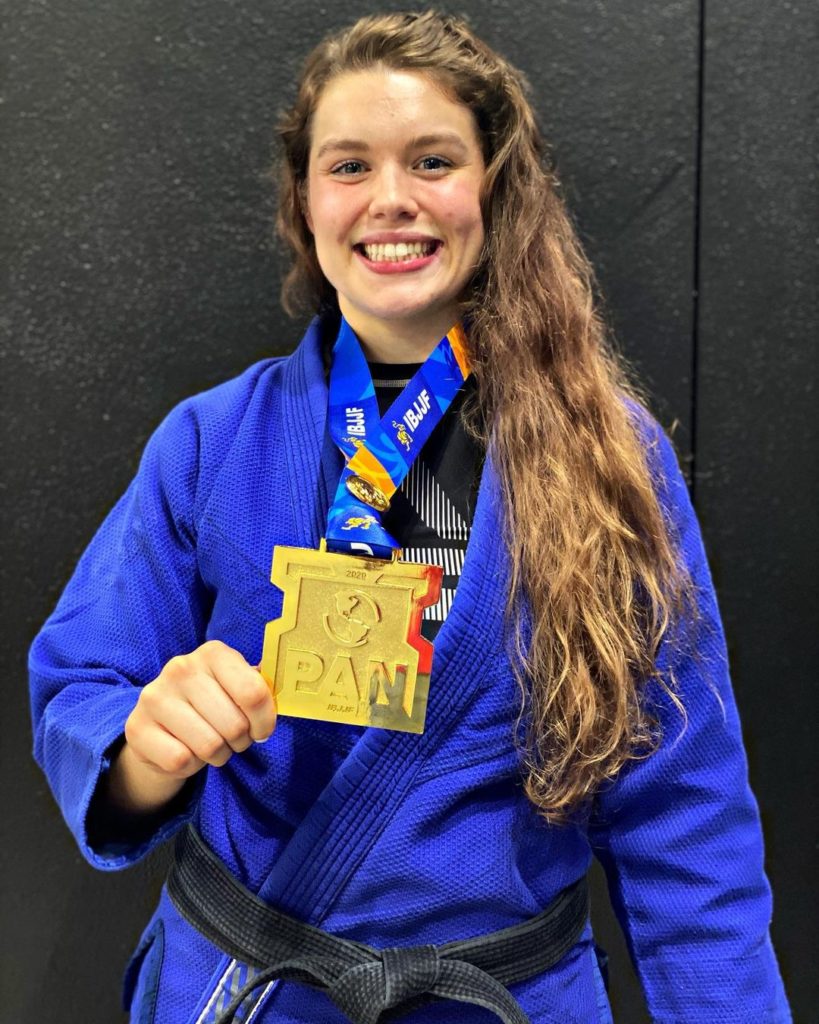 Gracie Barra athlete Prof. Kendall Reusing has been on quite a competitive tear in 2020 with victories in Subversive, FightToWin, and most recently the prestigious Pan American championships.
ㅤ
"..Doing my best IS part of having fun because when I do my best, whether I win or lose"
ㅤ
Prof. Kendall Reusing was one of the key members of the Gracie Barra Team that were victorious at the Subversive team grappling event in Dallas, Texas, and the most recent Pan Ams.
ㅤ
This week Gracie Barra caught up with the busy Prof. Kendall to talk about her competition Jiu-Jitsu mindset, the training schedule that it takes to compete at the highest levels and she even shares some tips for her most successful submission.
ㅤ
GB: You had a successful Pan Ams tournament taking Gold in your weight class. Can you tell us how your matches went?
ㅤ
Prof. Kendall: The Pan Ams was a lot of fun. I had some good matches in the open class. I ended up losing to Luisa Monteiro in the quarter-finals but I had some really close matches and it was a great experience.
My first match was a very quick submission, then I ended up losing to Luisa.
In my weight class I ended up fighting Talita Nogueira who is who a previous black belt world champion and I was able to win that fight. Then I closed out with Prof. Jessica Flowers in the finals. So we had a double gold win in the weight class for Gracie Barra which was great!
ㅤ
GB: Several of your recent competition matches have ended in an arm triangle (Kata Gatame) choke. Is this one of your special techniques? Can you share any tips with the GB Online readers on how to finish with the arm-triangle choke?
Prof. Kendall: Yes! I'm definitely a huge fan of the arm triangle. It's one of my favorite submissions to use both gi and No-gi.
One of the biggest tips to help me finish this submission is:
#1 To make sure that the shoulder that is doing the choke is to drop it DOWN on the chest and then slide the shoulder up underneath the chin so that you are not only smashing the opponent's face.
#2 The second tip is to make sure that you are closing off BOTH carotid arteries so that on one side of the choke my biceps are shutting off the blood and on the other side of the choke, it is THEIR shoulder that is shutting off the side of the blood.
I need to make sure that both of those areas are very tight and the best way to tighten up the side of the shoulder is to use my own head. I have my hands gripped together and I use MY HEAD to push their arm into their own head – this pushes their shoulder into their carotid artery.
I drive my head into the floor and then towards their head.
ㅤ
I use my head to smash everything to the side. That way it closes the blood on both sides. I also have some details of this on my Instagram if anyone wants to check out the explanation.
ㅤ
GB: Can you share with the GB Online readers about the preparations weeks and months before getting ready to compete in a major tournament? What is the weekly training like?
ㅤ
Prof. Kendall: I don't have any super-specific advice on training monthly for getting ready for competition because, for my training, I just train year-round and put an emphasis a little more on gi or no-gi a little more throughout the week depending on what I'm getting ready for.
A typical training week for me is a little bit different because I teach full time so I kind of has to manage my time on the mats pretty wisely.
Typically,  I do a really hard mat session with a lot of sparring on Monday and Friday mornings. I spread it out throughout the week in order to give me plenty of time to recover.
The Monday and Friday mornings are my toughest training sessions and then I do my fitness, my strength, and conditioning on Tuesday and Thursday mornings.
ㅤ
So in the morning Monday and Friday I do hard training. Tuesday and Thursday, I do my lifting and conditioning and Wednesday I usually rest in the morning to recover. And every day of the week in the evenings I teach full time in the afternoon and throughout the evening and I train at night.
Tuesday and Thursday nights I do a hard training session. My Monday and Wednesday night are a little easier to give my body time to recover. Saturday depends on how my recovery is. If I'm feeling really good, then I'll do a little bit of training but if not I'll take Saturday completely off and I only teach. Then on Sunday, if my recovery is really good then I'll do cardio and strength and conditioning – if my recovery has been bad then I'll just take the time to rest.
ㅤ
But a lot of it changes week to week because I like to train smart and mind how my body is feeling and responding. If I have a really bad recovery then I'm going to change my training because my goal is to train smart and have a lot of longevity in the sport. Not to kill my body for a few years and then not be able to train at all and not be able to compete and be able to live a healthy lifestyle.
ㅤ
GB: What is the difference between entering a BJJ tournament to have fun and gain experience and preparing to try to win a major competition at a high level?
ㅤ
Prof. Kendall: To be honest I used to think that there was a huge difference between training to enter a tournament to have fun and entering a tournament to win a world championship. But the longer that I compete and the longer that I've done this it seems very similar to me because anytime that I go out to do something, I want to do my best – whether it's a small or big tournament. No matter who the competitor is, I want to do my best. And doing my best IS part of having fun because when I do my best, whether I win or lose – of course, it's uncomfortable and sad to lose, I'm able to think about it as a fun experience and think about it as a growth experience. That has come with a lot of time and experience. I didn't use to be able to think about it that way. I used to only be able to think about it as fun if I won. That was the only way it was good enough for me.
ㅤ
GB: Last question. Would you like to give a shout-out to any coaches, training partners, or sponsors?
ㅤ
Prof. Kendall: Definitely! We have three schools: GB Corona, GB Newport Beach, and GB Riverside – and all of the people at those amazing schools deserve such a huge shout out because their support and camaraderie is why I'm able to do what I do.
ㅤ
Secondly would be my family. My dad is my professor, Prof. Tom. My mom is coach Holly – she is a brown belt. My sister coach Emma is a blue belt. They are all amazing people on and off the mats.
And lastly, the person that is most like my coach is also my boyfriend – that is Prof. Saul. We teach together, we train together, but he is also my coach as far as Jiu-Jitsu goes. Always tweaking and changing my game and giving me support in the technical areas. So those would be my shout-outs.
ㅤ
And of course, Gracie Barra as a whole – my amazing worldwide community and global team that is always supporting me every step of the way.
ㅤ
@kendallreusing
ㅤ
GB Values: Jiu-Jitsu Culture
ㅤ
Credits: Mark Mullen
Gracie Barra Black belt based in Asia