GB Values: Master Carlos Gracie Jr. on Friendship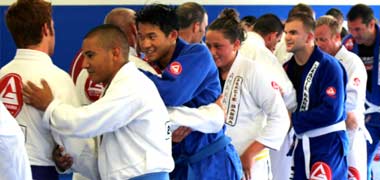 "Inside the mat, we create connections that we'll have for life."
Master Carlos Gracie Jr.
ㅤ
This talk is excerpted from the GB Online course "Life Lessons with Master Carlos Gracie Jr." In this short talk by Master Carlos, he talks about the easy way that we form friendships inside the Gracie Barra school with people from other backgrounds in life.
ㅤ
Have you checked out the GB Online Instagram account?
ㅤ
What is Friendship?
"Friendship for me is when you want good things to happen to a person that you like. It is to like someone, wish that person well, and always help and cooperate with that person the best you can.
ㅤ
When you can count on each other. Friendship is a very important thing that you learn on the mats when you are there. Helping and teaching each other because you care about that person because you are his / her friend."
ㅤ
Creating connections with others at the GB school
"Inside the mat, we create connections that we'll have for life.
That happens to me and to lots of people I know every day. Sometimes you need legal advice and a friend from the school who is a lawyer. Or if you need an engineer, there is one too, etc.." No matter what the color of the belt around the waist, we respect each other and form connections with the people that we see several days each week in class.
ㅤ
Friendship on the mat
"Magic happens on the mats. I believe it's such a deep thing that it's even hard to imagine, but that contact you have when you are training, the connection that you create at that moment. If you don't have that with that person, how will your relationship be at work? When you are seated, chatting, eating, and then you leave."
ㅤ
Master Carlos feels that the close, unique nature of training jiu-jitsu creates friends that have a closer bond than might be in other social activities.
ㅤ
"You don't have that contact where you smash, grab, and scramble with each other, push and pull and submit each other? Because that creates such intimacy and a friendship that you don't find anywhere else than on the mat."
ㅤ
If you have been involved in training jiu-jitsu for any length of time it is likely that most of your closest, most trusted friends are those that you met in Jiu-Jitsu class.
ㅤ
Master Carlos finishes with "That's why we create such deep and meaningful friendships. You become close – literally – to that person. Jiu-jitsu brings you this."
ㅤ
See also on GB Blog: GB Values: Body & Mind with Master Carlos Gracie Jr.
ㅤ
Writer: Mark Mullen, Gracie Barra Black Belt