GB Technique: Open Guard with a GB Champion "Lagarto"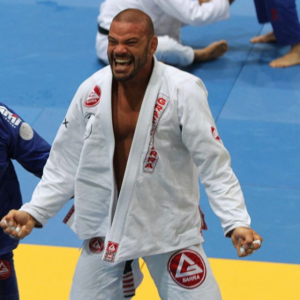 This week on GB Blog we are talking about the open guard as taught by one of the top Gracie Barra black belt instructors – Prof. Lucio "Lagarto" Rodrigues.
IG: @lagartobjj
ㅤ
Notably, in addition to having been a top international level competitor for  GB, a few years ago, Prof. "Lagarto" successfully overcame cancer and returned to training and competition.
ㅤ
Prof. Lucio said of his experience and philosophy in an interview with Gracie Barra:
"That cancer just knocked on the wrong door ;))
I didn't change anything in the lifestyle Carlos Gracie Jr taught me. I looked at it as a challenge I had to overcome.
ㅤ
It's funny to say it, but it was a very good experience, I learned things I would not have learned in any other circumstances.
Appreciate every second as your last in every little detail, life becomes so beautiful."
ㅤ
Let's take a look at some open guard techniques with one of the top Gracie Barra instructors – Prof. Lucio "Lagarto" Rodrigues.
ㅤ
ㅤ
1) How to get to Open Guard
A good to place to start is how to enter into open guard and get the grips that you want.
2) Armlock and triangle combination
When we think of guard attacks, the straight armlock and the triangle choke are likely what we think of first. Prof. 'lagarto" gives some tips on how to attack.
3) Open Gua

rd to Omoplat

a
The triangle and the omoplata work very well as an attack combination when your opponent defends one of the attacks.
4) Triangle from Open Guard
Go or No-gi the triangle is possibly the most powerful attack from your guard. Especially with those students who have the advantage of longer legs.
5) Back Take from Open Guard
You can use the lapel to create angles and transition to catch the opponet's back.
What is YOUR favorite Open Guard Style to play?
ㅤ
ㅤ
Credits: Mark Mullen
Gracie Barra Black belt based in Asia