GB Blackbelts on Jiu-Jitsu philosophy and competition advice.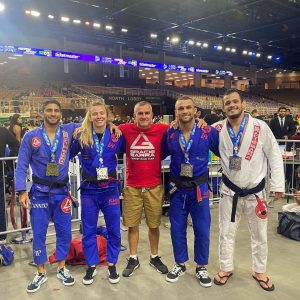 Professors Andressa Cintra, Pedro Marinho, Jefferson Moura, and Ulpiano Malachias of Gracie Barra share decades of collected wisdom and advice on GB philosophy and competition mindset.
ㅤ
Have you checked out the NEW GB Online Website?
ㅤ
The best part of my job as a writer on the Gracie Barra blog is the incredible stories that I hear from world-class-level black belt competitors and instructors around the World Gracie Barra network. I present to you some of the best advice and philosophy that each of these inspirational figures shared with me. Enjoy!
ㅤ
Prof. Jefferson Moura was head instructor at GB Matriz in Rio de Janeiro at the original Gracie Barra HQ and is now building Gracie Barra Jiu-Jitsu in Colorado, USA
ㅤ
Prof Jefferson shares his philosophy of Jiu-Jitsu: "Your training opponent is like life, you need to use the Jiu-jitsu philosophy in your day to have respect, discipline, healthy habits, know when to breathe, wait for a good opportunity, use an extra movement, withstand the pressure until it passes and even when life takes you down, you know you can start again and do better, knowing the right time to be there to attack and if you reach a submission to emerge victoriously.
ㅤㅤ
Jiu-jitsu is like this all the time, one time you win, another time you learn, it's always starting over, trying something different and better until you start winning.
ㅤ
Anyone who understands this will be prepared for life's challenges."
ㅤ
Double Gold No-Gi Worlds Champion Prof. Pedro Marinho
One of Gracie Barra's most exciting and successful competitors is Prof. Pedro Marinho who recently had an incredible performance at the 2021 No-Gi Worlds. Prof. Pedro won double gold in both the 91kg and Open weight categories. 8 wins in 8 matches.
ㅤ
GB: Can you talk a little about your mindset leading up to a major tournament? What is your mental attitude right before you enter the match for a championship final?
ㅤ
Prof. Pedro: I truly believe in hard work. I know that if you put the work in, and do everything that you are supposed to, you'll be ready and feel ready.
You can lie to everybody but you can't lie to yourself. If you don't give your best during your preparation, you'll know deep down that you could've done better and it will affect your self-confidence.
ㅤ
The most brutal fights happen inside of your own mind.
ㅤ
When I enter any match I remind myself nobody worked harder than me. And I know I'm ready."
ㅤ
Prof. Andressa Cintra of Texas won her weight class in the 2021 IBJJF World Championships and her category at the most recent Brasiliero Championships
GB: What advice can you share with young GB competitors?
ㅤ
Prof. Andressa: Everything that you desire, may not be easy to conquer, but if you believe you can and work as hard as you can, you can do it. Even whenever you are tired or lazy, set a goal plan, don't matter the circumstances, follow it 100%, and do everything to get it. Don't focus on other people's lives, social media can cause you more damage than help you if you keep comparing your life with others. And of course, trust in God and His plans for you."
ㅤ
Prof Ulpiano Malachias of GB Westchàse is the head coach of a formidable competition team representing the Red Shield
ㅤ
GB: What is the mindset/philosophy to carry into a tournament where there will be some tough matches?
ㅤ
Prof Ulpiano: Every time that you look at the bracket, you got to think 'man, if it's tough for me, imagine for the other guys.' So you've got to believe in yourself. Think about what you are going to do, not what they are going to do to you. Your mindset must be like 'I'm going to impose my game and nobody is going to stop me you know. They have to figure out how to stop it – NOT I have to figure out how to avoid it. I think that's important.
ㅤ
GB: How do you mentally deal with wins and losses? Some competitors feel they let the team down if they lose – while some winners could become overconfident and egoistic
ㅤ
Prof Ulpiano: About winning or losing. A loss is never good. Some people say 'I learned from my loss." Are you saying that you learned that you shouldn't lose. (Laughing) You know that's the main lesson that you should learn when you lose you know. But everybody is a human being and you end up, that at one point everybody loses.
ㅤ
I don't even think about loss. I never tell my students to go into the tournament with the idea IF they lose or anything. It's always 'You going to win man!'. I think this is better. To go with the mentality that you going to win.
ㅤ
"Your mindset must be like 'I'm going to impose my game and nobody is going to stop me." Prof Ulpiano
ㅤ
See also on GB Blog: GB Inspiration: Prof. Flavio Almeida on overcoming struggles
ㅤ
Writer: Mark Mullen, Gracie Barra Black Belt