GB Athlete Profile : Prof. Isaac Dull
Gracie Barra is proud of the athletes that represent the Red Shield in competitions all over the world. Prof. Isaac "Dull" Dull has been an instructor at Gracie Barra Brasil HQ in Rio de Janeiro and is an active competitor.
"Dull" as his friends call him most recently captured the Gold in both the Brasil Open and Campeonato Estadual do Rio de Janeiro in the black belt division.
Gracie Barra Blog asked "Dull" about competing in the black belt division and advice for GB competitors.
Q:  Isaac, you an active competitor in Brasil representing Gracie Barra in the black belt division. Which Gracie Barra academy are you training at now?
Who are your main coaches and training partners?
I am training on Gracie Barra HQ in Rio de Janeiro with Jefferson Moura, Joelson Sousa, Vanessa Silva and Fabricio Lopes. I have many training partners but I will tell you about the toughest ones: Gustavo Ximu, Paulo Fernando Nogueira, Gustavo Oddone, Aloisio Dad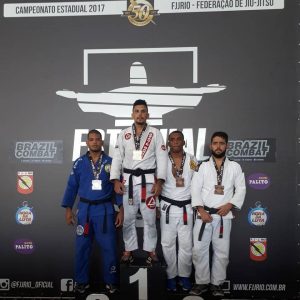 o, Marcio Cunha, Roberto Ferraz, Guilherme Paixao, Diego Peterlee, etc…
Q: What are the keys behind your success? What are the elements that go into preparing for a competition? What does it take to win in the tough black belt division in Brasil?
My key to the success are discipline and sacrifice. The most important elements are training, eat well, rest well… To beat tough guys you need lost 1000 times, is really hard, the life gonna put you down many times but If you keep competing your jiu-jitsu gonna be better and better.
Q: Can you give us an idea of what a week's training schedule is like before a tournament? How often do you train? How do you change your diet?
I use to train jiu-jitsu  in the morning, rest 3 or 4 hours then go do a bodybuilding session and in the night train jiu-jitsu again, everyday, but on saturday no bodybuilding, just jiu-jitsu 1 or twice. Sunday is my day off.
My diet is always the same, when I lived with Marco Gracie and his family I've learned the Gracie Diet and I use to follow many things from that, it helps to alkalize our organism.
Q: You have spent time teaching abroad where you did not have other black belts to train with. How did you keep your jiu-jitsu sharp without black belt training partners to push you? How did you approach your training with less experienced training partners?
When I am teaching in a place without many training partners I try to do more workouts, eat better, sleep more to increase hormone levels. My approach with less experienced training partners is easy, I try to check whats his limit then I will start to make tough training partners for me, the ones that have more determination for it.
Q: What advice do you have for Gracie Barra students who want to compete in jiu-jitsu tournaments? Many feel nervous before the matches. What is your mental attitude before a Championship match?
My advice is: don't be afraid to lose, it happens, don't worry about win or lose. The magic happens when you leave your comfort zone. My mental attitude is clean my mind, just be grateful to God because I am health, be impassible. Hoka hey, today is a good day to die.
Facebook.com/dullisaac
Instagram: @dullgbct
dullisaac@hotmail.com
See also on Gracie Barra : Bjj Tournaments: Do You Have a Gameplan to Prepare?
Credits: Mark Mullen
Gracie Barra Black belt based in Saigon, Vietnam
Twitter: @MarkMullenBJJ