Black Belt Advice for GB Students by Prof. Carlos Lemos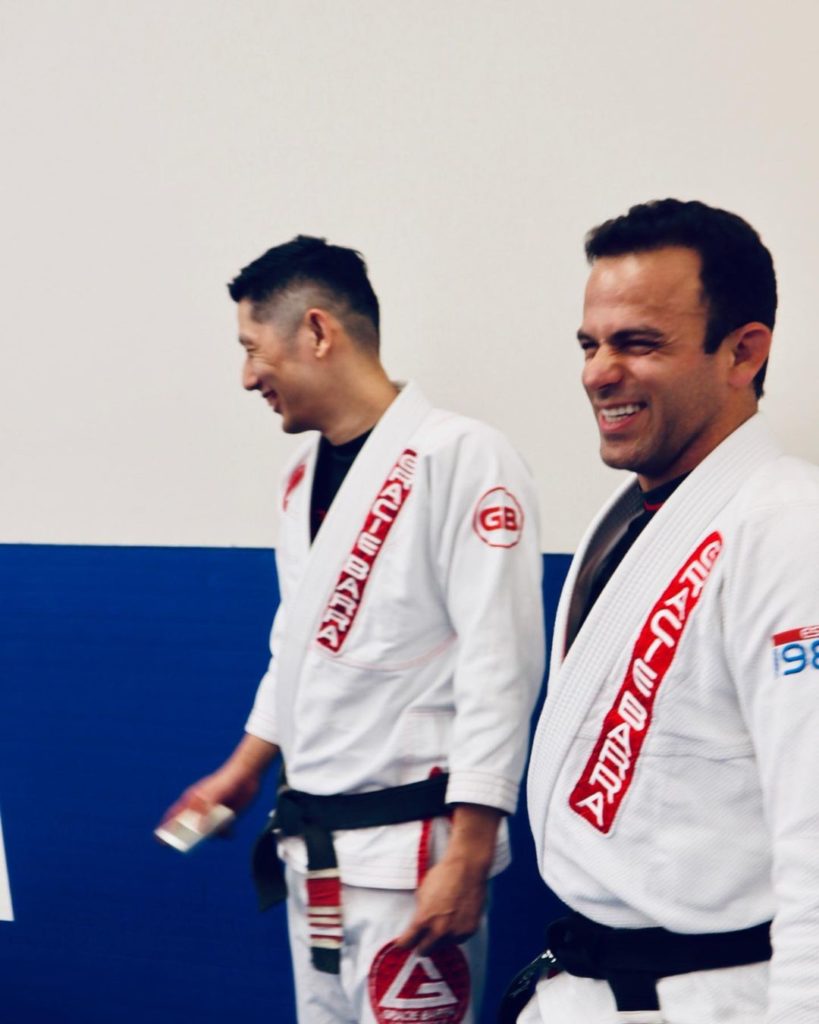 "Share everything that you know with everyone…"
ㅤ
Prof. Carlos comes from the original Gracie Barra in Barra de Tijuca, Rio de Janeiro, also known as Gracie Barra Matriz. The first Gracie Barra school of Master Carlos Gracie Jr. and today runs the successful Gracie Barra Downer's Grove in Illinois.
ㅤ
GB: What is the advice on training Jiu-Jitsu that you share with your students at your Gracie Barra school?
ㅤ
Prof. Carlos: My advice for anybody training Jiu-Jitsu is something that I always tell my students: please remember… CONSISTENCY over intensity. Intensity is going to ruin you, going to destroy you.
ㅤ
You can not squeeze too hard essentially. It's subtle pressure. That is what chokes people out. If you squeeze too hard you will burn your grips. You burn out your hands. You can't really win.
ㅤ
The mindset that you have when you are squeezing a choke is the same mindset that you should have with your training. Consistent. Not intense.
ㅤ
Never come to the mats with anger or frustration. You are 'never good enough', there will always be someone better than you.
ㅤ
Face the good days with serenity. Face the bad days with a smile on your face. Don't let them discourage you. And that's how you become good in Jiu-Jitsu.
ㅤ
Share everything that you know with everyone. The more you share with people, the more that you retain your knowledge. What we don't use…dies away in your system. So you have to keep your knowledge alive. And repetition is the key. Master Carlos said that to us many times. Repetition is the key!
ㅤ
GB: Can you tell the GB readers what is the best advice that you ever received on training Jiu-Jitsu?
ㅤ
Prof. Carlos: The best advice I received on Jiu-Jitsu?
Avoid the excesses of life.
Don't eat too much.
Don't sleep too late.
Don't drink (alcohol).
Don't indulge in drugs.
Don't think that Jiu-Jitsu is for tomorrow. Think of your Jiu-Jitsu with a long term perspective.
ㅤ
There is a samurai saying… and I've been meditating a lot on this principle. 'To seek what is broad of far with a close perspective to look at what is close with a broad perspective.'
ㅤ
This is how Jiu-Jitsu is. I think that this is the greatest advice that I received in Jiu-Jitsu.
ㅤ
Think of Jiu-Jitsu for life. Don't only think of Jiu-Jitsu for tomorrow..a year from now..2 years from now. Think of you doing Jiu-Jitsu with your grandchildren. That is a real blessing and a precious gift that life can give you. If you respect your body and treat your life with care.
ㅤ
GB: Last question. Would you like to give a shout-out to any coaches, training partners, or sponsors?
ㅤ
Prof. Carlos: I want to give a shout out to all of the great leaders in Gracie Barra. Our friendship and brotherhood for all of these years have kept us together.
ㅤ
It is the key success of Gracie Barra. Thanks very much for that!
ㅤ
Also, to all of my students around the world, all the guys of GB southwest England,  lead by Prof. Salvo and his team over there. All the guys in Japan. Gracie Barra Tokushima.
ㅤ
Great leaders of Gracie Barra and its regional directors
ㅤ
My brothers:
GB Southwest England Prof Salvo Pace, GB Japan prof Nao Takigawa, GB Tokushima prof Ryo Ominami, GB Serbia Belgrade Prof Danijel, GB Sweden Prof Niclas and Prof Peter, GB Downers Prof Pedroca, GB Springfield and GB Midwest Prof Marcos Barros.
GB Libertyville Prof Jamil, GB Street UK prof Rich, GB New Lenox Coach Ron, GB E Naperville Coach Andy, GB Yate coach Antonio, GB Keynsham Coach Damien
ㅤ
All of my students in the Midwest, GB Downers Grove, the Serbian warriors under Prof. Daniel.
Prof. Marcos Barros in the Midwest.
The guys in Sweden – Prof. Nicholas and Peter. They are not only students they are brothers.
ㅤ
Thanks for the opportunity to share a little of my story and share a little of my mindset with you guys.
Gracie Barra forever!
ㅤ
GB Values: Jiu-Jitsu Culture
ㅤ
Credits: Mark Mullen
Gracie Barra Black belt based in Asia