Fight Breakdown: Flavio Almeida vs. Vitor Oliveira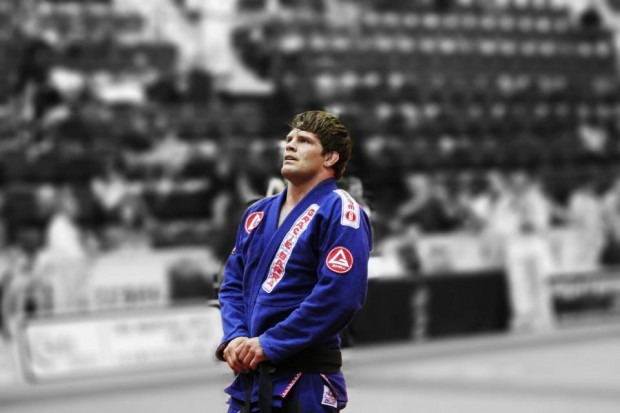 Professor Flavio at the Chicago Summer Open
Here's a fight break down on Flavio Almeida's unbelievable fight against Vitor Oliveira. While it all resulted to a knee injury, battle was one of the most talked about Open Black Belt matches in the Chicago Summer Open.
A midst the noise of each team cheering on for the competitor, two warriors vie for the number 1 spot.
The two competitors testing each other. Sizing each other's strategy.
Flavio plays defensive. Flavio grabs the sleeve, he shoots, knees on the ground, he grabs teh belt and lifts vitor 7 feet into the air. He lands him. Two points for professor Flavio.
Professor Flavio Postures up and lifting Vitor with him.
In Vitor's guard. Now in Half Guard. Vitor tries to sweep by going for a single. Both warriors stand up.
Vitor is relentless in his will to win back the two points. A scramble. Prof. Flavio rights for a hip throw but he lands on his knee.
A time out is called. By the looks of it, the match could be over. He winces in pain.
The crowd cheers on for Gracie Barra's very own.
They commence. This time, little gi grabbing happening, then Prof. Flavio almost pulled off a perfect shoulder throw.
Garbs disheveled as the two men try to vie for the gold.
Vitor attempts a shoulder throw. No dice. Vitor again attempts two more times.
Vitor shoots for the injured leg. Flavio sprawls. Perfect defensive tactic.
Vitor in the offensive as he tries to take Flavio down.
Vitor again attempts the shoulder throw. Lightning fast as he sprawls and tries to take the balance off Prof. Flavio. He failed.
Flavio catches his black. Almost got a full back mount. The momentum brings them outside the mats. A reset.
Vitor sets up his guard. Takes Flavio in half-guard. Vitor tries to reverse. Attacks a single leg. Flavio puts his weight on Vitor's shoulders.
Vitor grabs the belt. Prof. Flavio almost got him on a shoulder throw. The agile Vitor springs and lands on his feet.
From outside the mats, Vitor attempts a single. Lightning quick.
Flavio lands on his injured knee. Another time out. He limps back on to the action. Gracie Barra family chants, "Flavio, flavio, flavio."
A sneaky move by Flavio as Vitor pulls him in his guard, he tries pulling off an armbar. Vitor manages to pull his arm out.
Flavio attempts a takedown. He commits. 2 points are awarded to Flavio.
Vitor on butterfly guard.
They scramble. Grappling and control 101.
The timer winds down.
A red tsunami warrior gets his arm raised as the victor.
For those who missed this event, here's the complete video: