GB Motivation: Prof. Carlos Lemos on How He Started Jiu-jitsu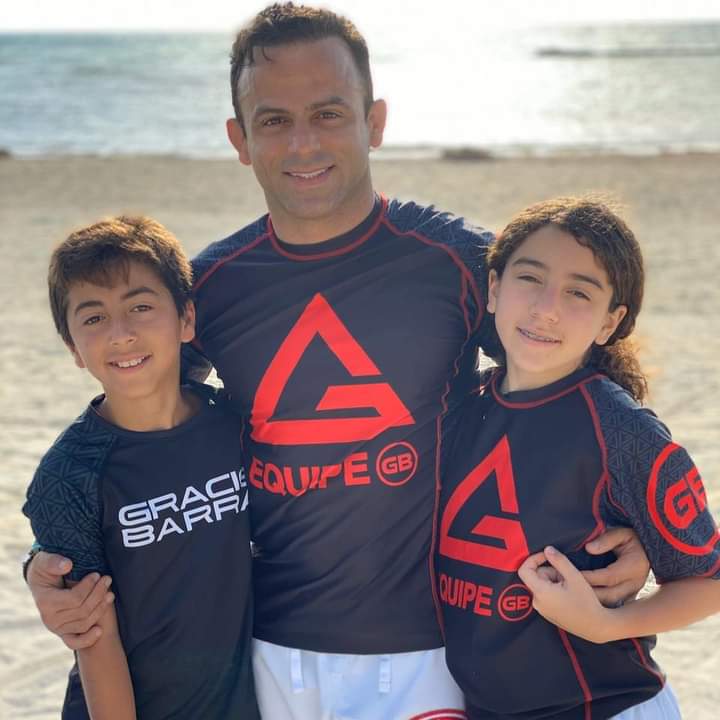 Meet Prof. Carlos Lemos Jr., a 5th degree black belt under Master Carlos Gracie Jr.
Carlos is the head instructor and owner of Gracie Barra Downers Grove, Illinois.
ㅤ
"Once I started training Jiu-Jitsu I couldn't stop. It became part of who I am. An essential part of my identity"
ㅤ
This week, Gracie Barra asks Prof. Carlos how he got started in Jiu-Jitsu and he shares his interesting and sometimes humorous story about how he first became interested in Jiu-Jitsu, his early motivation, and why he has lived the Jiu-Jitsu life for all of these years.
ㅤ
GB: Let's start by introducing you to the GB Online readers. How did you start training Jiu-Jitsu and where is your home Gracie Barra school?
ㅤ
Prof. Carlos Lemos:
Hello guys! Thank you so much for the opportunity for this interview and to connect with all of you from GB Online.
My original school is the original Gracie Barra in Barra de Tijuca, Rio de Janeiro, also known as Gracie Barra Matriz. The first Gracie Barra school of Master Carlos Gracie Jr.
ㅤ
I started training Jiu-Jitsu around 1992 – 93. I've always been training under Gracie Barra. Before Jiu-Jitsu I did Muay Thai, I did tae kwon do, also I did a bunch of judo when I was a kid. But once I started training Jiu-Jitsu I couldn't stop. It became part of who I am. An essential part of my identity.
ㅤ
My beginning was a very interesting story. I grew up learning martial arts since I was a kid. My father first enrolled me in Tae Kwon Do when I was 3 or 4 years old. At the age of 10, I started doing judo. I did about 3 years of judo. A year of kickboxing Muay Thai. I thought that I knew how to fight. I thought that I didn't need to learn any self-defense. I thought that I would never need that.
But a lot of the members of the Gracie family moved to my neighborhood. I started to see these guys all of a sudden running the show in our town. I started to see the students were doing everything together. They were running on the beach together, they were surfing together, running with their dogs on the beach.
ㅤ
I never really had that level of friendship before. I was looking at these guys saying… no no no. I don't want to be part of this. This probably is cultish. They are all obsessed with this thing. I don't want to have anything to do with that. They are too obsessed with this thing. I had friends that started training with them, affiliate schools of Gracie Barra. They said, let's go there, but I never wanted to go.
ㅤ
One day I saw this guy who grew up training with us. Brazil, back in the day was not violent in the sense that there were guns everywhere. But there was a lot of freedom. I saw this 16 or 17-year-old kid..but a blue belt in Jiu-Jitsu. Not too big, maybe 65 kg. I saw him and a grown man squaring up for some reason. And all of the kids ran to this grass field to watch. I saw the much larger grown man swinging at his head. The kid ducked under, body locked the man, took the guys back, and the next thing I knew, the kid looked like a koala on a giant's back. Like a little backpack on this man's back. Next thing I know the man is collapsing on his knees and falling face down on the grass. The kid allowed him to turn over and breathe and the fight was over. That was really impressive!
ㅤ
I had not been converted to Jiu-Jitsu yet. I was about 14. My first girlfriend broke up with me. Then she started dating the Jiu-Jitsu kid. Man, I was devastated! And I said that I'm going to start training Jiu-Jitsu and become better than this guy! I was always a very active and competitive kid. Every sport that I engaged in I eventually became really good. I had a lot of persistence.
ㅤ
So I said, "I want to become better than this guy!"
ㅤ
Because one day I am going to be the one squaring up with him. I started training really hard. Six months passed and I wasn't even close to this guy's level. He was a local and state champion. But when I looked around the mats of the school, every single one of the people in that school…I realized that I was surrounded by a group of very positive, uplifting group of role models. They are people who are from all walks of life. None of them was involved with drugs, with alcohol, with bad habits. They were all virtuous individuals. I saw many demonstrations of humility, courage, kindness, sincerity.
ㅤ
Courage and loyalty are what I saw the most. I said "I won't find better friends anywhere else in my life. I can't live without these guys and I can't live without this."
ㅤ
Surfing has always been an important element in my life. Back at the same time, I was training Jiu-Jitsu, I was achieving a pro surfing level. I was actively competing. I started to surf when I was 4 years old. I became a great surfer…but never an extraordinary surfer. Not a world-class level. When I started to train Jiu-Jitsu hard, within a year, my surfing level went up to incredible heights.
ㅤ
It's amazing how Jiu-Jitsu helped me improve as a surfer. I could definitely have had a career as a pro surfer. But although I love surfing to this day, the lifestyle of surfing wasn't there. You know a lot of my surfing friends were messing around with drugs, alcohol. They were not the best type of people to be hanging around with.
ㅤ
And I had the complete opposite in Jiu-Jitsu. I had friends that would stand by my side no matter what, and I could count on them. That really moved me. I realized that I couldn't live without that, without that community.
ㅤ
That's how I started and that's what kept me in Jiu-Jitsu.
ㅤ
GB Values: Jiu-Jitsu Culture
ㅤ
Credits: Mark Mullen
Gracie Barra Black belt based in Asia