GB Interview: Coach Deanna Yohe

To train the nation's elite is no job for a newcomer. It's a job for those who believe that freedom has a price. To prepare our men to face the challenge of securing the free world, one must be as dedicated to the art of hand-to-hand combat.
To celebrate our nation's independence, we're featuring our military men learning BJJ from one of our budding coaches.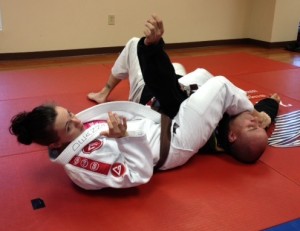 A three stripe brown belt, Coach Deanna Yohe of started out BJJ at the age of 37, and a mother of six. She took on the path of becoming a disciple of the art. "I was a little nervous starting BJJ. I began this amazing journey as a 37 year old mother of six and I have enjoyed every bump and bruise along the way. I have had a hard time finding women to train with. For quite a few years my training partners were men and they outweighed me by at least 50 pounds. It has only been in the last two years that women participating in BJJ has become more mainstream.  I am approaching my 43rd birthday in August and I also have an eight month old granddaughter." she says.
Curious about her BJJ lineage, her journey started out with (now) professor Brian Marvin.
"When I started with GB my instructor was GB brown belt Brian Marvin. I had the pleasure of continuing with him for several years and watch his progression to Black Belt and the Professor ranking. He is active duty army and was sent to Texas a couple of years ago where he has been teaching at GB Westchase with Professor Ulpiano.
Not leaving her learning to stagnate, she is known as a frequent flyer, training with Professor Fabio Costa at Gracie Barra GA. She continues, "Professor Marvin flies in from Texas every three to four months and I also travel 540 miles round trip to go and train with Professor Fabio Costa at GB GA as often as I can."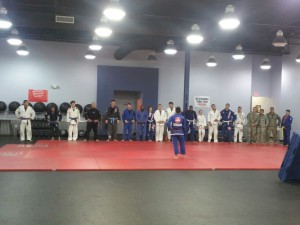 Now, her stint in teaching for the military is an interesting one. From a volunteer work, to a teaching career in the army, it all started out just for the sheer love of sharing BJJ to our troops.
"Some of my students were getting ready for the Fort Campbell Week of The Eagles celebration. They have a grappling and fighting tournament for the soldiers on the Army base. I was asked if I could help teach some of the soldiers. I volunteered a few mornings to help them out. I also have worked with some of the Special Forces soldiers and other soldiers receiving their level 1 and 2 Modern Army Combatives Certification. I am certified both level 1 and 2 as a civilian.
She also comments on how her students respond to BJJ, she says, "the soldiers are very receptive to learning bjj. I believe that they like learning more and having more in their toolbox for competitions. I like to tailor what I teach in the combatives seminars to more practical applications in their Army life. These are techniques that could ultimately save their life or the life of their battle buddy. I use more of the self defense applications when I go on base to work with them."