Eating well is Jiu-Jitsu Jiu-Jitsu x Obesity – 2nd Round
With the great number of responses our last "Eating Well is Jiu Jitsu,"generated the GB team decided to continue the fight against obesity in today's edition. People suffering from this disease know just how difficult the battle to stay in shape is, considering all the temptations we are surrounded with (fried and fat foods, sweets, confectionary, chips, etc.).

Keeping in mind it's human nature to want to indulge maintaining a healthy diet becomes even harder. Consuming these foods on a daily basis has a long-lasting detrimental effect on our body and health, which is visible in the quick weight gain. Another adverse effect is the constant lack of energy and motivation to exercise, which contribute to obesity at an alarming rate. It's not long before the body shuts down completely and our mind starts delegating and giving up before we have even tried to change our lifestyle. However, there is some good news! The desire to change is the first sign that you are on the right path to turning your life around!
"Although it is difficult, if you have the will and determination to maintain a good exercise and diet, you're sure to reap the fruits of your efforts." – Evandro Moura .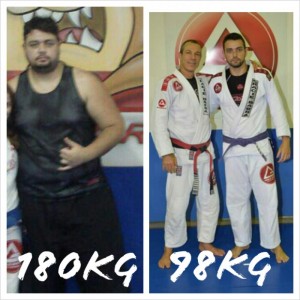 Is slimming down just about losing weight? No, it's also about eliminating the risk factors. Usually, people start using medications and food additives that promise quicker weight loss but these can have adverse side effects and don't deliver the desired results. According to Mariana Costa, a nutritionist specializing in Nutritional Therapy UERJ (State University of Rio de Janeiro): " There are no miracles when it comes to weight loss. The use of weight loss medications and additives requires consultation with a specialist before anything is prescribed. Generally these are advised as non-pharmacological treatment in patients with BMI ≥ 30Kg/m2 or BMI ≥ 25Kg/m2 associated with other risk factors (hypertension, type 2 diabetes, hyperlipidemia, insomnia, osteoarthritis, and others) or for patients with waist circumference over 102cm (men) and 88cm (women)." The best weight loss routine is healthy combination of a balanced diet, regular exercise and continuous practice.
Once again the gentle art embodies all of the above . The 2nd round of Jiu Jitsu vs Obesity introduces our readers to our warrior, Evandro Moura, 25, a GB brown belt at GB Bauru. Read on for the interview with the winner in the fight against one of the most epidemic diseases today:
1 – How did you decide to lose weight?
The decision to lose weight came when I was in law school. I wanted to apply for a federal representative and the physical exam is extremely hard and demanding. By that time I had been out of jiu jitsu for three years because of school. When I joined the gym I found out I had gained 50 pounds largely due to my sedentary lifestyle so I decided to get back to training.
2 – Did you try any other method to lose the weight before going back to Jiu Jitsu?
I tried without physical exercise and without the assistance of a nutritionist. Unsuccessfully, of course. That discouraged me for a while but once I set my heart on changing my life I got back on track.
3 – What has the weight loss done in terms of your jiu  jitsu practice ?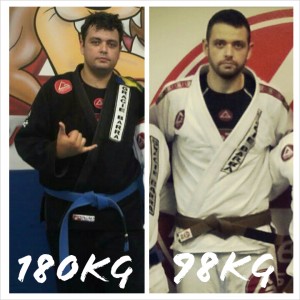 The combination of the weight loss and the practice of Ju-Jitsu has resulted in many changed in my life:
– I am 1 , 95 m tall , and have gone from the staggering 180kg to the healthier 98kg today;
– I am healthier and fitter;
– My Jiu – Jitsu has improved;
– Good physical fitness;
– Increase in endurance ;
– I have gone down several sizes in clothes – from 64 to a 44;
– My self-esteem has improved;
– Today I am an instructor of one of the branches of the Gracie Barra here in Bauru and eventually plan to have my own Gracie Barra school;
– Jiu – Jitsu at Gracie Barra helped me gain a new family I cannot imagine going without even for a day! I travel a lot because of my work and have the privilege of being welcomed into other Gracie Barra followers' schools and homes.
4 – What tips do you have for those who are struggling with their weight, trying to make a change for the better?
Although it seems difficult at first, if you have the will and determination to maintain a good exercise and diet regime, you're sure to reap the fruits of your efforts.