Eating Well is Jiu-Jitsu: Healthy Appetizers
So finally we get to one of the most desired months of the year: December.
The 12th month marks the beginning of summer (in the South hemisphere), Christmas, New Year and more. It is a month of changes and decisions. A month where the energies are renewed and promises for a new year are made. Time to think about what was done and what is ahead… what are your goals for the new year? What new things do you want to happen in your life?

With over 7 billion people on planet Earth, we have to keep in mind that each one wants, searches and fights for something different, and these differences are what make us special and unique. But we may all have many things in common that make us have affinities, create bonds of friendship and compassion. In this Blog section for example, we can find some or several things in common: jiu-jitsu, sports, health, healthy eating, etc. And if you are new over here… welcome!
If you are already adept at a healthy lifestyle and eating habits, this blog is for you.
If you want a healthier lifestyle and are looking for changes to make to your food habits, this blog is also for you…
A healthy diet 360 days a year? Why not?  We know that food influences our well-being, health, body functioning, mood, mind and courage. And if we could eat healthy snacks even in holiday season meetings, why not? If it's possible, we should and we can. Today in Eating Well is Jiu-Jitsu we present to you some options of healthy snacks for the year-end holidays.  Are you ready?
Eggplant Bruschetta
Ingredients: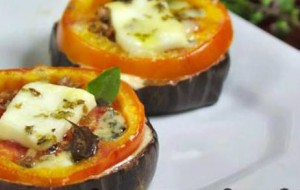 600 grams: Eggplant;
3 units: Clean and ripe tomato;
3 Tbsp: Olive oil;
40 grams: Cream cheese;
70 grams: Gorgonzola/Blue cheese;
1 Tbsp: Dehydrated oregano;
100 grams: White cheese.
Preparation:
Clean the eggplants (fresh and firm ones) and the tomatoes. Cut the tomatoes into slices, remove seeds. Put them aside.
Place the whole eggplants in a pan with boiling water and add a pinch of salt. Turn off the heat, cover the pan and leave it for 20 minutes, turning the eggplants to cook evenly.
Turn the oven to 390° F (200° C).
Remove the eggplants from the pan, let them cool a bit, cut off their tips and slice into 1 cm-thick pieces.
Grease a nonstick baking sheet with olive oil and distribute the eggplant slices. Spread 1 teaspoon of cream cheese over them, the tomato slice, 1 teaspoon of blue cheese/gorgonzola, about 7 grams of white cheese, oregano and basil to taste.
Baste the bruschetta with a little olive oil and bake for 15 minutes. Turn off the oven and leave for another 10 minutes.
Dried Tomato and Tofu Snacks
Ingredients: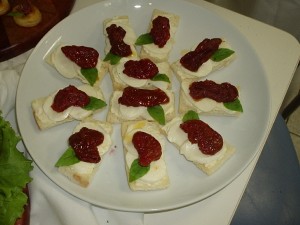 100 grams: Tofu paste
100 grams: Dried tomatoes
100 grams: Whole bread
1 Tbsp: Fresh basil
Preparation:
Clean the basil. Put them aside.
Using a star-shaped cutter, slice the bread. Slices yield 1 or 2 stars, depending on the size.
Cut the tomatoes in half.
Assemble the finger food putting 1 teaspoon of tofu paste in the center of the stars. Put it over a half dried tomato.
Decorate the snack with a basil leaf.
Salmon Snack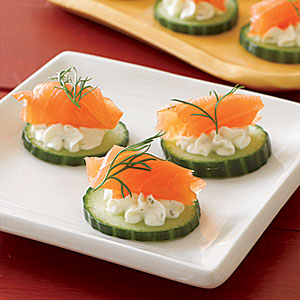 Images: 2.bp.blogspot.com
Ingredients:
50 grams: Nordic cured salmon or Gravlax
70 grams: Japanese cucumber
1/4 tsp: Black pepper
Preparation:
Clean the cucumber. Put them aside.
Cut into slices at your desired thickness.
Cut the gravlax salmon (or smoked salmon) in medium cubes of about 5 grams or at the desired size.
Assemble the snacks placing a slice of cucumber, a rolled salmon slice or cube and sprinkle with fresh ground black pepper.
Decorate the snack as you like it.
Did you like it? Share it with your friends! =)
This article has only an informative purpose and has no intention of replacing professional guidance. The use of vitamins and supplements can offer you great results, but before using any product, we strongly recommend you to visit a Nutritionist, Doctor or another specialist for an analysis and follow-up.
Source (in Portuguese): "Guloso e Saudável" 
Images: Google